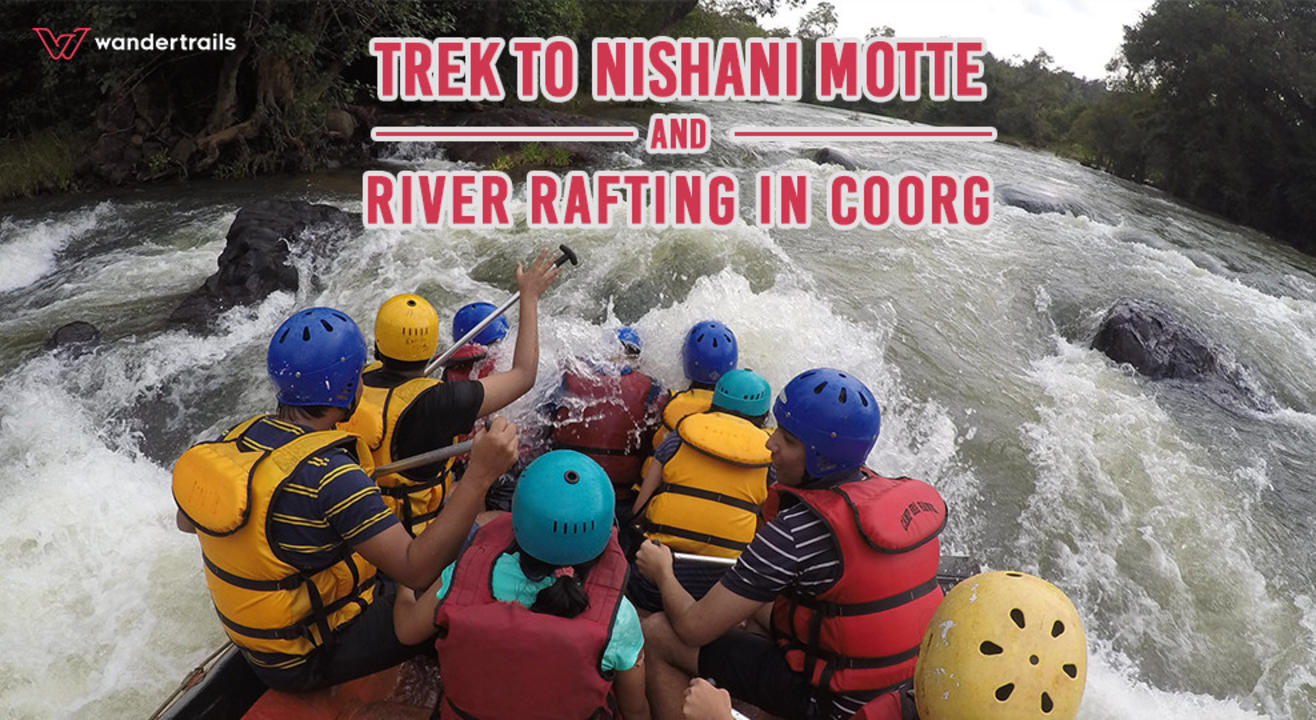 Adventure
Trek to Nishani Motte and river rafting in Coorg
About
"The real voyage of discovery consists not in seeking new landscapes, but in having new eyes." - Marcel Proust
Trekking lets you feel the essence of the landscape; a taste of the air and sense the loveliness in every pebble, every leaf as you go along. On this trek, you will scale the Nishani Motte mountain peak that is located in Coorg. Also known as 'the Scotland of India,' because of the indescribable beauty of its rugged mountains, sprawling coffee plantations and lush greenery of the forests, Coorg is one of the popular tourist haunts. But trekking in Coorg is not a popular venture, and the Nishani Motte, being a lesser known mountain peak of the Thalacauvery/Brahmagiri range, adds to the thrill. This is a fairly moderate guided trekking trail, that becomes more challenging during the monsoon, as the paths turn slippery. The trail starts from the Bhagamandala forest range, moves along paddy fields, to the coffee estates and then into the Wildlife reserve. Your persistence is rewarded, as the lush greenery finally gives way to the spectacular mist covered velvety mountains and the clouds that tend to hover.
The view from the peak gives you the real reason why Coorg is known as the Scotland of India. Don't forget to capture the magic of the moment on your camera before you start the descent. Walk through coffee plantations on your way down and grab the chance to taste some of the indigenous coffee. Later in the afternoon, you will visit the cascading silver waters of the Abbey falls and spend some time revelling in the beauty. Return to the homestay in time for tea. Sit back and relax in the confines of the homestay or go out shopping or visiting the nearby places. Enjoy a lazy evening with friends with games or stories around a campfire, if the weather permits.
As the next day dawns be ready for a different thrill, that of river rafting down the rushing stream. After the adrenaline-pumping experience of bumping along the gushing river, calm the spiked levels with a visit to the calming Golden Temple. Explore the beautiful and magnificent construction of the place and shop for some souvenirs at the place. Return with the bittersweet feeling of leaving the beauty behind, but with a truckload of memories.
Day 0:
09:30 PM - Pick up starts from Bangalore

Day 1:
05:00 AM - Reach Coorg Home stay ( Have some Tea and Fresh up , Relax)
08:30 AM - Have breakfast (Fresh Cooked) - unlimited
09:30 AM - Start From home stay
10:00 AM - Start the Nishani Motte trek (7km approx 1 side)
01:00 AM - Have Lunch (Fresh Cooked Basic Lunch)
03:00 PM - Back to Base
04:00 PM - Visit Hebbe water Falls
05:00 PM - Reach back to Home stay(Have some Tea snacks, can go for shopping or relax)
08:00 PM - Dinner veg and Non-veg (campfire if the weather Permits)
08:00 PM - Accommodation in homestay

Day 2:
06:00 AM - Fresh up
08:30 AM - Have breakfast
09:30 AM - Start From home stay. Visit Golden Temple
02:30 PM - Have self-sponsored Lunch on the way back (does not include in the package)
07:30 PM - Reach Bangalore
Pick-up and drop-off from Bangalore
Trek
Campfire (if the weather Permits)
Homestay
Breakfast on Day 1 and Day 2
Lunch on Day 1
Dinner on Day 1
Accommodation
Lunch during the return trip on day 2
Snacks
Water bottles
Any additional services provided
Recommended gratuities
1. Marathahalli (09:30 PM) - Near Kalamandir
2. Silk Board (10:00 PM) - Bus Stop, Opposite To Pizza Hut
3. BTM (10:10 PM) Udupi - Garden Bus Stop, Opposite To A2B
4. Banashankari (10:30 PM) - Bus Stop
5. RR Nagar (11:15 PM) - Gopalan Arcade, Mysore Road
Backpack
Rain coat/Poncho
Water bottles
Dry fruits, energy bar, chocolates, energy drink, Snacks etc.
Personal medication
Sweater/ jackets for the night
Extra pair of clothes
Toiletries (Tissue paper, Toilet paper, etc.)
Sports shoes or trekking shoes in good condition
Flashlight/Torch with extra batteries
Track pants and cotton T-shirt
Camera (optional)
Moov spray, Dettol solution or salt to avoid leeches
Cancellation charges applicable basis duration prior to the date of the commencement of the activity:
0-2 days from activity date: 100% booking charges
2-7 days from activity date: 50% booking charges
7-14 days from activity date: 25% booking charges
More than 14 days from activity date: No booking charges