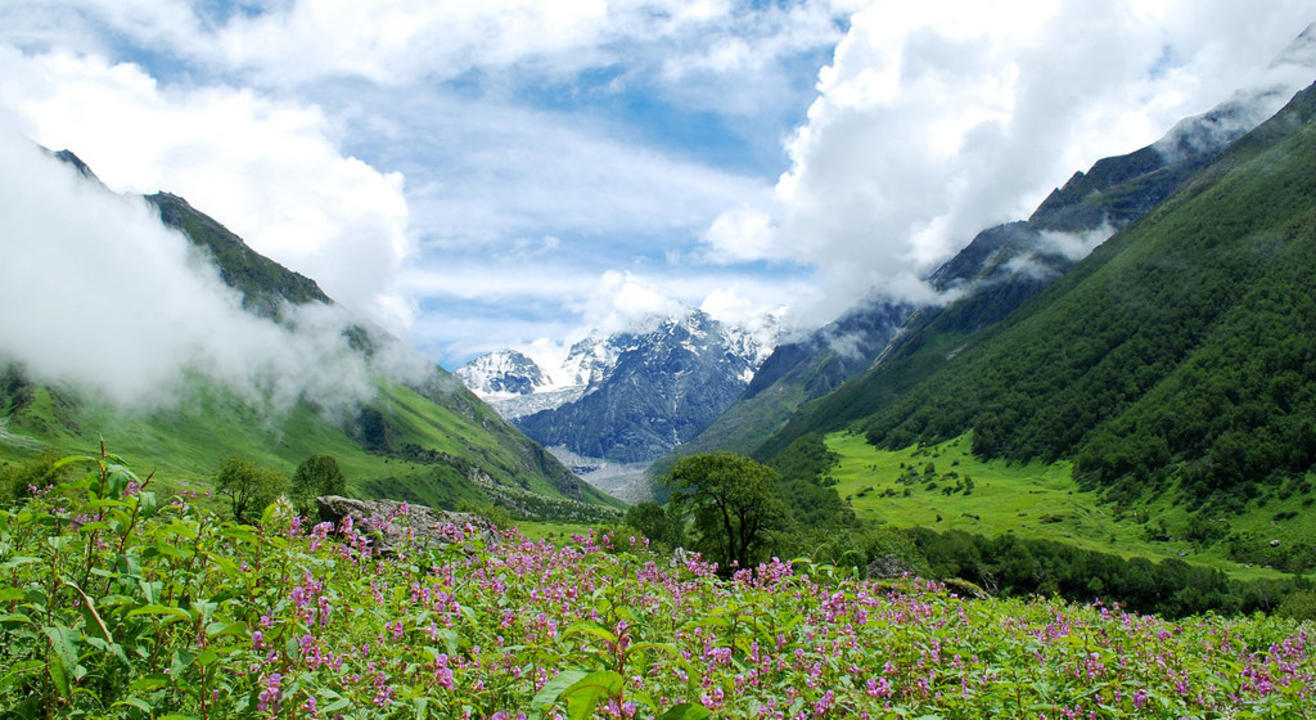 Trek
Trek To Valley Of Flowers, A UNESCO World Heritage Site | Wandertrails
About
A chance discovery by a traveller who loved to tread paths unknown introduced the world to a breathtaking valley of enchanting blooms in myriad hues.
We are talking about the Valley of Flowers, of course. Nestled in the secure lap of the Himalayas in Uttarakhand, the valley was discovered by British mountaineer Frank Smith in 1931 who lost his way while trekking back from the peak of Kamet. Known for the variety of endemic alpine flowers, thick vegetation, lush flora, and rich biodiversity, this place is a trekker's paradise. The Valley of Flowers National Park stretches over an area of 87 square kilometers, and along with the Nanda Devi National Park, encompasses the Nanda Devi Biosphere Reserve, h is part of the UNESCO World Network of Biosphere Reserves.
This trek of six days will take you not only to the Valley of flowers but also to other places of significance in Uttarakhand. Starting from the holy city of Haridwar, you would be driven to Govindghat via Joshimath and Devprayag, the place the rivers Bhagirathi and Alaknanda merge to form the divine Ganges.
Gobindghat, where you would reach by the end of the day, or early next day, is a picturesque place. Rest for the night and trek to Ghangaria; a place that is beautiful and known for its pilgrimage sites. Trek to the mesmeric Valley of Flowers on the third day. A steep ascent to a height of 3858 m through the rugged terrains of the Himalayas would take you to your destination. Take in the breathtaking views of the wild meadows and flowers, flanked by mountains, streams, and waterfalls - a picture that would remain etched in your memory forever.
You would even trek to Hemkund Sahib, the place where a holy lake is flanked by seven hills. According to the scripture of the Sikhs, it is here that their guru, Guru Gobind Singh lived in his previous life, meditated and sought salvation. Take in the snow-clad beauty of this place, before retracing your path to Ghangaria.
Your arrival at Joshimath on the fifth day marks the impending end of your journey. Early next day, you would leave from Joshimath with memories that would remain embedded in your mind and bring you joyous reminiscences every now and then!
Event details
Difficulty level: Easy - Moderate
Duration :6 days and 5 nights
Itinerary
Day 1:
-Start your journey of 6 days with a drive from Haridwar to Govindghat. You would be picked up from Haridwar railway station early in the morning.
-The drive of 8-9 hours will take you to your destination via Joshimath and Devprayag.
-Arrive at Joshimath by the evening. If it is late, you would stay here, or travel further to Govindghat. Enjoy a hearty dinner and stay overnight here.
Day 2:
-Start the day with a 14 km trek from Govindghat to Ghangaria. The trek would take you 3-4 hours, taking you through gradual ascents that run along a pilgrim trail.
-Check into a hotel and explore your surroundings.
Day 3:
-Start your day with an early breakfast, for you will be trekking to the Valley of Flowers. The trail is 5 km long and takes about 4-5 hrs.
-Scale the heights of 3658 m, passing through lush valleys and shallow rivers, rugged mountain paths, and wild woods.
-Take in the mesmeric beauty that defines the Valley of Flowers - the exotic array of flowers, the streams, and the waterfalls! Spot rare wildflowers like Geranium, Marsh, etc. After spending some time here, tread your way back to Ghangaria.
Day 4:
-After an early breakfast in your hotel, trek from Ghangaria to Hemkund Sahib. This is a steep climb, and you would be climbing to an altitude of 4329 m. According to Guru Granth Sahib, the holy scripture of the Sikh, Guru Gobind Singh has written that in a previous life, meditated on the shores of a lake surrounded by seven snowcapped mountains. This place is now known as Hemkund.
-Take in the breathtaking beauty and the explore the places around, before heading back to Ghangaria for an overnight stay.
Day 5:
-Check out from your place of stay at Ghangaria and make your way back to Govindghat.
-From Govindghat, you would be driven back to Joshimath.
-Upon arrival at Joshimath, you would check into a place where your overnight stay is arranged. You are free to travel around and explore the picturesque hamlet of Joshimath.
Day 6:
-The sixth day marks the end of your trek. Early in the morning, you would be driven back to Rishikesh/Haridwar as per convenience.
-Enjoy a sumptuous lunch enroute.
-Arrive at Rishikesh/Haridwar by evening, with tired bodies but invigorated minds.
Inclusions
-Permits for Indians
-Light snacks
-First-aid medical kit
-Professional and experienced trek guide
-Hotel accommodation on triple/ quad sharing basis
-All Veg meals from dinner on day 1 till breakfast on day 6
-Transfer from Haridwar – Govindghat / Joshimath – Haridwar
-Day 5th Badrinath visit will subject to weather/ road condition.
-Qualified and experienced Trek Leader and support staff.
-Traveler depends on the number of trekkers.
Exclusions
-Porter
-Permit fees for foreigners
-Any personal expenses
-Packaged water bottles
-Recommended gratuities
-Any additional services provided
-Porter / Mule for carrying personal luggage
-Unscheduled stay due to landslide/other natural circumstances
-Meals during stay in Joshimath/Govindghat and during the transit
-Any meal during transit.
-Drive form Govindghat/Pandukeshwar to Pulna and return
-Hot water per bucket @ Rs. 50/- in Ghangaria.