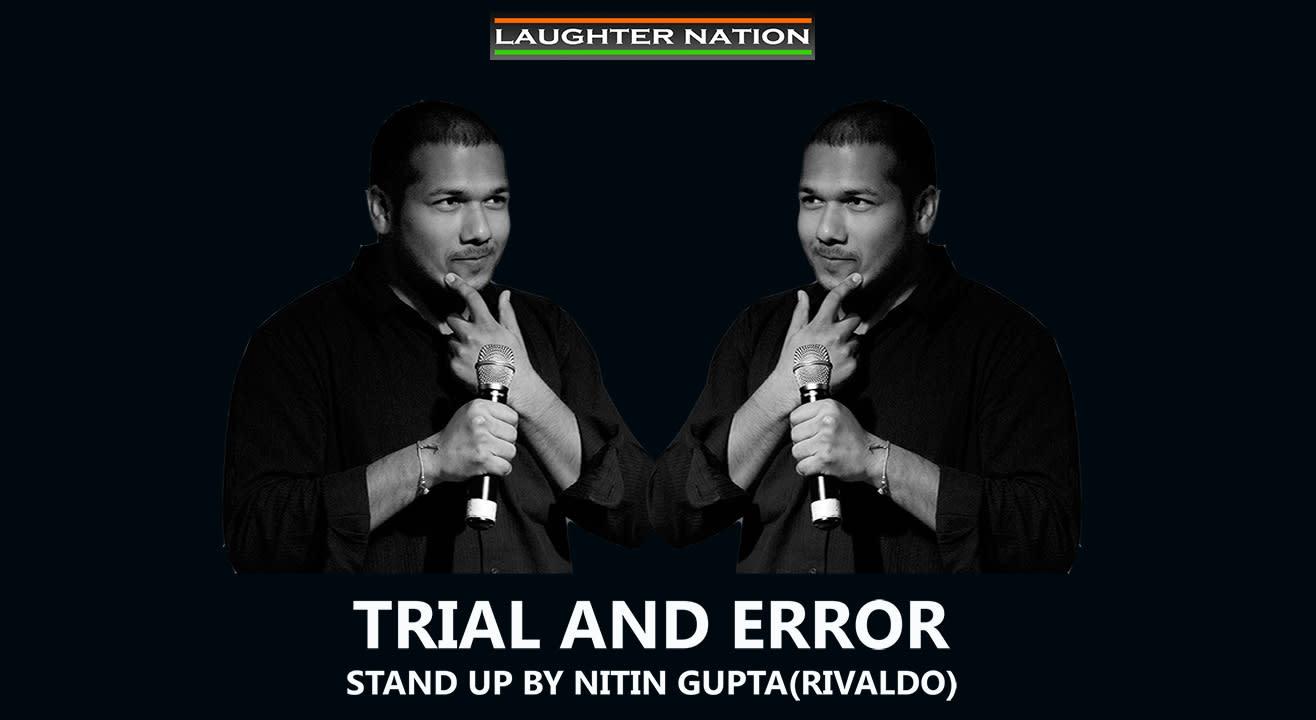 Comedy
Trial and Error by Nitin Gupta ( Rivaldo )
About
Trial & Error : It's a show with lot of new jokes & jokes that are in beta stage & under refinement & jokes that will be improvised on the stage.


Ridiculously good looking, super fit and highly talented are just a few of the many attributes this 24 year old Bengali boy uses to describe himself. Modesty is clearly another. Being the badshaah of sarcasm, Nitin will perform at Akshara Theatre to tickle your funny bone with his relationship stories and real-life experiences. A seasoned comedian with many stand-up performances in Delhi and Kolkata, he has performed on the popular hit Red FM show Comedy ka Ghanta. His comedy sets come with a seatbelt warning though, because you may fall out of your seats laughing!
Nitin Gupta is a famous Indian stand up comedian who is also an IITian. He is a chemical engineer by education. Nitin Gupta says that it is not a simple task to make people laugh. It is easy for people to message LOL or ROFL while texting, but making people do that in real is very difficult. It is not as simple as it seems to be. He is also the founder and the CEO (Chief Entertainment Engineer) for the stand up comedy brand 'TheHumorBeings.'
Nitin explains CCD with vivid details!
Laughter Nation does the funny bit. They curate stand up comedy shows in Delhi/NCR, Chandigarh, Ranchi, Jamshedpur and Lucknow.
The Akshara Theatre is an exquisite arts complex set in just under one acre of land in the heart of New Delhi. It has four performance spaces for live performance equipped with the best lighting and sound equipment augmented a few years ago by a generous grant from the Government of Japan under its Cultural Grassroots Programme. It possesses a library, shooting and editing studios for television with the latest digital equipment, sound studios, workshops for set design, metal work and stone sculpture, as well as a studio for graphics design with computerized desktop publishing, and classrooms where the performing arts are taught to children and young people.
Venue
Akshara Theatre, Delhi
11-B, Baba Kharak Singh Marg. Next to RML Hospital exit no. 5, Closest Metro Stations: Rajiv Chowk, Patel Chowk and RK Ashram, Delhi NCR