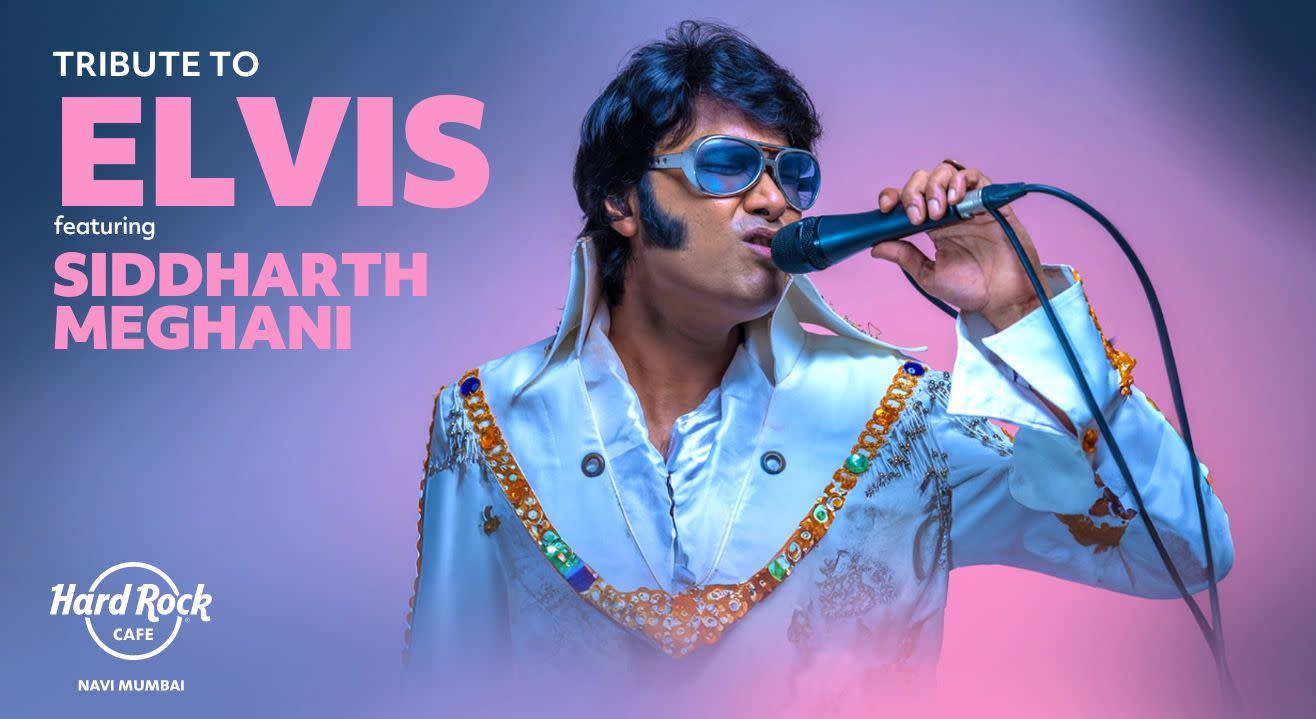 TRIBUTE TO ELVIS PRESLY ft. SIDDHARTH MEGHANI
Hard Rock Cafe Navi Mumbai, Navi Mumbai
Event Guide
Live Performance
Enjoy a unique experience
Invite your friends
and enjoy a shared experience
TRIBUTE TO ELVIS PRESLY ft. SIDDHARTH MEGHANI
Hard Rock Cafe Navi Mumbai, Navi Mumbai
Event Guide
Live Performance
Enjoy a unique experience
Invite your friends
and enjoy a shared experience
Event Guide
Live Performance
Enjoy a unique experience
Invite your friends
and enjoy a shared experience
EVERYBODY LOVE ELVIS PRESLEY!!!!
SIDDHARTH MEGHANI band always aims to revive vintage rock n roll. They've wowed audiences on some of the country's most prominent stages, and they're bringing an explosive live show with them. Be there to experience the chaos and dance to the band's incredible beats.
Come cheer them on as they are paying homage to the legendary ELVIS PRESLEY at your favourite Hard Rock Cafe Navi Mumbai.
Safety norms strictly followed.
Terms and Conditions
-Only patrons above the drinking age will be served alcohol (21Yrs +).
-Only patrons above 21+ age will be allowed entry.
-People in an inebriated state may not be allowed entry.
-No outside food and beverages are allowed inside the venue.
-No seating guaranteed.
-Hard Rock Cafe does not take responsibility for the loss or theft of any personal belongings .
-The consumption of any illegal substances is strictly prohibited.
Hard Rock Cafe Navi Mumbai
UNIT NO FNB 5 SEAWOODS GRAND CENTRAL MALL 2ND FLOOR AIRSPACE PLOT NO R1, RAILWAY STATION, Seawoods West, Sector 40, Seawoods, Navi Mumbai, Maharashtra 400706, India
GET DIRECTIONS
TRIBUTE TO ELVIS PRESLY ft. SIDDHARTH MEGHANI
Hard Rock Cafe Navi Mumbai, Navi Mumbai
Event Guide
Live Performance
Enjoy a unique experience
Invite your friends
and enjoy a shared experience