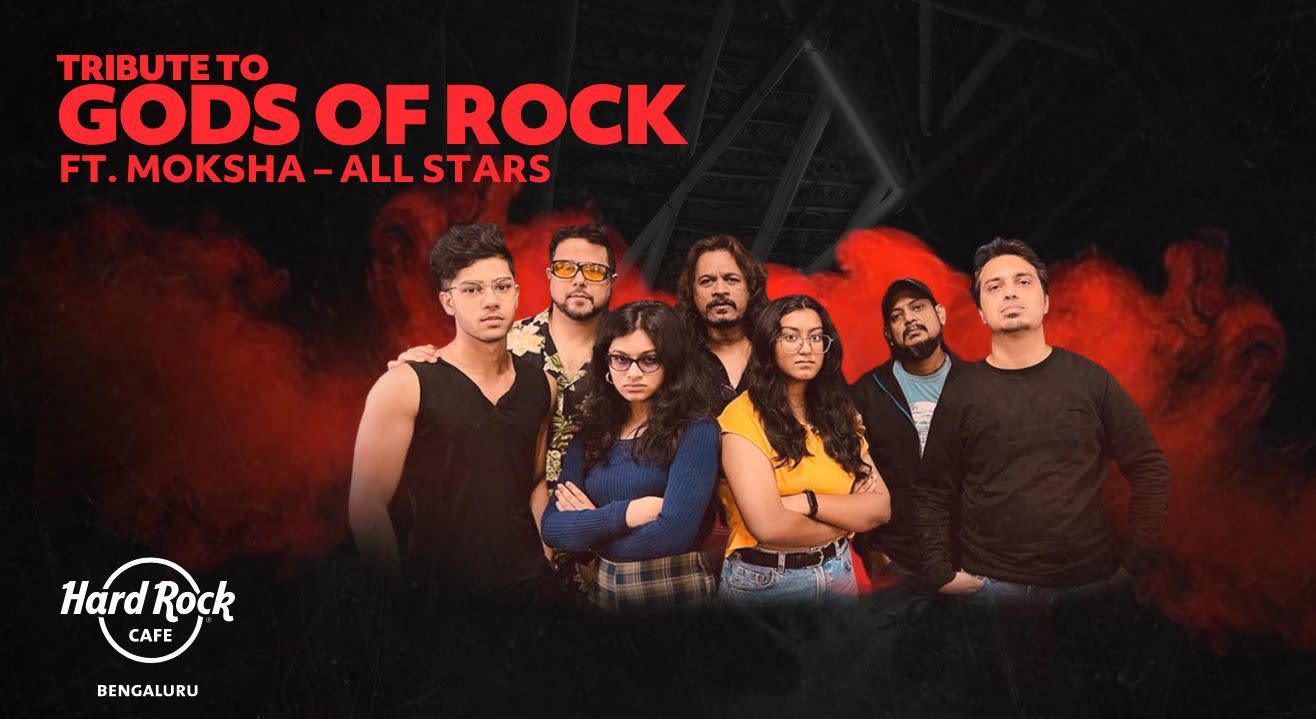 Tribute to Gods of Rock ft. MOKSHA ALL STARS | World Music Week 2023
Hard Rock Cafe, St Marks Rd - Bengaluru, Bengaluru
Invite your friends
and enjoy a shared experience
Tribute to Gods of Rock ft. MOKSHA ALL STARS | World Music Week 2023
Hard Rock Cafe, St Marks Rd - Bengaluru, Bengaluru
Invite your friends
and enjoy a shared experience
Invite your friends
and enjoy a shared experience
TRIBUTE TO GODS OF ROCK!!!!!!
The Hard Rock Cafe Bengaluru is paying homage to the GODS OF ROCK by MOKSHA - ALL STARS.
KNOW ABOUT YOUR BAND
The Moksha [All Stars] consists of some of Bangalore`s finest musicians whose performances will entertain any audience. These artists have captivated audiences across the country with styles infused from different genres of music They will ensure you experience an exciting classic pop and rock concert.
Come experience and see the most exciting musical performance ever only at the Hard Rock Cafe.
Terms and Conditions
-Only patrons above the drinking age will be served alcohol (21Yrs +).
-People in an inebriated state may not be allowed entry.
-No outside food and beverages are allowed inside the venue.
-No seating guaranteed.
-Hard Rock Cafe does not take responsibility for the loss or theft of any personal belongings.
-The consumption of any illegal substances is strictly prohibited.
Hard Rock Cafe, St Marks Rd - Bengaluru
40, St Marks Rd, Shanthala Nagar, Ashok Nagar, Bengaluru, Karnataka 560001, India
GET DIRECTIONS
Tribute to Gods of Rock ft. MOKSHA ALL STARS | World Music Week 2023
Hard Rock Cafe, St Marks Rd - Bengaluru, Bengaluru
Invite your friends
and enjoy a shared experience