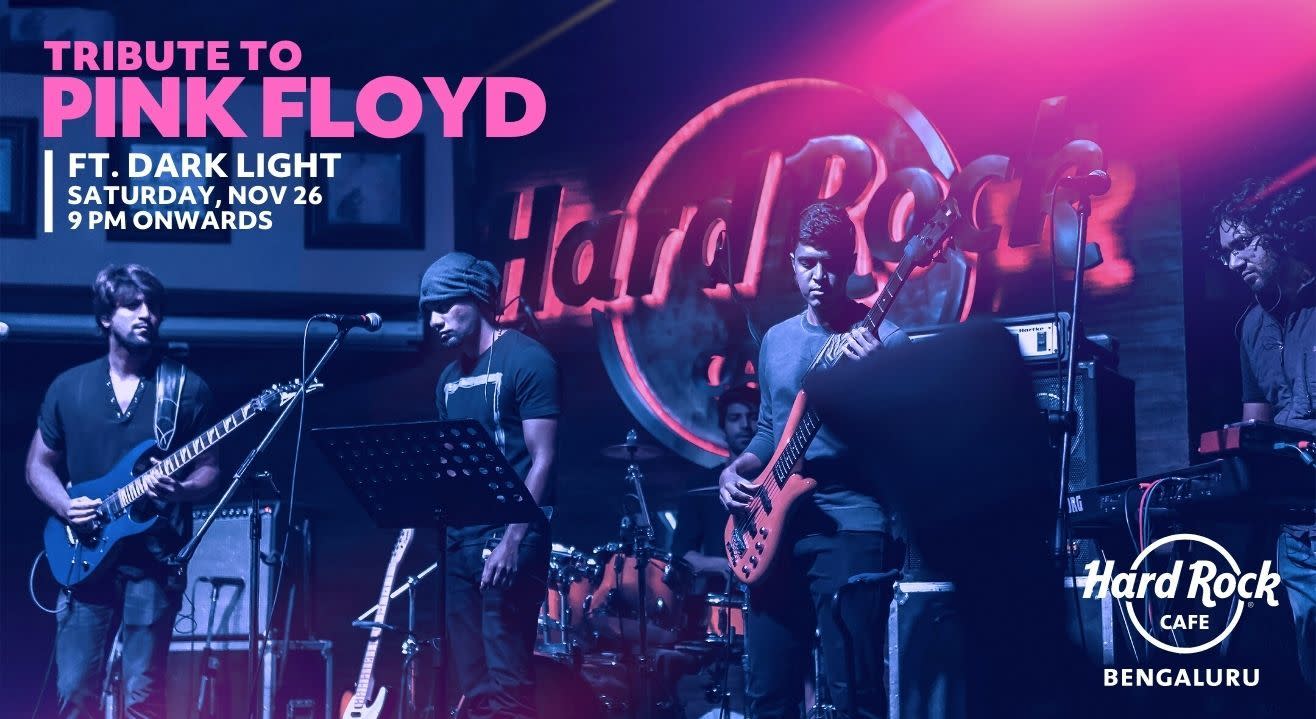 Tribute to Pink Floyd ft. Dark Light
Hard Rock Cafe, St Marks Rd - Bengaluru, Bengaluru
Event Guide
Live Performance
Enjoy a unique experience
Invite your friends
and enjoy a shared experience
Tribute to Pink Floyd ft. Dark Light
Hard Rock Cafe, St Marks Rd - Bengaluru, Bengaluru
Event Guide
Live Performance
Enjoy a unique experience
Invite your friends
and enjoy a shared experience
Event Guide
Live Performance
Enjoy a unique experience
Invite your friends
and enjoy a shared experience
Mark your calendars for a Pink Floyd tribute happening at Hard Rock Cafe, Bengaluru on November 26.
Dark Light is a five-piece psychedelic/progressive rock band from Bangalore whose music has been compared to a soulful blend of stadium rock's ferocity and fury with progressive elements and ambient psychedelic soundscapes. They significantly draw inspiration from artists such as Pink Floyd, Porcupine Tree, U2, Opeth, Guns N' Roses, Radiohead, and Led Zeppelin and aim to make music that will captivate you and leave you wanting more.
And of course, enjoy some beer and great bar fare as the ticket cost includes cover charges.
*Safety norms strictly followed.
Instructions
-Only patrons above the drinking age will be served alcohol (21Yrs +).
-Only patrons above 21+ age will be allowed entry.
-People in an inebriated state may not be allowed entry.
-No outside food and beverages are allowed inside the venue.
-No seating guaranteed.
-Hard Rock Cafe does not take responsibility for the loss or theft of any personal belongings .
-The consumption of any illegal substances is strictly prohibited.
Hard Rock Cafe, St Marks Rd - Bengaluru
40, St Marks Rd, Shanthala Nagar, Ashok Nagar, Bengaluru, Karnataka 560001, India
GET DIRECTIONS
Tribute to Pink Floyd ft. Dark Light
Hard Rock Cafe, St Marks Rd - Bengaluru, Bengaluru
Event Guide
Live Performance
Enjoy a unique experience
Invite your friends
and enjoy a shared experience