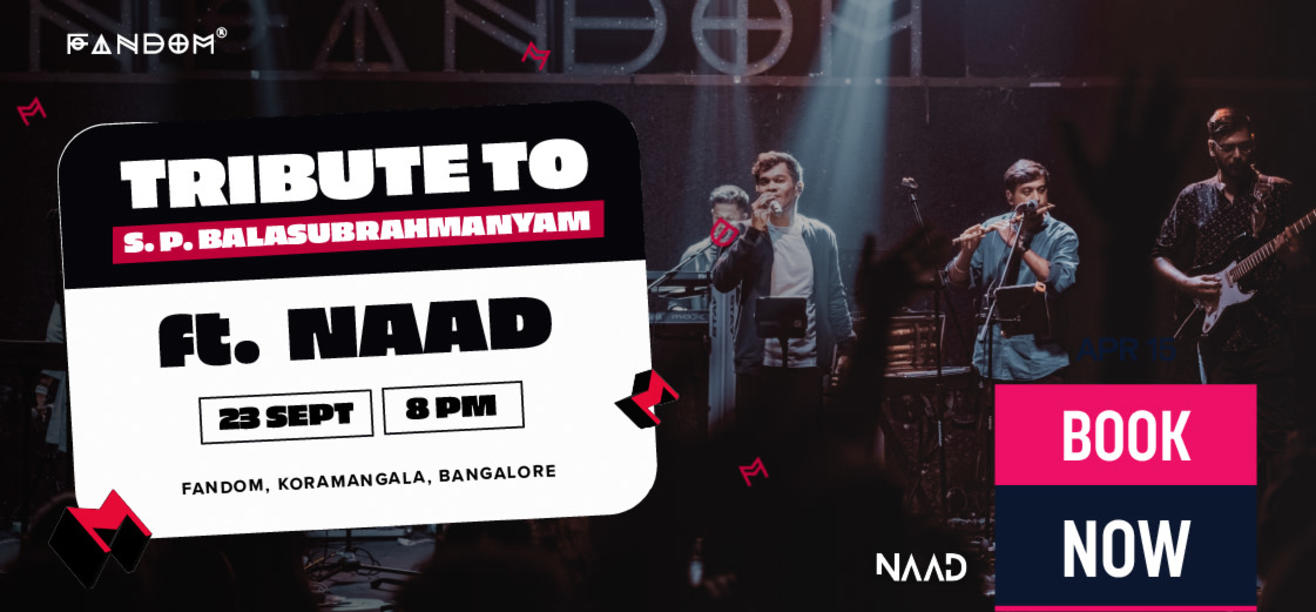 Tribute to S. P. Balasubrahmanyam ft. NAAD
September 23 | Gates Open at 8PM | Event Starts at 9:30PM
Fandom at Gilly's Redefined, Bengaluru
Event Guide
Language
Hindi, Tamil, Kannada
Live Performance
Enjoy a unique experience
Invite your friends
and enjoy a shared experience
Tribute to S. P. Balasubrahmanyam ft. NAAD
September 23 | Gates Open at 8PM | Event Starts at 9:30PM
Fandom at Gilly's Redefined, Bengaluru
Event Guide
Language
Hindi, Tamil, Kannada
Live Performance
Enjoy a unique experience
Invite your friends
and enjoy a shared experience
Event Guide
Language
Hindi, Tamil, Kannada
Live Performance
Enjoy a unique experience
Invite your friends
and enjoy a shared experience
Join us for an emotional tribute celebrating the amazing life and enduring legacy of the iconic S. P. Balasubrahmanyam.
Featuring unforgettable classics:
"Tere Bina" 🎵
"Mere Rang Mein" 🎵
"Kadhal Rojave" 🎵
Don't miss this extraordinary tribute, curated by Kishanbaalaji Collective and Insider. Let's come together to honor the memory of a legend.
Curation - KishanBaalaji
Pranav Binu – Vocals
Adheena Pramod – Vocals
Joshua Gopal – Drums
Anand Murali – Keys
Prashanth Gnanmuthu – Bass
Fandom at Gilly's Redefined
1st floor of Gillys redefined,# 413, 100 Feet Road,, 4th Block, Koramangala, KHB Block Koramangala, Koramangala 4-B Block, 5th Block, Koramangala, Bengaluru, Karnataka 560034, India
GET DIRECTIONS
Tribute to S. P. Balasubrahmanyam ft. NAAD
September 23 | Gates Open at 8PM | Event Starts at 9:30PM
Fandom at Gilly's Redefined, Bengaluru
Event Guide
Language
Hindi, Tamil, Kannada
Live Performance
Enjoy a unique experience
Invite your friends
and enjoy a shared experience