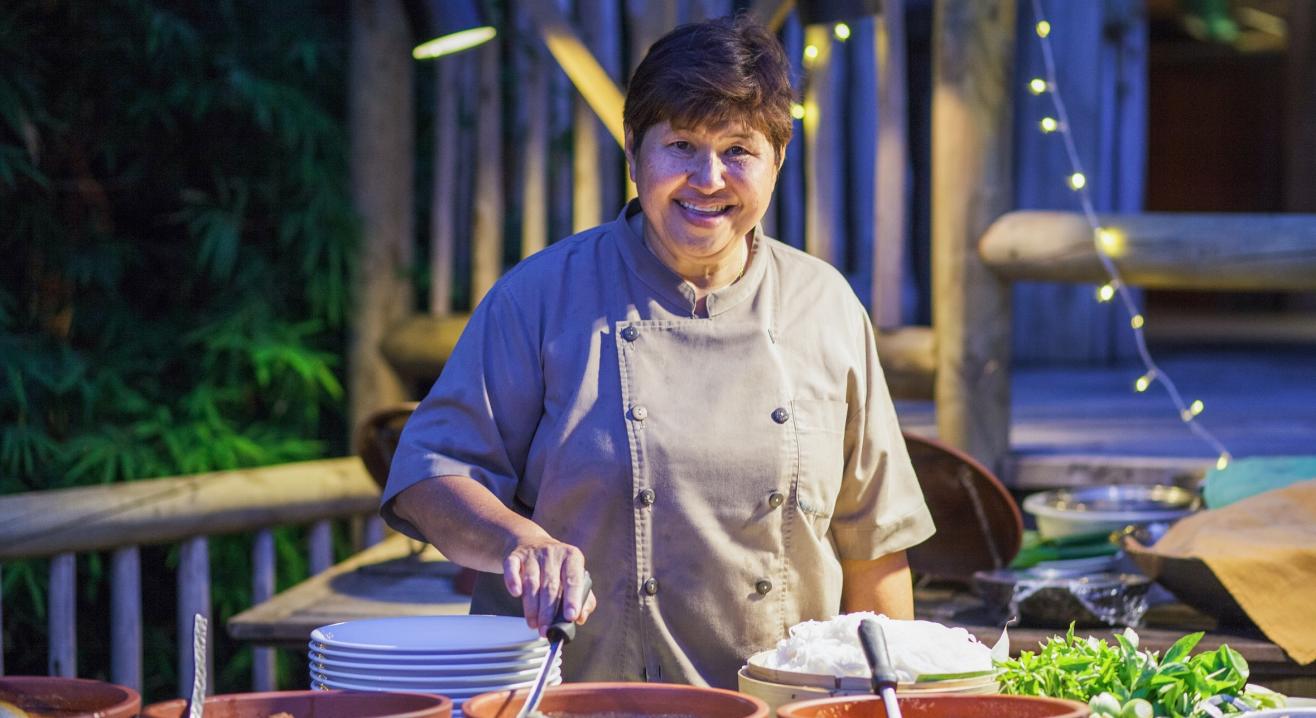 A Trip to Thailand with Chef Benz
Magazine Street Kitchen, Mumbai
Invite your friends
and enjoy a shared experience
Invite your friends
and enjoy a shared experience
About the Event
Thai food is complex, exciting and everyone's favourite food to eat. Join Chef Benz for one of the most world-famous Soneva experiences only at Magazine St. Kitchen!
Since 1995, husband-wife Sonu and Eva have built one of the most playful high-luxury brands around the world. Chef Benz has a history with Soneva that goes right to the source; 15 years ago, Sonu and Eva stopped at a cafe in rural Thailand for directions. They found Khun Benz who they instantly knew was special and invited her to join the Soneva family. Benz worked at Soneva Fushi for 10 years before returning to Thailand, opening her restaurant at Soneva Kiri. Chef Benz's menu changes daily depending on what fresh fish and meats can be had at the market and what is growing in Soneva Kiri's extensive gardens. The flavours are complex and hearty and very, very Thai.
Her gourmet Thai restaurant is one of the most world-famous Soneva experiences and her fame has spread far – garnering acclaim from restaurant critics and celebrities.
"Is there a meal that sticks out as the most memorable? There's a restaurant on Koh Kood Island in Thailand called Benz's. You get on a boat and go up a river to get there. It is the most exquisite, spicy Thai food I've ever had. The flavours were incredible."

- Gwyneth Paltrow, The New York Times, 2016
Canapés
Poh Pai Phak - Deep Fried Vegetable Spring Roll
Thom Man Goong - Deep Fried Prawn Cake Served with Plum Sauce
Mah Hoh - Wok Fried Sweet Turnip with Sugar and Tofu on Fresh Pineapple
Poh Pia Sod - Vietnamese Spring Roll with Vegetable and Crab Roll on top with Sweet Chilli Sauce

Mains
MIENG KHAM - Betel Leaf Wrapped Appetizer with Palm Sugar/Shrimp Paste Sauce
YUM TUA PLOO - Spicy Wing Bean Salad with Tofu/Shrimp
KOAW TANG NAH TANG - Crispy Rice with Mushroom/Chicken, Coconut Milk and Tamarind Sauce
TOM YUM GOONG - Hot and Sour Mushroom/Prawn Soup with Galangal, Lemongrass, Lime and Chilli
PHAD KHANA - Wok Fried Kale with Soy/Oyster Sauce
PHAD KRAPRAW MAKRUE YAO - Wok Fried Eggplant with Chilli, Garlic and Tofu/ GOONG THORD KRA TIUM - Wok Fried Prawn with Garlic and Pepper
GAENG KAREE PHAK/GAE - Yellow Curry of Vegetable/Lamb with Coconut Milk

Dessert
KANOM WAN - Traditional Thai Dessert
Magazine Street Kitchen, Mumbai
Gala No 13, Devidayal Compound, Gupta Mills Estate, Reay Road, Mumbai, Magazine St, Darukhana, Byculla, Mumbai, Maharashtra 400010
GET DIRECTIONS