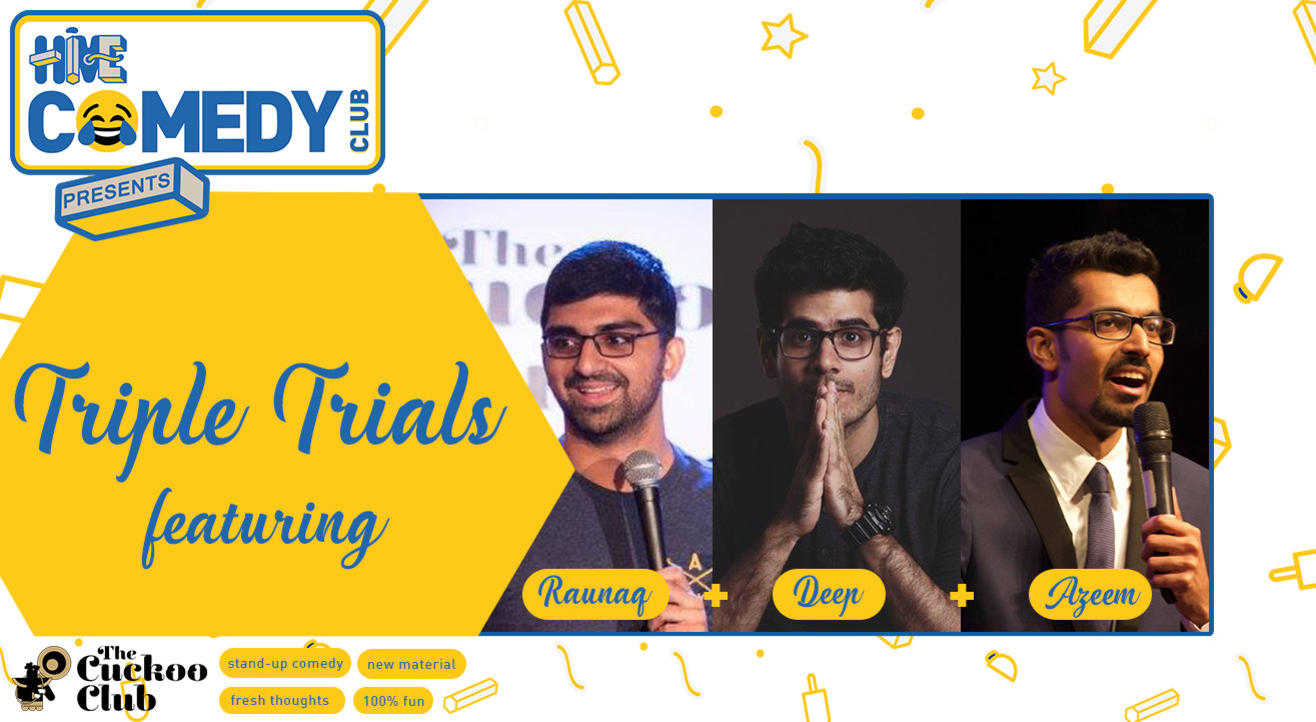 Comedy
Triple Trials with Azeem, Raunaq and Deep
About
Triple Trial Comedy featuring Azeem Banatwala, Deep Chhabria and Raunaq Rajaji. Saturday evenings couldnt get better with this amazing lineup. Three comedians take the stage at the Cuckoo Cafe to test out new material, fresh thoughts and jokes still baking...
Every weekend catch a lineup of some of the best voices in the Stand-Up comedy scene from around the country + surprise acts always drop in to test out more new material for you. Your choice pick for a weekend standup comedy night out.
About the Artists
Azeem Banatwalla
Azeem Banatwalla is one of India's top comedians, as rated by CNN-IBN, Huffington Post, and other less credible sources. His bio used to be funnier, but then he went and achieved things and didn't need the fluff. Known for his sharp writing and acerbic wit, Azeem's comedy is distinctive and intelligent. He has two stand-up specials to his name: Out of My System and Cometh the Hour, the latter of which is on Amazon Prime Video. He's performed across India, Asia and Europe, and most recently represented India at the Melbourne International Comedy Festival in 2018. As a member of East India Company, he has written and performed dozens of sketches and live shows. He is the creative director and head writer of EIC's critically acclaimed news comedy show EIC Outrage.
Deep Chhabria
One of India's youngest professional comedians, Deep was born and brought up in the bustle of Mumbai. Like that information made a difference to your life. It's ok read on. He majored in advertising to become a copywriter and happened to on the way start his own comedy collective called Comic Kaun? (What a pun! Oh yeah!) At a tender age of 21, he became a regular at premium comedy venues across the country. The downfall of his self-esteem began when he realised that after years of growing up he turned out to become a Jacky Bhagnani look-alike.
Raunaq Rajani
A pure bred Bombay boy, Raunaq Rajani has been in the comedy scene for a little more than half a decade. . He has appeared on Cyrus Broacha's: The Week That Wasn't and Rising stars of comedy on NDTV prime. Some insightful perspective, honest observations and sarcastic wit make Raunaq an act that you shoudn't miss!
Venue
The Cuckoo Cafe, Mumbai
First floor, above The Cuckoo Club Black Box Theatre | 5AA, Pali Hill Road, Next to Candies, Bandra West, Mumbai, India 400050