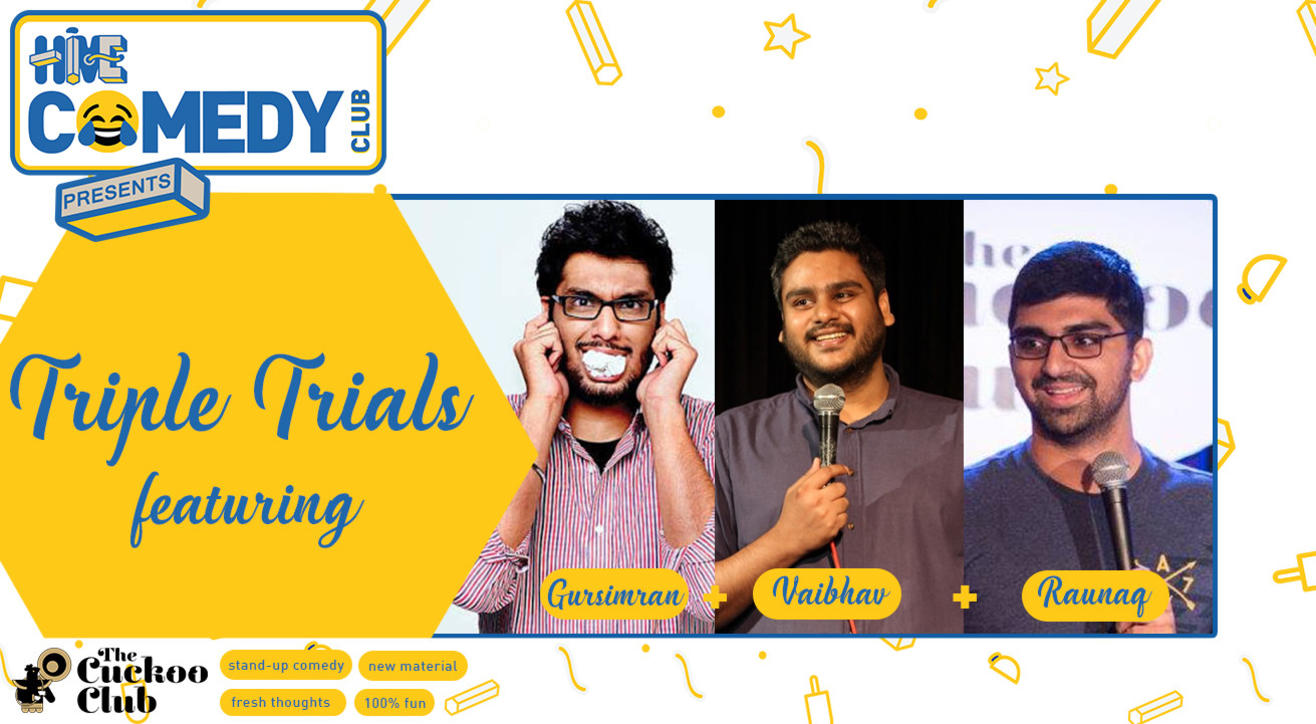 Comedy
Triple Trials with Khamba, Vaibhav and Raunaq
About
Triple Trial Comedy featuring Gursimran Khamba, Vaibhav Sethia, and Raunaq Rajani. Saturday evenings couldnt get better with this amazing lineup. Three comedians take the stage at the Cuckoo Cafe to test out new material, fresh thoughts and jokes still baking...
Every weekend catch a lineup of some of the best voices in the Stand-Up comedy scene from around the country + surprise acts always drop in to test out more new material for you. Your choice pick for a weekend standup comedy night out.
About the Artists


Gursimran Khamba
Born and raised in Delhi, Gursimran Khamba is the founder of a digital content start-up Light@27 and was the co-founder of the All India Bakchod along with fellow comedians Tanmay Bhat, Rohan Joshi & Ashish Shakya.
Vaibhav Sethia
V for Vaibhav, V for variety. From smokers, suicide and solitude, and design of cockroaches and humans, and cats, to vegetarians, pilots and bikers, comedian Vaibhav Sethia's stand-up sets cover all possible topics with his jokes and stories. He is an ex-Marwari who was banished from the community for being too funny (their stomachs were hurting too much from laughing 24*7). The comedian has performed at all the popular comedy haunts, like the Canvas Laugh Club, and has won popular contests like the Pajama Fest Open-Mic in 2014. The Kolkata-raised, IIT-Rourkee graduate has previously worked as a writer and an assistant director, after he quit his money-minting oil company job. He co-founded Comedified in 2014, with fellow comedian Anirban Dasgupta, Kolkata's most popular comedy group, and was instrumental in starting a comedy scene in the city, leading to as many five open-mics every week, when there were none. In May 2018, Vaibhav featured on an Amazon Video Stand Up Special called 'Don't'


Raunaq Rajani
A pure bred Bombay boy, Raunaq Rajani has been in the comedy scene for a little more than half a decade. . He has appeared on Cyrus Broacha's: The Week That Wasn't and Rising stars of comedy on NDTV prime. Some insightful perspective, honest observations and sarcastic wit make Raunaq an act that you shoudn't miss!
Venue
The Cuckoo Cafe, Mumbai
First floor, above The Cuckoo Club Black Box Theatre | 5AA, Pali Hill Road, Next to Candies, Bandra West, Mumbai, India 400050