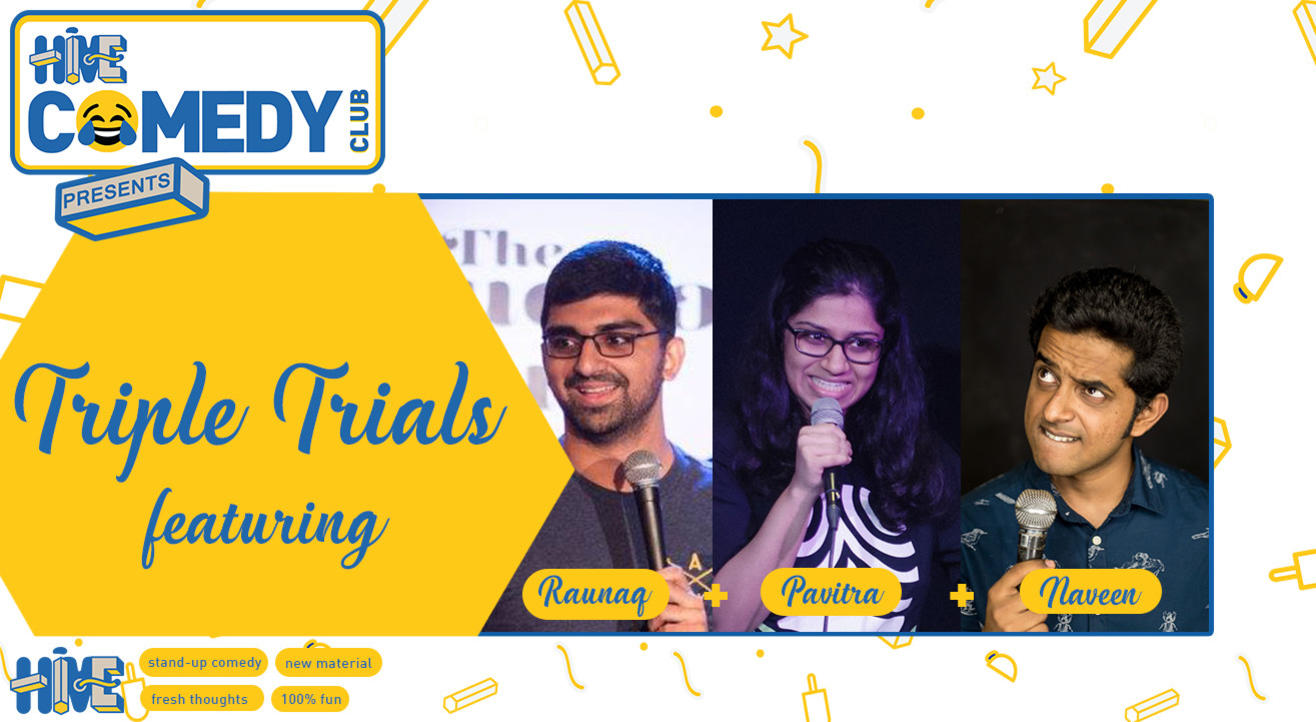 Comedy
Triple Trials with Naveen Richard, Pavitra Shetty and Raunaq Rajani
Hive at Linking Road, Bandra
About
Triple Trial Comedy featuring Naveen Richard, Pavitra Shetty and Raunaq Rajani. Saturday evenings couldn't get better with this amazing lineup. Three comedians take the stage at the Cuckoo Cafe to test out new material, fresh thoughts and jokes still baking...
Every weekend catch a lineup of some of the best voices in the Stand-Up comedy scene from around the country + surprise acts always drop in to test out more new material for you. Your choice pick for a weekend stand-up comedy night out.
About the Aritsts
Naveen Richard
One of India's most versatile comedians, Naveen recently showcased his comic dexterity with released his hour-long comedy special, Don't Make That Face, on Amazon Prime. A member of comedy collective Them Boxer Shorts, they created the acclaimed web series Better Life Foundation. He has also acted in Challenge Accepted (a Comedy Central TV show), Starboyz (a comedy sci-fi web series with Kenny Sebastian) and acts as Uncle Francis, a comedic avatar which has found a cult following.From being a finalist on Comedy Central's Indian Comedy Festival 2012, he's performed over 400 stand-up shows, and headlined comedy events such as Stage42, Bangalore Comedy Festival and Chennai's Fringe Comedy Festival. In 2017, he wrote episodes and played Pankaj for the hilarious web series Pushpavalli. As Uncle Francis would say, "Hello children, just keep calm and just go to his show, da dei!"
Pavitra Shetty
Pavitra Shetty is an talented bathroom singer and stand-up comedian who is also reportedly a girl. The biggest inspirations for her stand-up are her Mom, random aunts who keep visiting her place and her very own weighing scale. Already featured multiple times on television and radio, and she has an unnaturally high number of best friends who insisted that a new bio was written for her.
Raunaq Rajani
A pure bred Bombay boy, Raunaq Rajani has been in the comedy scene for a little more than half a decade. . He has appeared on Cyrus Broacha's: The Week That Wasn't and Rising stars of comedy on NDTV prime. Some insightful perspective, honest observations and sarcastic wit make Raunaq an act that you shoudn't miss!
Venue
Hive at Linking Road, Bandra
Hive at Linking Road, Shop No. 2, Ground Floor, Parbhat Kunj, 25th Road lane behind KFC, Linking Rd, Bandra West, Mumbai, Maharashtra 400052