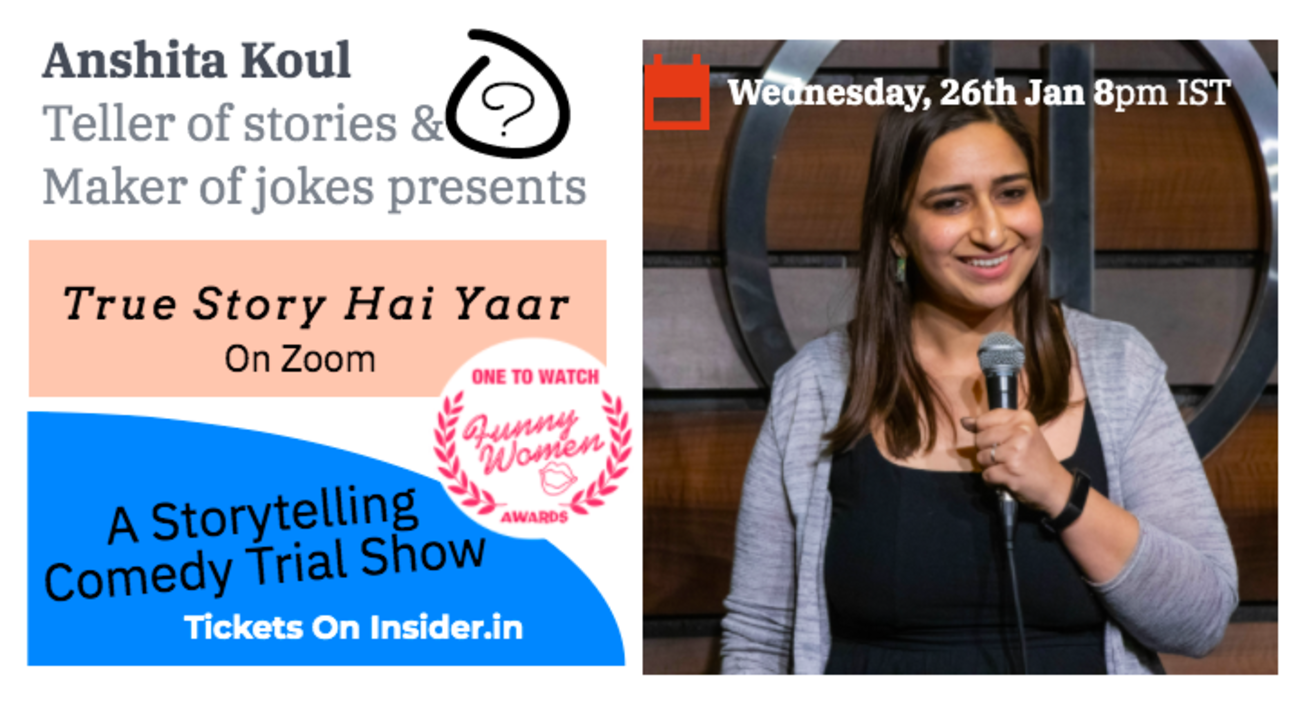 True Story Hai Yaar By Anshita Koul
Enjoy this event from your home
Event Guide
Digital Event
Live On Insider
Live Performance
Enjoy a unique experience
Invite your friends
and enjoy a shared experience
True Story Hai Yaar By Anshita Koul
Enjoy this event from your home
Event Guide
Digital Event
Live On Insider
Live Performance
Enjoy a unique experience
Invite your friends
and enjoy a shared experience
Event Guide
Digital Event
Live On Insider
Live Performance
Enjoy a unique experience
Invite your friends
and enjoy a shared experience
True Story Hai Yaar is a new comedy solo show by comedian Anshita Koul that was born in the first wave of the pandemic. Like Covid-19, this show has also mutated in the last few waves and is a gentle reminder that you should mask up because it ain't over yet.
This comedy show in a storytelling format is an attempt to tell stories from her long long past (she is old) that people refuse to believe in like - She is a gold medalist, she was chased by a mad cow, she sold weight loss products as part of a pyramid scheme to earn extra cash in college and she is related to Kunal Khemu. True story hai yaar! Don't believe her? Come watch live.
Anshita is known for her rant against Long Distance Relationship on the TV show Queens Of Comedy, her debut solo comedy hour - Thoda Boht, her second comedy solo in English - A Little Too Much, funny Kashmiri sketches on Youtube, and her anti Patriarchy campaign on Instagram. She does comedy in four languages.
She freelances in multiple jobs to pay her bills. She is 1/3 tourguide, 1/3 pedagogist, and 1/3 connoisseur of unsolicited opinions. And yes you are right, she googled the spelling of connoisseur. Apart from that she also likes to collect postcards, crack inappropriate jokes in therapy and stare at the sky whenever it's visible in Germany.
True Story Hai Yaar By Anshita Koul
Enjoy this event from your home
Event Guide
Digital Event
Live On Insider
Live Performance
Enjoy a unique experience
Invite your friends
and enjoy a shared experience