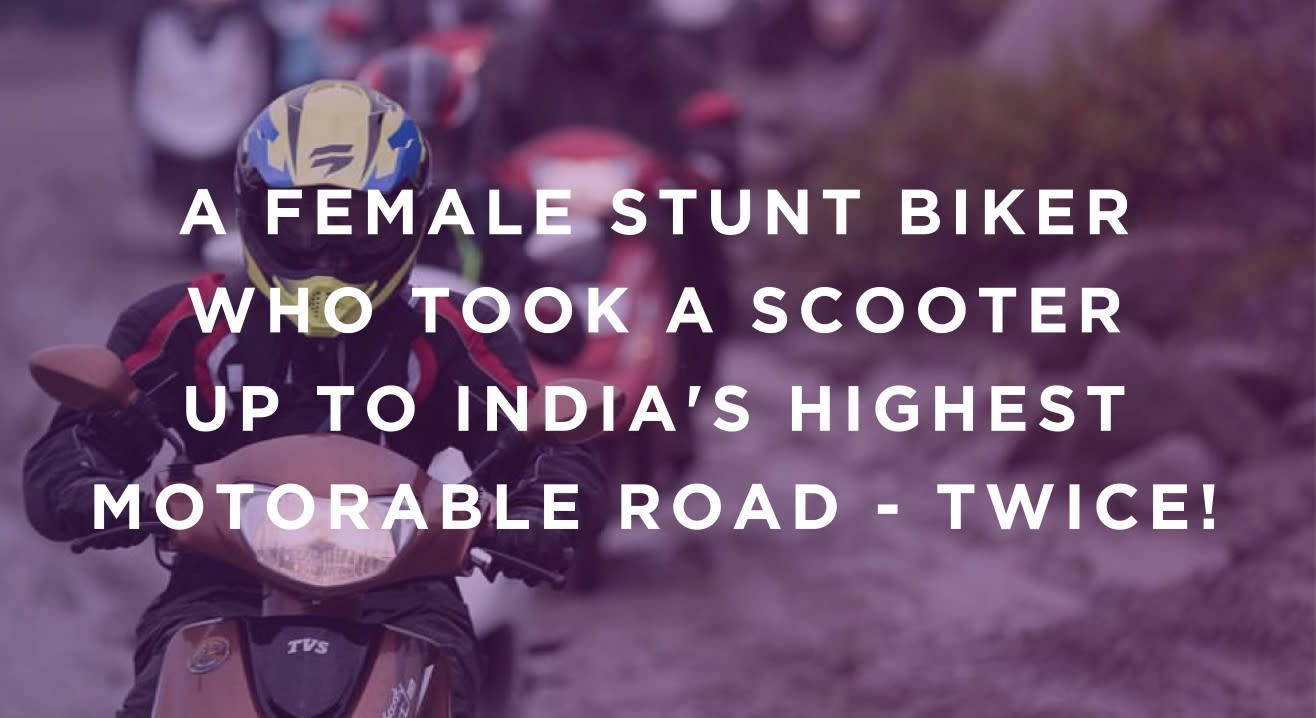 #TrySomethingNew: Anam Hashim, The 21-year old Female Stunt Biker
A female stunt biker who took a scooter up to India's highest motorable road – twice. In this male- dominated world of stunt biking, she is rising high!
Invite your friends
and enjoy a shared experience
Meet Anam Hashim. She started off as India's youngest female stunt biker. Looking at guys performing wheelies and stunts made her think why can't she couldn't do something like that. 21-year-old Anam has always been fascinated by motorbikes and engines and wished to take up the sport professionally some day.
She first rose to fame and kick started her career in stunt biking when a video of her performing stunts on her scooter went viral. And since then, there is no stopping for her. When doing stunts was not enough, she decided to try something new – conquer the Khardungla Pass on her scooter.
She is now learning mountain biking and superbike stunts. Hoping to compete in the International stunt biking championship. To sum up her career so far, she says, "A bike doesn't know your gender".
"A bike doesn't know your gender" - Anam Hashim
Considering the lack of infrastructure, support and opportunities in the Indian Motorsports segment, she has started 'Dreams Motorsports' and plans to encourage and promote motorsports athletes to the international stage. Keep up with her adventures on her Facebook page.

Check out some of her stunts below!
And if you need more inspiration, here's her TEDx talk!
When was the last time you challenged your limits and pushed through them? Share your stories with us by using #TrySomethingNew on Instagram or mail it to us on TrySomeThingNew@insider.in.
Subscribe to receive our newsletter!
Find the best experiences happening out there in your city or enjoy handpicked content while sitting comfortably at home. Paytm Insider is your go-to place to figure out what to do today!