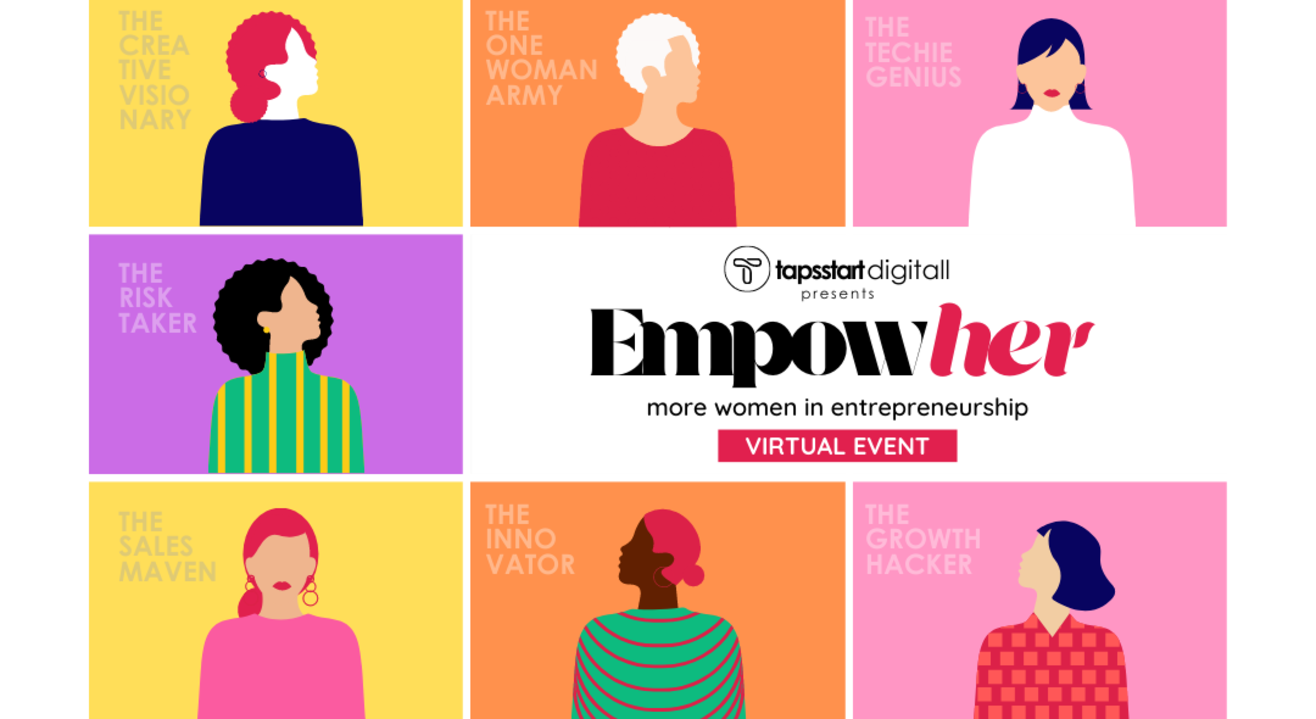 TSD Empowher- More Women In Entrepreneurship
March 25 | 10:30AM - March 26 | 5:00PM
Enjoy this event from your home
Invite your friends
and enjoy a shared experience
TSD Empowher- More Women In Entrepreneurship
March 25 | 10:30AM - March 26 | 5:00PM
Enjoy this event from your home
Invite your friends
and enjoy a shared experience
Invite your friends
and enjoy a shared experience
TSD Empow(her) is a non-profit Women's Day initiative by Tapsstart Digitall (TSD), a PAN India digital-first community of entrepreneurs based out of Mumbai. The event aims to promote the cause of "More Women in Entrepreneurship'' and empower women to succeed in their entrepreneurial endeavours.
The event features 24+ industry speakers for 8+ panel sessions across 2 days impacting about 800-1000 women entrepreneurial minds. The sessions address key issues faced by women in entrepreneurship today and provide insights into strategies for success.
25th March : 10:30AM - 5:00PM (4 Panel Sessions)
26th March : 10:30AM - 5:00PM (4 Panel Sessions)
Panel Topics
The Power of Mentorship: Finding and Building Relationships with Advisors and Mentors
Overcoming Challenges: Strategies for Success as a Female Entrepreneur
Women in the sustainability movement: exploring the role and impact of women in driving sustainability initiatives
Secrets behind building a team of go-getters at Startups
Empowering Women Through Authentic Personal Branding: Navigating the Intersection of Personal and Professional Identities
The Art of Fundraising : Creating a financially attractive business model
Marketing Pitfalls for Early Stage Entrepreneurs
Empowering Women's Health: The Importance of Self-Care and Prevention in Entrepreneurship
Key Speakers :
Mr. Nagaraja Prakasam (Naga the farmer), Angel investor and Co-Founder of IAN Impact
Ms. Trisha Rajani Vaidya, Founder & Ex COO @ Dr. Vaidya's, Angel Investor and D2C Ops Junki
Ms. Akancha Srivastava, Founder - Akancha Against Harassment & Azure
Mr. Arjun Vaidya, Co-Founder of V3 ventures and Dr Vaidya's India's leading ayurveda brand
Mr. Mahavir Pratap Sharma, Co-founder of Rajasthan Angel Innovators Network and Chairman of TiE India Angels
Ms. Jigisha Rajguru, Founder at Richer Life
Ms.Uzramma, the Founder of Decentralised Cotton Yarn Trust, and Director of Malkha Marketing Trust
Ms.Simrun Chopra, Founder at Nourish With SIM
Dr.Saloni Vora,Clinical and Cosmetic Dermatologist
Mr.Satish Nagendra, Founder & Principal Designer, Kora Design Collaborative
Mr.Rohit Dadwal, Managing Director Asia Pacific - MMA Global
Mr.Tarun Makhija, Founder & CEO at TarunSpeaks
Ms. Gurnoor Kaur Behl, Founder of House of GKB
Mr. Kuldeep Mirani, Co-Founder & CEO at BeyondSeed
Ms. Chitra Singh, Founder & Chief Mentor at SalesWomentoring
Mr. Ajit Nagral, Chairman and CEO at Scitara Corporation
Ms. Ruche Mittal, Founder of HEN Community
Ms. Deeksha Ahuja,Founder at Encubay
Dr. Runa Maitra, Founder & Director, People Talent International
Ms. Shaan Khanna, Founder, Networking Now India & Co-founder Spicy Sangria
Ms. Komal Ramani Makhija, Founder & Principal Designer at Projekt
Terms & Conditions:
-All registrations for the TSD Empowher event are final and non-refundable.
-The event organizers have the right to refuse admission to anyone.
-The organizers are not liable for any loss, damage, or injury during the event.
-The event schedule and speakers may be subject to change without prior notice.
-Personal information will be used solely for the event and not shared with any third party.
-The organizers are not responsible for the accuracy, completeness, or reliability of the event content.
-Attendees may be photographed or filmed, and these recordings may be used for promotional purposes.
-These terms and conditions are subject to change without prior notice.
-By registering, you agree to these terms and conditions.
You agree to share information entered on this page with Tapsstart Digitall (TSD) (owner of this page)
TSD Empowher- More Women In Entrepreneurship
March 25 | 10:30AM - March 26 | 5:00PM
Enjoy this event from your home
Invite your friends
and enjoy a shared experience