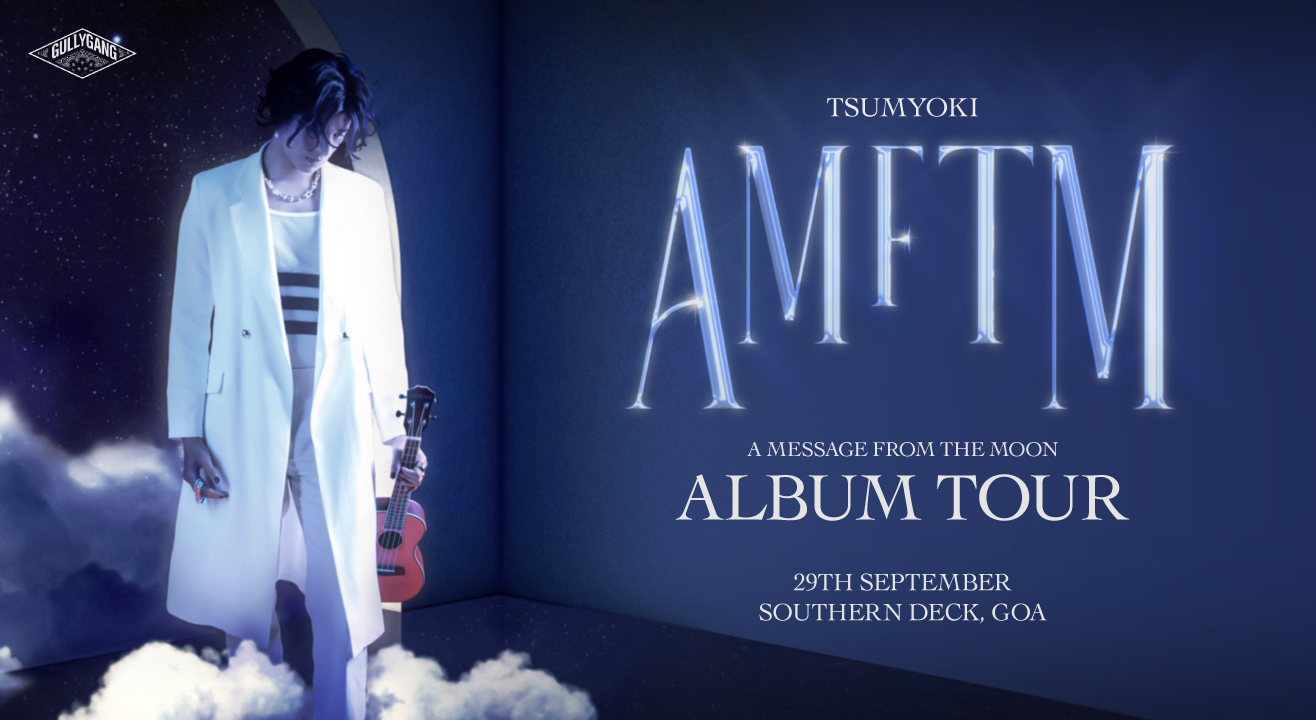 Tsumyoki : A Message From The Moon Tour | Goa 2023
September 29 | 8PM onwards
Event Guide
Live Performance
Enjoy a unique experience
Invite your friends
and enjoy a shared experience
Tsumyoki : A Message From The Moon Tour | Goa 2023
September 29 | 8PM onwards
Event Guide
Live Performance
Enjoy a unique experience
Invite your friends
and enjoy a shared experience
Event Guide
Live Performance
Enjoy a unique experience
Invite your friends
and enjoy a shared experience
Tsumyoki is a 21-year-old rapper from Goa who's steadily making waves, becoming the newest rapper to be added to Gully Gang Entertainment's growing roster. The multi-talented artist is also a producer, singer, and sound engineer, and a quick look at his music and his vision makes it clear that he's definitely one to watch out for.
According to the artist, his moniker 'Tsumyoki' refers to a mindset of vision, productivity, and positivity. He prefers to take a more direct approach to both his art, as well as his self-image – showing incredible maturity for someone so young. His emotive and evocative expression shines through in his music, and he aims to use this sonic energy to heal people who have gone through similar things.
His latest releases include 'Goa Trap Culture - Daboij Album 2021', an album from which the single 'Jackets' made waves and got a great response from his growing fan base. 'Big Shots' with Yelhomie and Moko Koza was a collaboration between huge talents that represented the best of Goa and Nagaland respectively. He also produced and performed in the 'Goa Rap Cypher' which featured 9 talented and hard-hitting rappers that all hailed from Goa.
It is apparent that Tsumyoki is an artist that is manifesting good music already, and at only 19 years of age, is steadily breaking new ground with his sound. His connection with his listeners is profound and his philosophy of spreading peace, positivity, and pure love, is bound to resonate with a large number of people in the years to come.
The Southern Deck
Beach, near Benaulim, Benaulim, Goa 403716, India
GET DIRECTIONS
Tsumyoki : A Message From The Moon Tour | Goa 2023
September 29 | 8PM onwards
Event Guide
Live Performance
Enjoy a unique experience
Invite your friends
and enjoy a shared experience