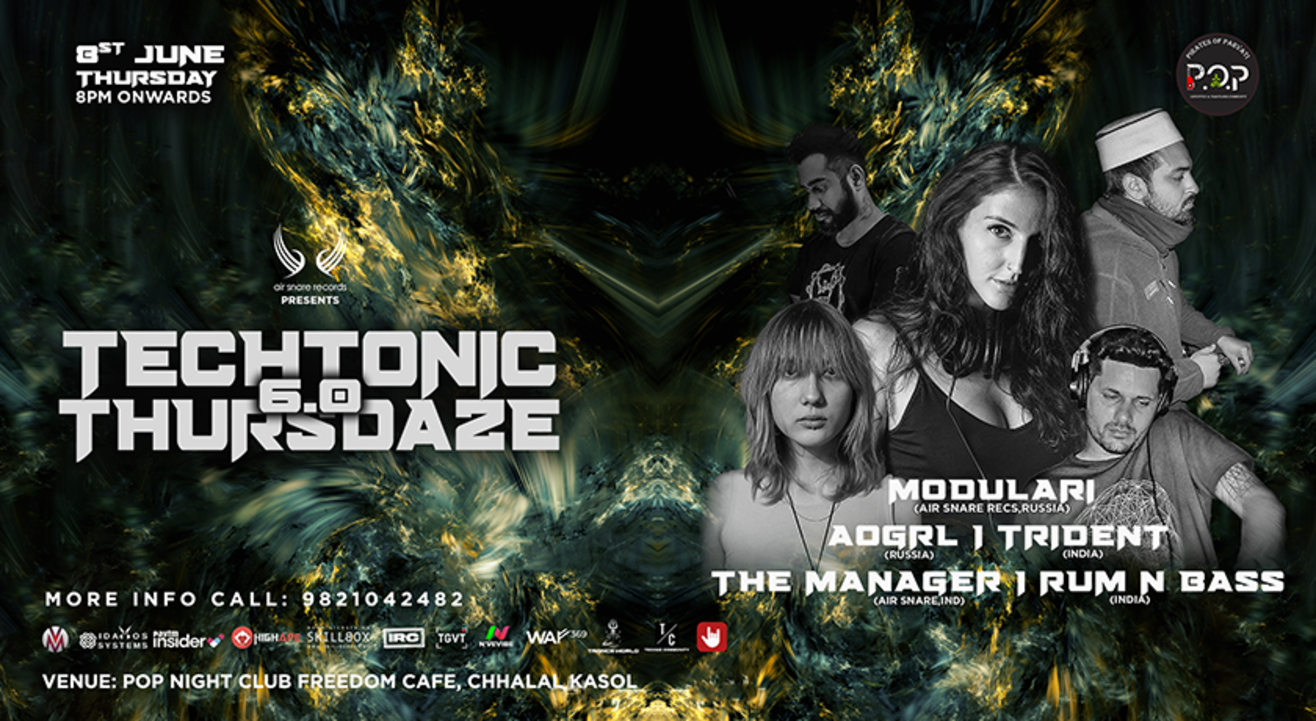 Tt6.0 feat Modulari (Russia),Aogrl (Ru),Trident
June 8 | 8PM - June 9 | 4AM
Pirates of Parvati, FREEDOM CAFETERIA, Kasol
Event Guide
Live Performance
Enjoy a unique experience
Invite your friends
and enjoy a shared experience
Tt6.0 feat Modulari (Russia),Aogrl (Ru),Trident
June 8 | 8PM - June 9 | 4AM
Pirates of Parvati, FREEDOM CAFETERIA, Kasol
Event Guide
Live Performance
Enjoy a unique experience
Invite your friends
and enjoy a shared experience
Event Guide
Live Performance
Enjoy a unique experience
Invite your friends
and enjoy a shared experience
Air Snare shaking the mountain plates again with Techtonic Thursdaze 6.0 on June 8.
It's been an ideal night for all you serial chillers looking to fire start your weekends.
Techtonic Dazers:
Modulari (Air Snare Recs,Russia)
Aogrl (Russia)
Trident (ind)
Manager(Air Snare Recs,ind)
Rum n Bass (ind)
Let's keep romping into our mission of shifting the techtonic plates in Himalayas.
Same place just a different Thursday --- POP Night Club, Freedom Cafe, Chhalal
More info 9821042482
Pirates of Parvati, FREEDOM CAFETERIA
2857+XXM, Kasol, Himachal Pradesh 175105, India
GET DIRECTIONS
Tt6.0 feat Modulari (Russia),Aogrl (Ru),Trident
June 8 | 8PM - June 9 | 4AM
Pirates of Parvati, FREEDOM CAFETERIA, Kasol
Event Guide
Live Performance
Enjoy a unique experience
Invite your friends
and enjoy a shared experience