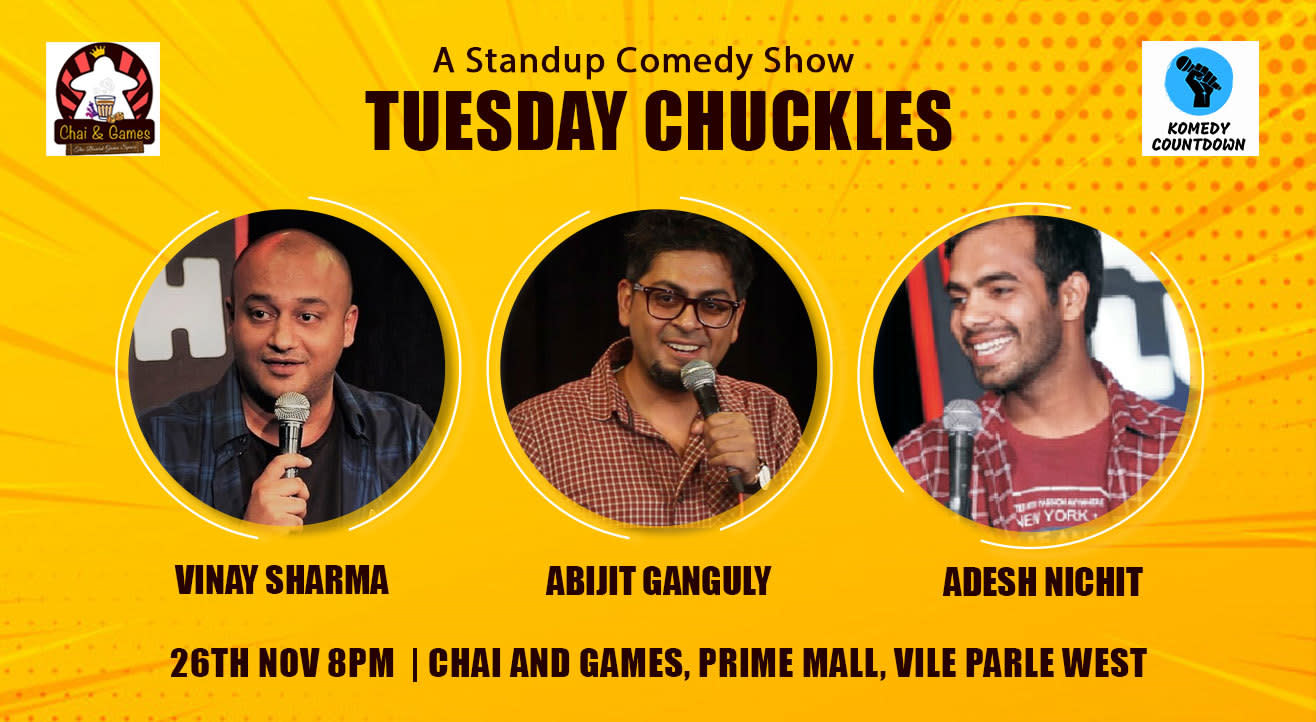 Chai and Games :The Board Game Café, Vile Parle West
Invite your friends
and enjoy a shared experience
Invite your friends
and enjoy a shared experience
About the Event
Komedy Countdown brings you Tuesday chuckles in this cool new venue in Vile Parle. Come by for some laughs and their complimentary tea!
Abijit Ganguly:
Abijit Ganguly first gave a shot at comedy in 2010 at an open mic in Delhi organised by the comedy collective Cheese Monkey Mafia. He soon started getting some pub and bar gigs in 6 months time and smaller corporate shows and college shows in a years time. Initial 4 years, he was a parti-time comedian, finishing his Masters from Delhi School of Economics (2010-2012), and working at Deloitte Consulting (2012-2014).
In 2014, Abijit started pursuing comedy full time. By this time Abijit had featured quite frequently on NDTV prime, Zoom and media publications, such as Times of India, Hindustan Times, Statesman, Hindu, etc and was a frequent face at the Canvas Comedy Club branches of Mumbai, Delhi and Gurgaon & That Comedy Club Bangalore.
In 2017, Abijit relocated to Mumbai. He's also written a web-series titled 'Joint Venture' for Times on their MensXP platform. Abijit has performed extensively in the cities of Delhi, Mumbai, Kolkata, Bangalore, Pune, Chennai, Chandigarh, Guwahati, Shillong, Nagpur, Bhubaneswar, Ranchi, Surat, Jaipur, Indore, Coimbatore, Ahmedabad, etc. He's done international shows to Indian diasporas in Dubai, Nepal, Tanzania and Australia, and brand work for Sprite, Culture Machine, Woo, Oyo, Times, Treebo, Cinepolis, etc. His style of comedy is anecdotal, observational humour with occasional self deprecation and political satire.
Vinay Sharma:
An IIT Bombay pass out engineer Vinay Sharma is sure of the fact that he is funny. Currently he is turning every stone to find out the ways to make the people from South Mumbai laugh and it does not include the crowd from Upper Worli. Shaadi.com hair loss and baldness and star signs are the three things that concern him the most and he tries to make them as funny as possible. As far as the fashion sense is concerned Vinay believes in trending his own fashion and that's why he bought a green pair of sneakers with yellow laces and somehow this combination has also boosted up his confidence. You can find him munching street food and kachori anytime and they are his second love after comedy.
Adesh Nichit:
Adesh Nichit, 22, realized he is meant to be a standup comic when his marksheets started becoming funnier each passing year. You might find him cute but you will certainly take him home and replace your laughing buddha with him after listening to his jokes.
He doesn't have a categorical comical style, exaggerate daily life things in the most witty way possible and is famously known for his non-scripted/ improvised jokes right in middle of his act. Been in the comedy circuit for last 3 years, he has many accolades to his name such as winning numerous famous Comedy Mic events like IIT Rendezvous and has been hosting shows for Canvas Laugh Club which is popularly known as Mecca of Live comedy in India.
Chai and Games :The Board Game Café, Vile Parle West
Prime Mall, L113, Basement, shopping street, Irla Rd, Navpada, Vile Parle West, Mumbai, Maharashtra 400056
GET DIRECTIONS