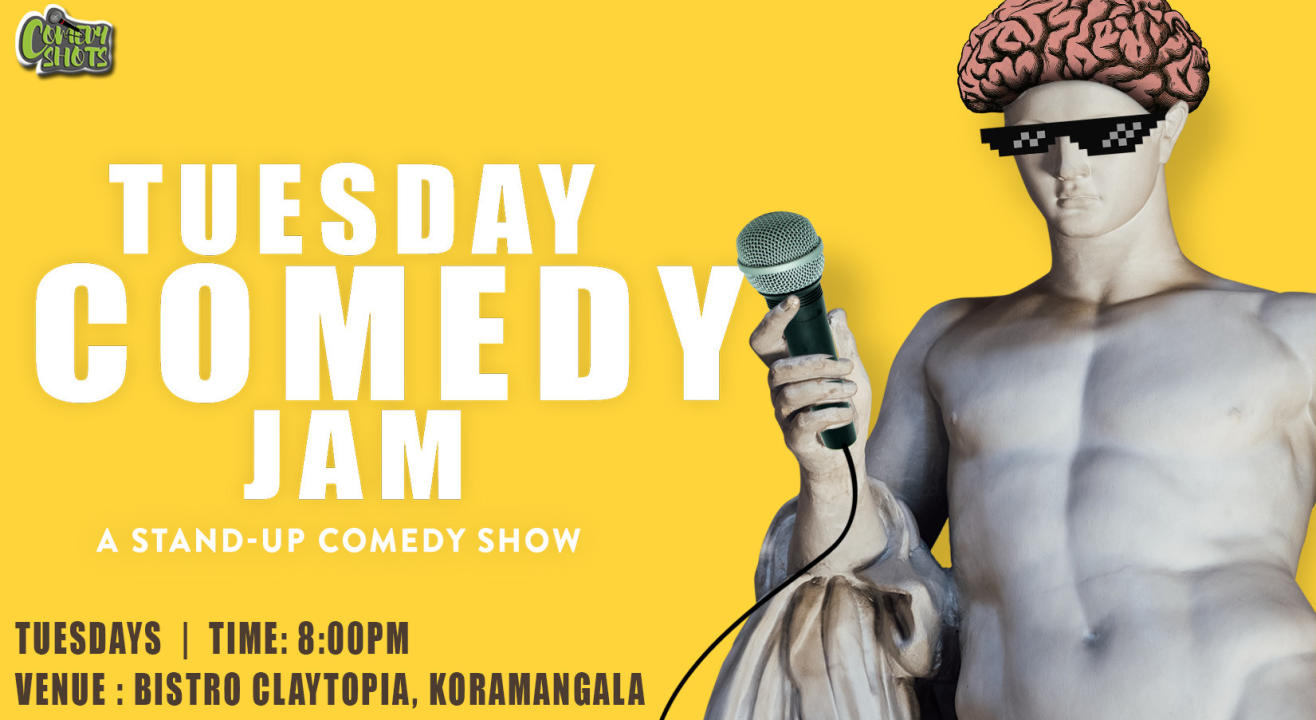 Tuesday Comedy Jam- A stand-up comedy show
Step out and enjoy this event
Invite your friends
and enjoy a shared experience
Invite your friends
and enjoy a shared experience
About the Event
Comedy Shots, in association with Bistro Claytopia, presents Tuesday Comedy Jam. This is a show where comedians will try some of their new material for the very first time, so come and be part of their journey and witness their material being developed. Come and watch a lot of new comedians before they become famous.
About Some Of The Performers
Shankar Chugani Shankar Chugani, easily intimidated, hyperactive and someone who loves chai is a comic based in Bangalore. He has been performing regularly in the city for 3 years now. He was part of Bangalore's first Comedy Festival. He has performed over the country. Through his comedy, he shares his experience of dancing as a girl, being a bouncer in a Theatre with a strict no latecomer policy and awkward observations that he makes.
Somnath Padhy Under-confident and a confused guy, Somnath is in a love and hate relationship with superheroes. He is a graduate, in Electrical Engineering, from IIT(ISM) Dhanbad. He has performed with some of the funniest comedians in the Country. He currently lives in Bangalore.
Joteen Patro Joteen Patro is a calm human being with twisted thoughts. Sometimes absurdity is a natural reaction to his thoughts. He is mostly stupid but also makes sense. Confused! Well, that's right. Watch him to confuse yourself.
Shamik Chakraborty A self-proclaimed "analogue guy in a digital world", Shamik spends most of his waking hours staring at the computer and smartphone screens, blissfully ignorant about his incredible hypocrisy. His comedy involves rants about various topics with a consistently low level of background research.
Anand Ratnam Anand Ratnam is a civil engineer turned stand-up comedian who hates almost everything in the world. A whiney and procrastinating comedian who has an opinion on everything but frankly nobody cares. He is sometimes funny though.
Bistro Claytopia
11, 80 Feet Main Road, SBI Colony, Koramangala 3rd Block, Near Wipro Park, Koramangala 1A Block, Koramangala 3 Block, Koramangala, Bengaluru, Karnataka 560034
GET DIRECTIONS