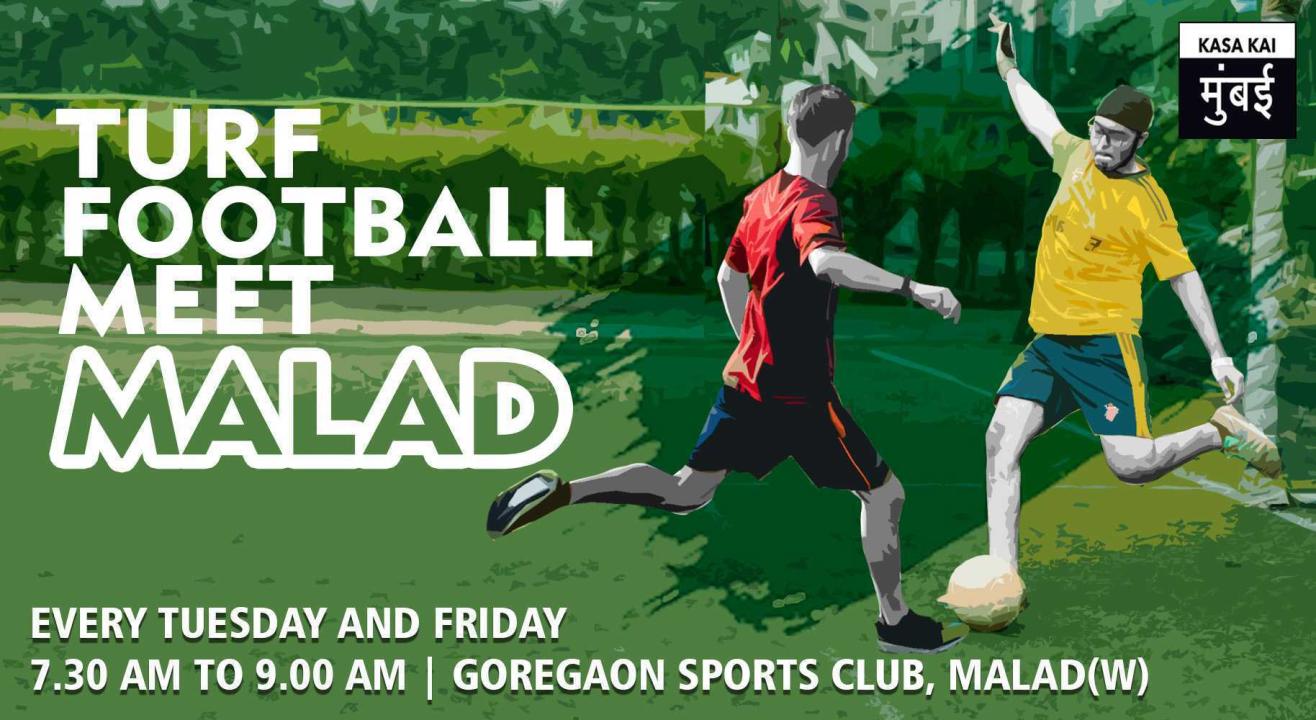 Turf Football Meet At Goregaon Sports Club, Malad West
Every Tuesday and Friday | 07:30 AM - 09:00 AM
Goregaon Sports Club, Malad
Step out and enjoy this event
Invite your friends
and enjoy a shared experience
Invite your friends
and enjoy a shared experience
About the Event
Fun yet intense turf football meets organised by Kasa Kai Mumbai.
What is a turf football meet?
A turf football meet is essentially a game of football organised by gathering the requisite number of individuals, distributing them into teams and engaging in a competitive contest. Such meets often tend to overwhelm the joinees who face bouts of anxiety leading up to a game and even worse, during a game.
That's not the case at Kasa Kai Turf Football Meets!
Our turf football meets are fun, intense, inclusive, and competitive (but not overly aggressive) gatherings where players of every age and skill level are welcome. We ensure engaging and competitive games by distributing teams in a balanced way and managing pre-game activities efficiently.
You don't have to worry about injuries/exhaustion or game time as we ensure there is exactly the right number of people. Hence, you don't burn your lungs out or conversely do not engage in an unsatisfying workout. There's no need to worry about gathering a team and the fee is almost what you'd pay while organising a similar game with friends. We have round the clock support through phone/WhatsApp on +91 9930931616 and you can get all your apprehensions dismissed through one message or call.
What is Kasa Kai Mumbai?
Kasa Kai Mumbai is a community of like−minded people who come together and immerse in shared experiences.
Started in 2017 with a vision to enable experiences over hobbies and interests, we have come a long way and have curated more than 5000 experiences for 32000+ patrons and have pioneered activities like match screenings, TV show screenings, open mics, turf football meets and Mahabharat recitals.
There's always something new happening at Kasa Kai. Come and experience!
Q: What is the age group for which such games are organised?
A: Generally, people in the age bracket of 16-40 join our meets. Having said that, there's no restrictions regarding age as long as you give your best and engage in the game.

Q: Do I need to have a kit or specific shoes to play?
A: You just need a pair of sports shoes or studs to join us. We may ask you to wear a t-shirt of a particular colour for the game. You'll get the information well ahead of time.

Q: I used to play football quite a few years ago and have lost touch. Am I still welcome?
A: Studs or turf shoes only allowed.Yes. Kasa Kai Turf Meets is open to all. We've had people who had never in the past played football and aspiring footballers all playing together. And it is fun. We attribute it to the game itself as it is a team game and no individual can be credited or blamed for a team's win or loss.

Q: How do you ensure competitive games as well as avoid injuries?
A: At every meet, we have a couple of representatives from our team. We bring the Kasa Kai vibe of camaraderie and experience through them. Moreover, we ensure just about enough players so that players are not over stretched or under exercised.

Q: Once registered, what is the process like?
A: The evening before the meet, you will be added to a temporary WhatsApp group along with other players joining for the game. Instructions like team colours, reporting time, etc are conveyed over there. You just have to show up on time, warm up and engage in the game.

Q: Are you doing turf meets in any other area of the city too?
A: We are regularly organising games across the city. You can check with us on +91 9930931616 if there is anything near you. And if there isn't, maybe we can think of organising one!
Goregaon Sports Club, Malad
New Link Rd, near Toyota Showroom, Malad, Mindspace, Malad West, Mumbai, Maharashtra 400064
GET DIRECTIONS