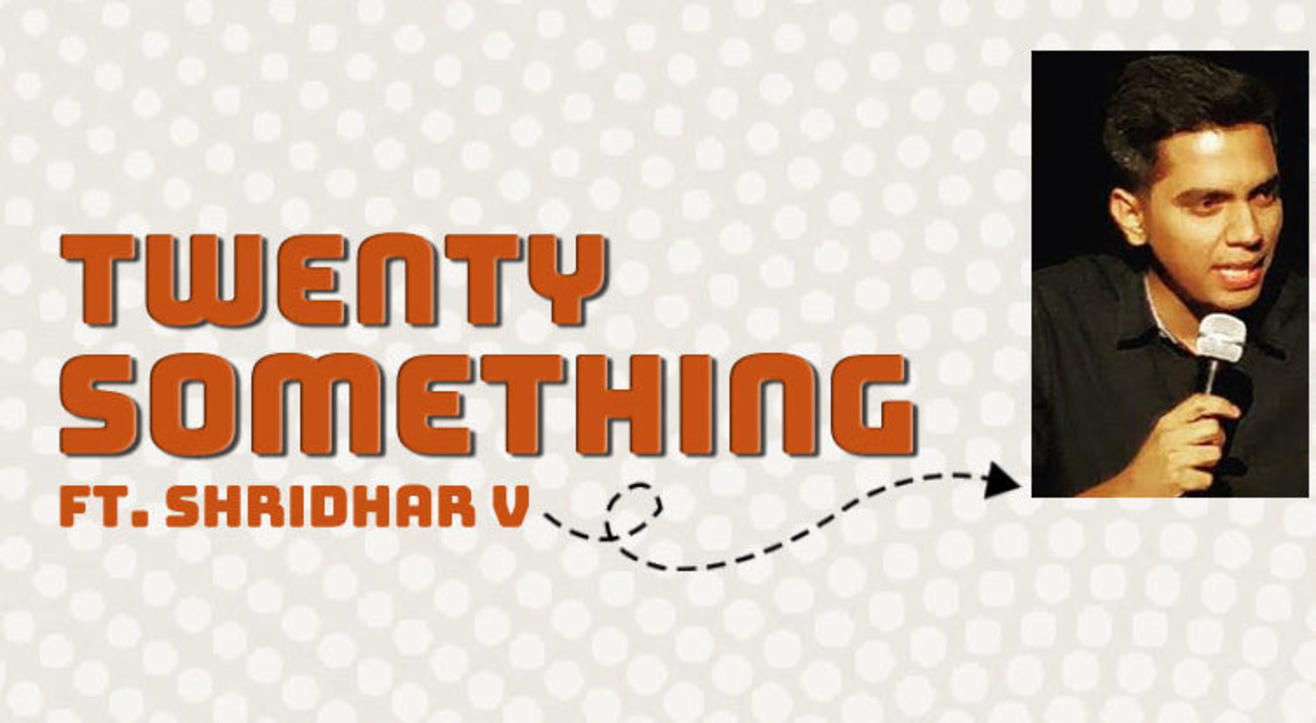 Comedy
Twenty Something ft. Shridhar V
About
Twenty Something
Twenty Something is a show about the struggles you face in your twenties, love, hate, friends, college, missing school, professors, college canteen, attendance, bunking, leaving college and getting into the world of office. The new challenges all this and more will be shared by a bunch of twenty year olds, its great show for everyone. if you are in your twenties or have been there done that, this is the show for you. so come and relive your twenties.
Lineup
Host Devanshi Shah
Comics
Agrima Joshua
Shreeja Chaturvedi
Christopher Baretto
Shridhar V
Unnati Marfatia
Adesh Nichit
Artists Info
Devanshi Shah
Devanshi Shah is an upcoming comic and has featured in several shows.
Agrima Joshua
Agrima Joshua is an upcoming comic and has featured in several shows.
Shreeja Chaturvedi
Shreeja is a comedian from Mumbai, characterized by a straight face and animated hands. She has been active in the Mumbai circuit for over 2 years and considers herself a full-ish-time comedian. Mostly known for limited facial muscle movement, her dream is to someday have her own concert where she jumps into the crowd after landing a punchline, with crowds screaming her name and coming at her with bare chests to etch her name on.
Shridhar V
V Shridhar is an engineering graduate from NIT Surathkal and holds an MBA from the premier B School IIM Bangalore.Shridhar ventured into Stand up comedy in the year 2014. He has done 100+ shows across major cities in India like Bangalore, Mumbai, Pune, Hyderabad, Vizag and Delhi. He has hosted several big names in the Indian comedy scene like Praveen Kumar, Sundeep Rao, Kanan Gill, Amit Tandon, Vasu Primlani, Daniel Fernandes etc.He has performed over several shows across different colleges as well. Some of his key shows include performing at the IIM Bangalore leadership summit, which had Bollywood superstar Shahrukh Khan as a key note speaker, performing for the India's biggest Business Fest Vista 2014 at IIM Bangalore and South India's second best cultural festival Incident, NITK Surathkal in 2016. He has been featured by top news papers like Deccan Chronicle and a story on him was done in a popular magazine called Yo! Vizag.
Unnati Marfatia
Unnati Marfatia is an upcoming comic and has featured in several shows.
Christopher Baretto
Christopher Baretto is an upcoming comic and has featured in several shows.
Adesh Nichit
Adesh Nichit, 22, realized he is meant to be a standup comic when his marksheets started becoming funnier each passing year. You might find him cute but you will certainly take him home and replace your laughing buddha with him after listening to his jokes.
He doesn't have a categorical comical style, exaggerate daily life things in the most witty way possible and is famously known for his non-scripted/ improvised jokes right in middle of his act. Been in the comedy circuit for last 3 years, he has many accolades to his name such as winning numerous famous Comedy Mic events like IIT Rendezvous and has been hosting shows for Canvas Laugh Club which is popularly known as Mecca of Live comedy in India.
Venue
The Juhu Studio
11, Parna Kutter Rd, Janki Kutir, Juhu Tara, Juhu, Mumbai, Maharashtra 400049
GET DIRECTIONS