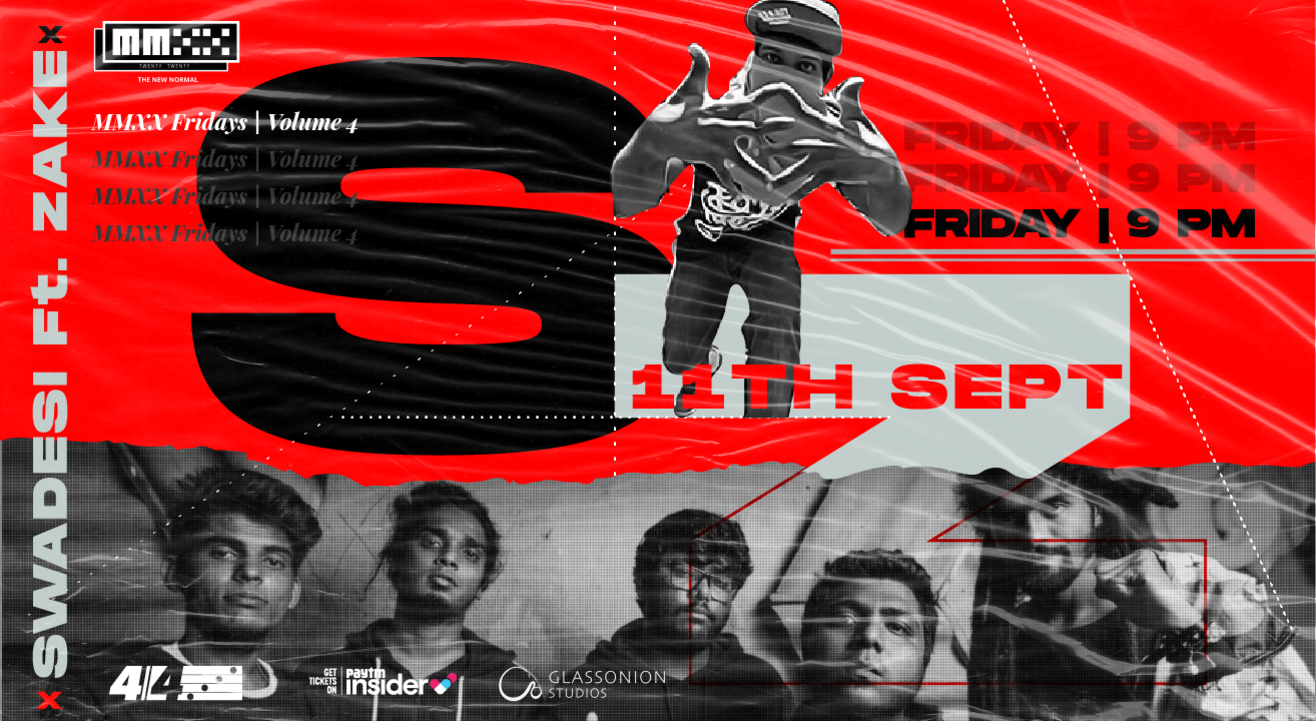 Twenty Twenty Fridays Vol4 Ft Swadesi & Zake
Enjoy this event from your home
Event Guide
Digital Event
Watch on Zoom
Live Performance
Enjoy a unique experience
Invite your friends
and enjoy a shared experience
Twenty Twenty Fridays Vol4 Ft Swadesi & Zake
Enjoy this event from your home
Event Guide
Digital Event
Watch on Zoom
Live Performance
Enjoy a unique experience
Invite your friends
and enjoy a shared experience
Event Guide
Digital Event
Watch on Zoom
Live Performance
Enjoy a unique experience
Invite your friends
and enjoy a shared experience
Swadesi will be streaming live from the studio on 11th September, Friday from 9PM onwards.
This will also feature graffiti artist Zake who will be creating live digital art right through out the stream.
We'll try to make this party as awesome as we can so you don't miss going outside and are having an amazing time in THE NEW NORMAL.
About Swadesi:
Swadesi is a group of socially conscious rappers whose verses serve as a mirror to the society. The multi-lingual crew believes in 'music with a cause', and go by a sound that is traditional yet global. With their unsparing lyrical content intertwined with folk and bass music, Swadesi has created a unique sound and brand of its own in the Indian music landscape.
The group broke into the mainstream with their debut Bollywood track 'India 91' in collaboration with other Indian rappers in the cult film 'Gully Boy'. MC Mawali of the crew is also featured as a rapper on Rajnikath's 'Kaala' film soundtracks.
Swadesi's highly acclaimed work 'The Warli Revolt' (2019), garnered immediate attention, taking rounds on the internet as an anthem against the destruction of Aarey Forest in Mumbai. This was followed up with Swadesi's debut album 'Chetavni' (Feb 2020) that arrived at a pivotal moment in Indian history, with class-inequality and sectarian violence seemingly being seeped into the legal and social fabric of Indian society.
Taking inspiration from the poetries of social reformers like Tukaram, Swadesi is regarded as Indian Hip Hop's only socio-political group, that continually aims to bring about change through art and music.
About Zake:
Zake is a pioneer of India's Graffiti scene and a legend among his contemporaries. Zake owes his training in commercial arts. From imprinting his art onto Mumbai's busy streets and commercial spaces, to representing India at the world's biggest Graffiti festival in Brazil, Zake is truly considered as India's biggest Graffiti art export.
@swadesimovement
@zake_india
@fourbyfourexp
@glassonion_studios
@mmxx2020_thenewnormal
Twenty Twenty Fridays Vol4 Ft Swadesi & Zake
Enjoy this event from your home
Event Guide
Digital Event
Watch on Zoom
Live Performance
Enjoy a unique experience
Invite your friends
and enjoy a shared experience