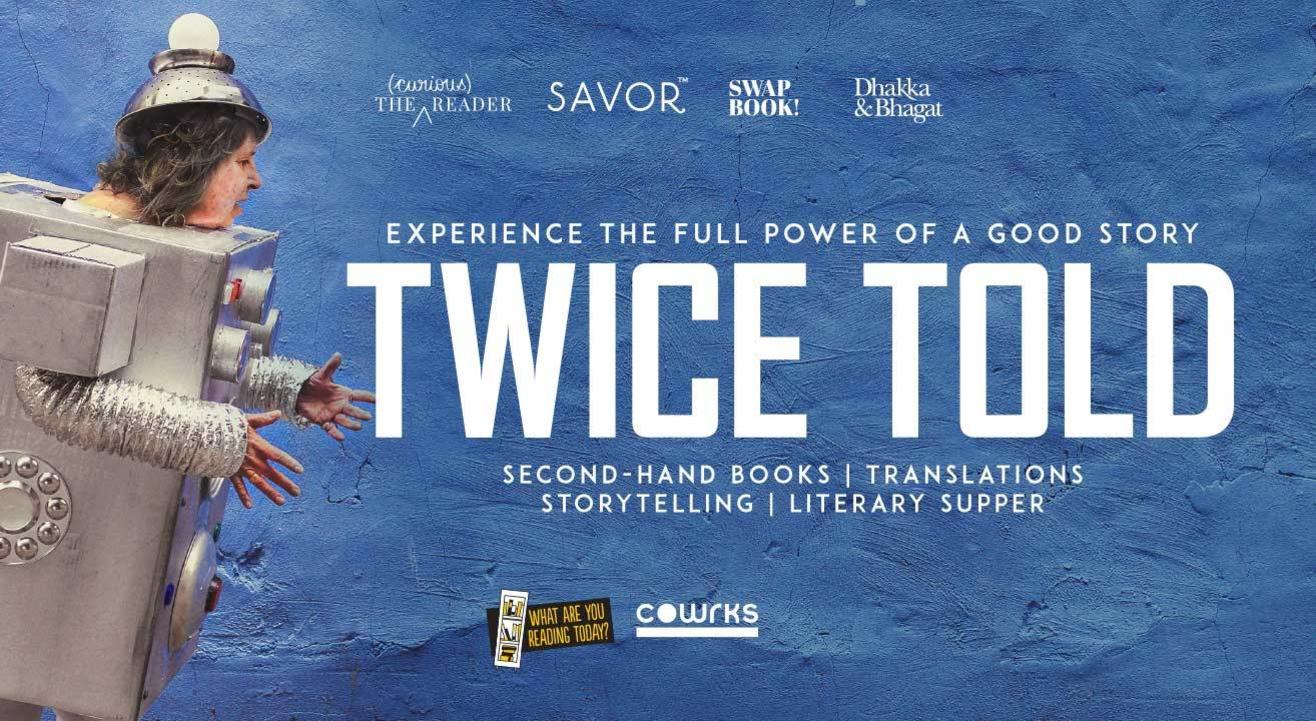 Twice Told – Second-Hand Books | Translations | Storytelling | Literary Supper
July 19 - 22 | 10AM - 10PM
Step out and enjoy this event
Invite your friends
and enjoy a shared experience
Twice Told – Second-Hand Books | Translations | Storytelling | Literary Supper
July 19 - 22 | 10AM - 10PM
Step out and enjoy this event
Invite your friends
and enjoy a shared experience
Invite your friends
and enjoy a shared experience
The power of good story multiplies when it's Twice Told. You think you know how the story goes. But then you hear it again and it is fresh! Then you eat it. And you feel it. And you dip your hand in and smash it all over you. The passion hides itself in forgotten second hand books. In the small gestures of a great storyteller. In the skill and imagination of a master chef.
We have it all lined up for you at this year's Twice Told.
Meet the best second-hand booksellers from across Mumbai and get a glimpse of their vast collection. They love what they do – who wouldn't?
Afzal from Chembur. He's is a book lover, a connoisseur of tasteful reading and a gentleman to boot. He is so much more than a mere bookseller. He loves the company of readers and distributes obscure books, lesser known titles and foreign authors outside of UK and USA.
Hitler. Do not let the name frighten you. Hitler is a mild-mannered Tamilian whose father thought Hitler would be a significant name for his son. Hitler too, sells his wares from a licensed shop on King's Circle. Hitler stocks rare and antique books in addition to collectors' items such as letters of antiquity, post-cards, photographs and other such memorabilia.
Vivek operates out of a godown in Chembur. He's a veteran in the book selling business with 35 out of his 42 years spent selling books from and distributing them across the country.
Translations are twice told stories that ran away from home. The foremost advocates of translation are coming to Twice Told. Niyogi Books from Delhi and Seagull Books all the way from Calcutta. With books so beautiful they will blow your mind. They bring the world into your hands and blur the lines of politics, culture and language to bring the face of humanity into sharp focus
Performers from Jashn-E-Qalam Storytelling, the Hindustani literature storytelling collective, have prepared four short stories especially for the weekend at Twice Told. Switch off your mobiles!
The good people at The Curious Reader have planned group interactions with authors. Meet, greet and chat away. Selfies? Maybe. Ask nicely.
The guys at Savor Experiences have taken inspiration from literature and prepared a menu that will take you right into the pages of your favorite books. You can grab a bite of a story while you browse the books!
Adding another good reason come to Twice Told! Share a book, India Association is bringing their treasure of books. Each book you buy from them supports their #Mission to set up a hundred school libraries for underprivileged children across the country.
Feel it. Savor it. Save for it.
#TwiceTold #SecondHandBooks #Translations #StoryTelling #LiterarySupper
Can we park in the premises?
There is ample parking space at Birla Centurion. You do not need to look for space outside

What are the genres of books available?
Fiction, Non-Fiction, Children's Book, Comics and Graphic Novels, Rare Books

What time is it open till?
It's open till 10PM on all the event days. The idea is that you can come even after work on Friday and Monday.

Why are you doing this event?
We are bringing together everyone that can bring a story to life - our favorite booksellers, performance artistes, authors… and a chef to take the experience of a tale beyond the page.
(Click to zoom in.)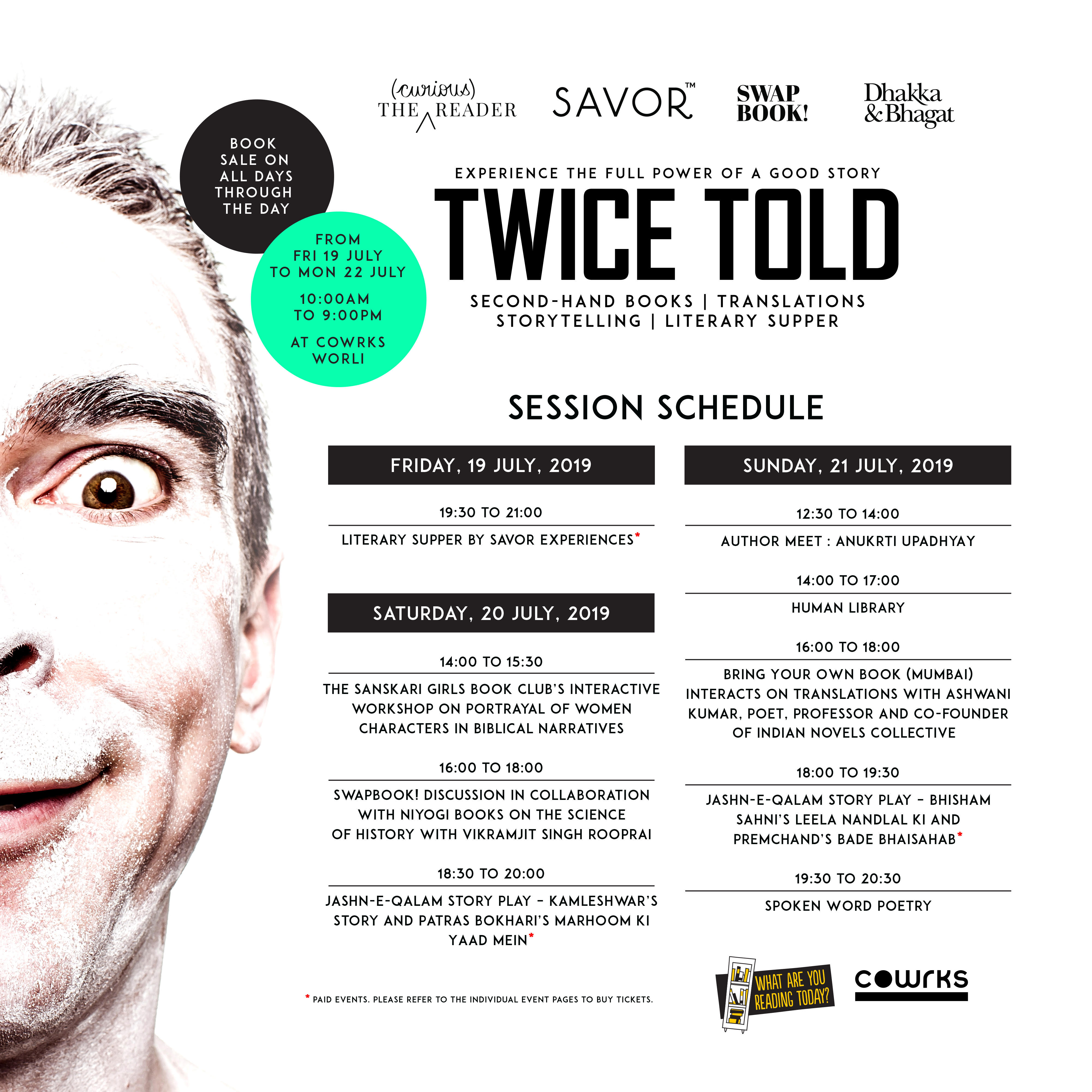 CoWrks Worli
CoWrks, Birla Centurion Century Mills Compound, Pandurang Budhkar Marg, Worli, Mumbai, Maharashtra 400030
GET DIRECTIONS
Twice Told – Second-Hand Books | Translations | Storytelling | Literary Supper
July 19 - 22 | 10AM - 10PM
Step out and enjoy this event
Invite your friends
and enjoy a shared experience