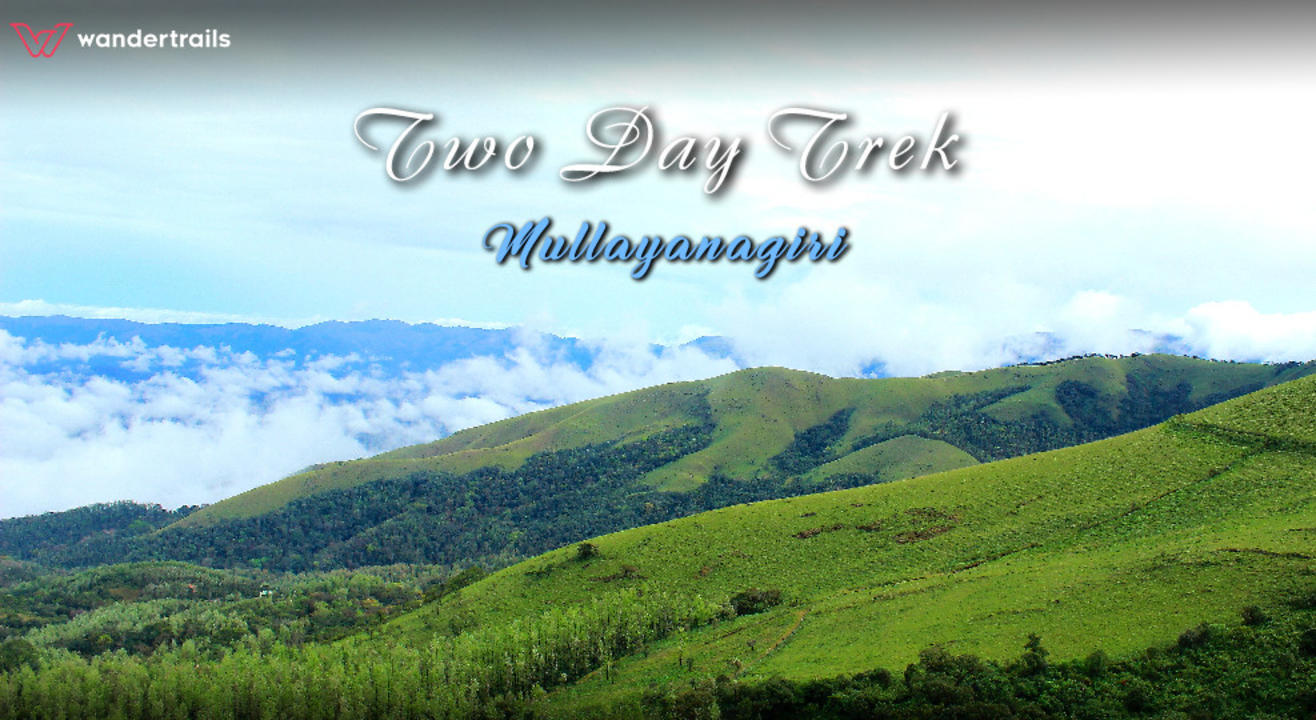 Trek
Two-day trek to Karnataka's highest peak, Mullayanagiri
About
At 1,930 meters, Mullayanagiri is the highest peak in Karnataka. It rises majestically above the Western Ghats in the region, offering spectacular views of the lush greenery. Situated nearly 280 km from Bangalore in Chikkamagalur, the trek to Mullayanagiri is a great experience if you want to reconnect with nature away from the hustle and bustle of the city.
The starting point of this trek is called 'Sarpadari' which translates to snaking trail. As you start the 15 km long trek, you will catch glimpses of the famous Bababundangiri peak on the way. The trail takes you through vast meadows and carpeted greenery, also passing by waterfalls along the way.
Once you reach the peak, explore the rocky caves and whisper your prayers in the temples before preparing to descend. On reaching the base, the trekkers are served lunch which will be followed by a short break. The trail then leads to the enchanting Buttermilk Falls which will refresh you for the climb to Bababudangiri. This is quite an enthralling experience which includes climbing along the gradual steep and rough edges of the hills. The view from the top is mesmerizing and coupled with the spectacular weather that makes for the perfect end to the ascent. Explore the top site for a while before heading back to the base camp for a campfire and a good night's sleep. Prepare for departure the following morning and visit the Belur temple and Yagachi dam on the way back to Bangalore.
Be it the breathtaking views of the rolling landscape extending as far as the eye can see, or the experience of the great outdoors that's often lacking in the city, this trek might just be the fun weekend activity you're looking for!
Day 0:
09:30 PM - Pick up starts from Bangalore

Day 1:
05:00 AM - Reach homestay in Chikkamagaluru
07:30 AM - Fresh up
08:30 AM - Have breakfast
09:00 AM - Depart to Mullayangiri
10:15 PM - Start trek (Sitalayangiri , 3kms one side)
01:30 PM - Reach base and packed lunch
02:30 PM - Start trek to Buttermilk falls
03:30 PM - Reach falls and explore
05:30 PM - Move towards Bababudangiri / Home stay
08:30 PM - Enjoy Dinner followed by Campfire

Day 2:
07:30 AM - Wake up and get ready
08:30 AM - Have breakfast
09:00 AM - Depart to Yagachi Dam and Belur Temple
01:30 AM - Lunch at Hassan
06:30 PM - Reach Bangalore
Pick-up and drop-off from Bengaluru
Trek
Campfire (depends on weather)
Visit to the nearby Buttermilk falls
Breakfast on Day 1 and Day2
Lunch on Day 1
Dinner on Day 1
Accommodation
Recommended gratuities
Any additional services provided
1. Marathahalli (09:30 PM) - Near Kalamandir
2. Silk Board (10:00 PM) - Bus Stop, Opposite To Pizza Hut
3. BTM (10:10 PM) Udupi - Garden Bus Stop, Opposite To A2B
4. Banashankari (10:30 PM) - Bus Stop
5. RR Nagar (11:15 PM) - Gopalan Arcade, Mysore Road
Torch per person, with extra batteries
Sports shoes or comfortable shoes with good grip
2 Ltr Water bottle
Backpack
Raincoat/Poncho
Dry fruits, energy bar, chocolates, energy drink, Snacks etc.
Personal medication
Sweater/ jackets for the night
Extra pair of clothes
Toiletry bag
Track pants and cotton T-shirt
Camera (optional)
Moov spray, dettol solution or salt to avoid leeches
Cancellation charges applicable basis duration prior to the date of the commencement of the activity:
0-2 days from activity date: 100% booking charges
2-7 days from activity date: 50% booking charges
7-14 days from activity date: 25% booking charges
More than 14 days from activity date: No booking charges