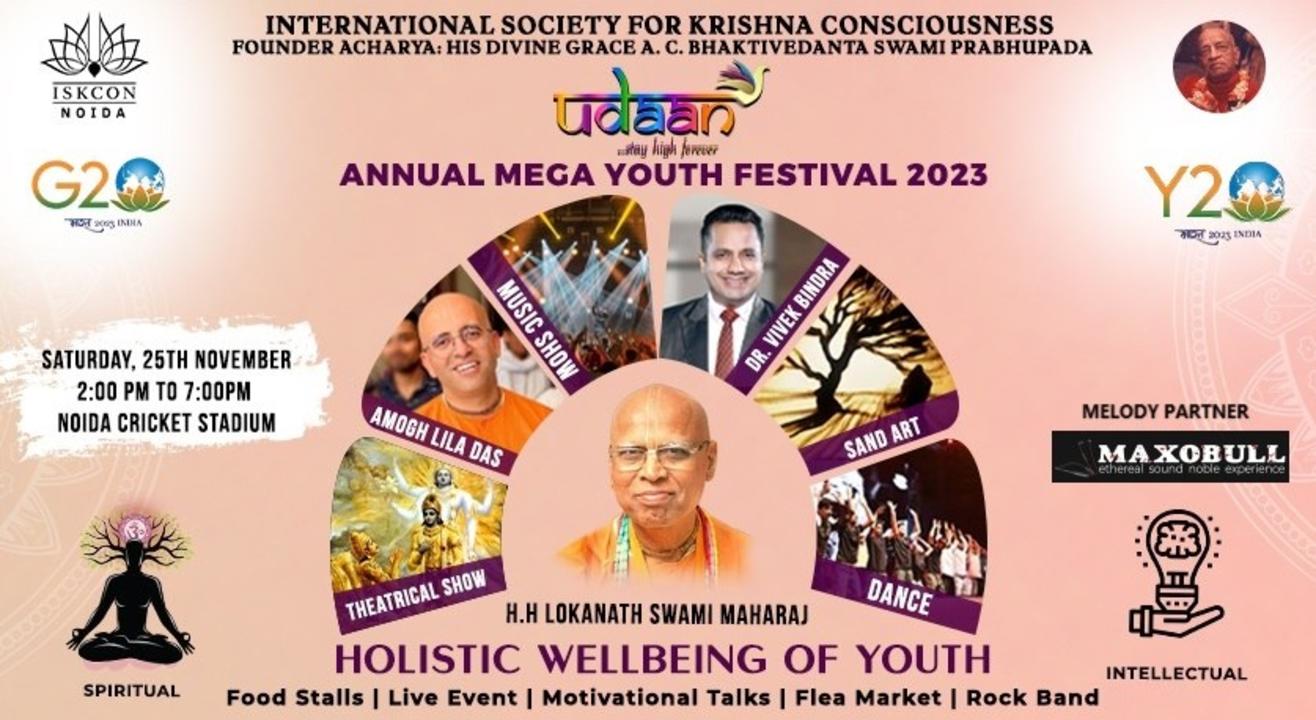 UDAAN- Dr. Vivek Bindra, Amogh Lila Prabhu & More at Noida Cricket Stadium
Invite your friends
and enjoy a shared experience
UDAAN- Dr. Vivek Bindra, Amogh Lila Prabhu & More at Noida Cricket Stadium
Invite your friends
and enjoy a shared experience
Invite your friends
and enjoy a shared experience
An inspirational program for the holistic wellbeing of the youth of our country by *ISKCON NOIDA on Sunday, 25 Nov 2023 at NOIDA Stadium at 2.00 PM Onwards*.
*Aim of the Udaan*: To offer a complete well-being sustainable program to youth to enhance their physical, mental & emotional health through traditional Vedic and yogic process packaged in a modern palatable manner.
*Activities*:
Live band Show
Motivational Talks by *Amogha Lila Das* and well-known speaker *Dr. Vivek Bindra*
Sand Art
Dance
Theratrical Show
Food Stalls | Flea Market |
Please accept the blessings of Sri Sri Radha Govind Dev,
The *International Society for Krishna Consciousness* (ISKCON) is committed to introduce the rich values, morals, principles and thriving heritage from our Vedic scriptures to our society in general and to our youth in particular. We strongly believe that along with academics, if our youth is provided with adequate training on how to keep the body, mind and soul healthy, they can do wonders in achieving their goals with sheer determination and single pointed focus.
Today's youth is very well informed and energetic. They just need to be directed precisely with calculated freedom so that they can take off for their dreams. The sky is not the limit for our youth. A well-balanced youth is guaranteed to lead to a happy state and a prosperous nation.
To cater to the overall wellbeing of our youth with a holistic approach, ISKCON NOIDA is organizing *UDAAN* an interactive, musical and vibrant evening full of art and entertainment blend with words of wisdom from scriptures on *25 Nov, saturday, 2023*, 2.00 pm-7.00pm at NOIDA Cricket Stadium, Sector-21.
Venue
Noida Stadium
Sector 21A, Noida, Uttar Pradesh 201301, India
Noida Stadium
Sector 21A, Noida, Uttar Pradesh 201301, India
GET DIRECTIONS
UDAAN- Dr. Vivek Bindra, Amogh Lila Prabhu & More at Noida Cricket Stadium
Invite your friends
and enjoy a shared experience