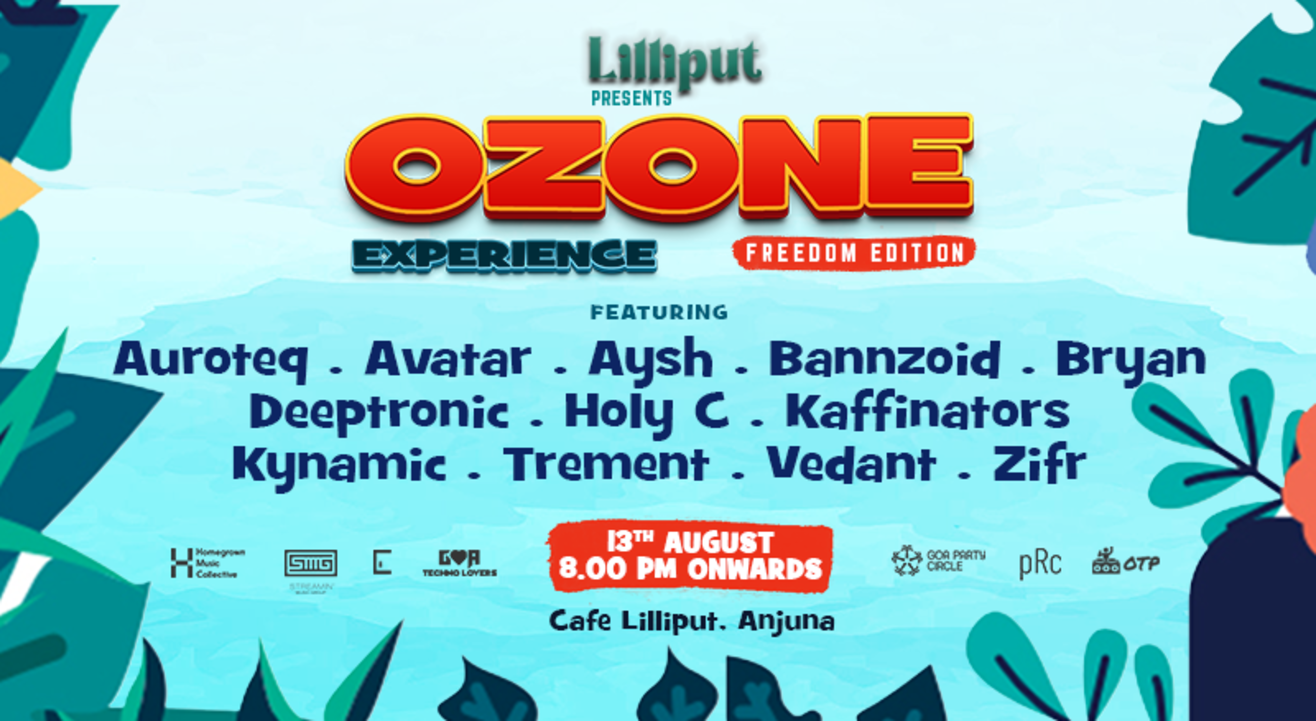 OZONE EXPERIENCE (FREEDOM EDITION) | CAFE LILLIPUT, ANJUNA
August 13 | 8PM - August 14 | 7AM
Event Guide
Language
English, Hinglish
Live Performance
Enjoy a unique experience
Invite your friends
and enjoy a shared experience
OZONE EXPERIENCE (FREEDOM EDITION) | CAFE LILLIPUT, ANJUNA
August 13 | 8PM - August 14 | 7AM
Event Guide
Language
English, Hinglish
Live Performance
Enjoy a unique experience
Invite your friends
and enjoy a shared experience
Event Guide
Language
English, Hinglish
Live Performance
Enjoy a unique experience
Covid 19 Safety Measures
This event adheres to the following

Health & safety measures
Invite your friends
and enjoy a shared experience
Covid 19 Safety Measures
This event adheres to the following

Health & safety measures
Prepare to embark on a sonic journey like no other as Anjuna Beach transforms into a pulsating haven of techno beats and mesmerizing rhythms on August 13th, 2023. From 8:00 PM till the first rays of dawn, Café Lilliput will be your portal to an unforgettable night of music, dance, and boundless energy.
🎧 Lineup of Visionaries: Aural Architects of the Night
Join us as we showcase an extraordinary ensemble of musical architects who will shape the course of your night:
🔊 Auroteq: Crafting ethereal soundscapes that push boundaries.
🔊 Avatar: Sculpting beats that resonate with the cosmos.
🔊 Aysh: Conjuring sonic spells that awaken your senses.
🔊 Bannzoid: Weaving a tapestry of pulsating basslines.
🔊 Bryan: Architect of rhythmic realities.
🔊 Deeptronic: Master of intricate sonic labyrinths.
🔊 Holy C: Channeling divine frequencies through sound.
🔊 Kaffinators: Infusing caffeinated energy into each track.
🔊 Kynamic Trement: Weaving sonic tales that defy time.
🔊 Vedant: Guiding you through an auditory dreamscape.
🔊 Zifr: Conjuring aural alchemy that captivates the soul.
🏖️ Café Lilliput: Your Beachside Sonic Sanctuary
Nestled along the sands of Anjuna Beach, Café Lilliput offers an idyllic backdrop for your techno adventure. Feel the warm sand beneath your feet, the gentle sea breeze, and the electrifying atmosphere as the night unfolds. Gaze at the stars above, while the artists create a symphony of beats that will move your body and lift your spirit.
🌌 Beyond the Beats: A Night of Connection
This event is not just about music; it's a chance to connect with fellow techno aficionados, dance with abandon, and forge memories that will last a lifetime. Let the music guide your movements and free your soul as you dance beneath the starlit sky.
🕒 From Dusk Till Dawn: Your Techno Odyssey
The journey begins at 8:00 PM and continues until the break of dawn. As the sun rises over the horizon, you'll find yourself transformed by the power of music and the unity of the dance floor.
Don't miss your chance to be part of this captivating techno event at Café Lilliput, Anjuna Beach. Come ready to dance, celebrate, and be part of a night that promises to leave you spellbound. Let the beats guide you, and let the night unfold in ways you've never imagined. Your sonic adventure awaits! 🚀🎶
Cafe Lilliput
Anjuna Beach, Monteiro Vaddo, Flea, Market Rd, Monteiro Vaddo, Anjuna, Goa 403509, India
GET DIRECTIONS
OZONE EXPERIENCE (FREEDOM EDITION) | CAFE LILLIPUT, ANJUNA
August 13 | 8PM - August 14 | 7AM
Event Guide
Language
English, Hinglish
Live Performance
Enjoy a unique experience
Invite your friends
and enjoy a shared experience