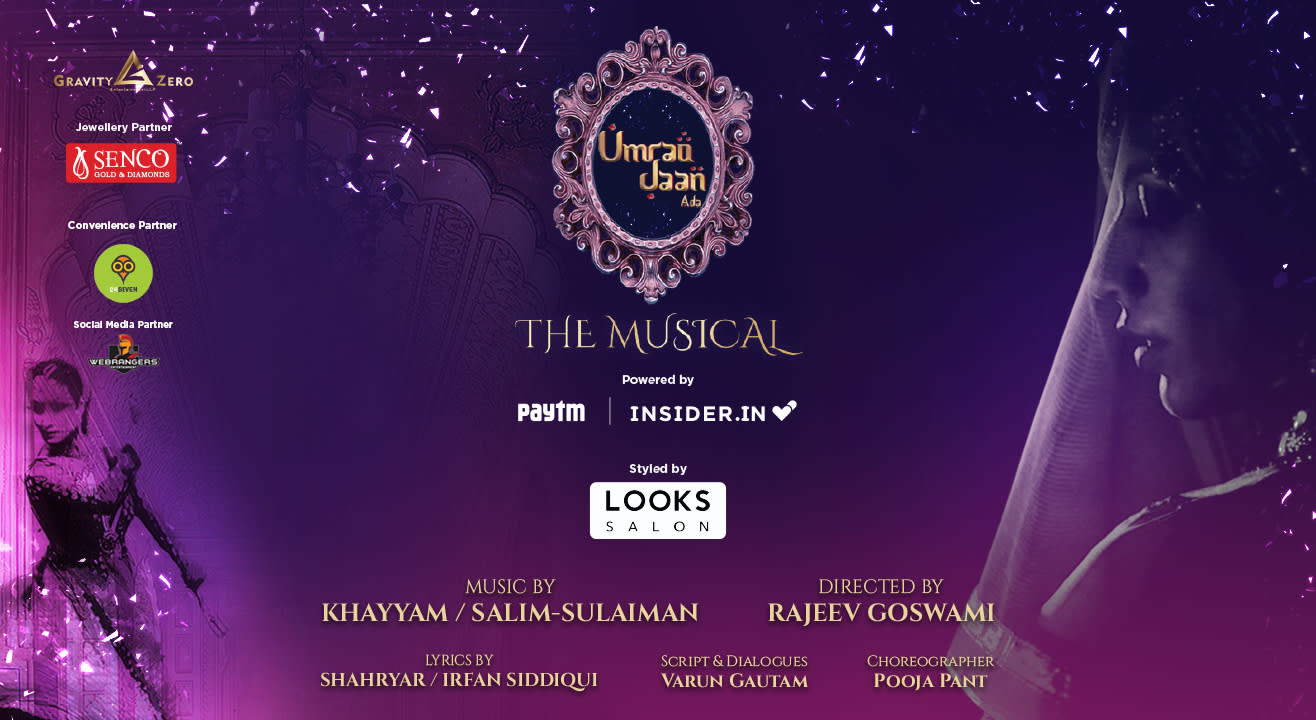 Theatre
Take a step back in time with this epic musical!
Presenting Umrao Jaan Ada the musical, with live music by Salim-Sulaiman! Witness this epic retelling of an age old story. Debuting in Delhi, this June.
A tragic story of love, betrayal, heartbreak - "Umrao Jaan Ada" was adapted from a first-person narrative novel by Mirza Hadi Ruswa. By many, it is regarded as the first Urdu novel.

This tale of ill-fated love between the courtesan-poetess, Umrao Jaan and the wealthy Nawab Sultan has been adapted for the screen multiple times. But what if we could bring together an ensemble of renowned artists and musicians, and watch this moving story live, as a musical? A theatrical musical performances is a combination of songs, spoken dialogue, acting and dance.

Get transported to the courts and the lives of courtesans in mid-19th century Uttar Pradesh. Relive the nostalgic journey of 'In aakhon ki masti mein' as the artists bring back the epic saga back to life.
The play is being brought to life by writer, director and choreographer, Rajeev Goswami. Headlining the act will be the much loved music directors, the Merchant brothers — Salim and Sulaiman. Also, keep an ear out for Irfan Siddiqui's soulful lyrics that are sure to strike an emotional chord with you. LED sets will also dazzle the stage. Over 700 designer costumes are used in this performance. This is as historically accurate as it can get!


With all this detail, you'll need more than one sitting to take it all in (luckily there are multiple shows happening too!)
From the makers behind 'Beyond Bollywood - The WestEnd Musical', this production promises to not just tell you a story, but have you live through it.
Check out the teaser below:
Here's what you can expect at the live performance of this larger-than-life musical extravaganza!
Cast
Pratibha Baghel - Umrao Jaan
Pratibha is a playback singer. She has given her voice to many Bollywood movies like Manikarnika, Baazaar, Humpty Sharma ki Dulhaniya, Zidd, Issaq, Shorgul, Bollywood diaries, Wah Taj among others.

Harish Moyal – Nawab
Harish is an Indian Idol season 1 finalist, Big Star IMA award holder and has performed in a number of TV shows, music albums and over 3000 live shows all around the globe.

Nirnay Singh – Nawab
Nirnay Singh is an actor, singer and a model. He also featured in many live singing shows across the country and a number of episodic reality shows.

Kanika Maheshwari - Khanum Jaan
Kanika Maheshwari is an Indian television actress. She reprised her role of Meenakshi Vikram Rathi in the sequel of Diya Aur Baati Hum, Tu Sooraj, Main Saanjh Piyaji.

Sushant - Gauhar Mirza
Sushant Vasishth is an actor, choreographer, dancer and has an experience of more than a decade in the field of performing arts.

Soham - Gulam Mustafa & Fakir
Soham Joshi is a well-known theatre actor in Mumbai. He has done theatre training from Prithvi Theatre under Gerish Khemani and Jaimini Pathak.

Krishna Kali - Barodewali bai
Krishnakali Saha is a singer, performer and has an experience of more than 16 years in the field of music and performing arts on stage.

Anubhav - Folk singer of Lucknow
Anubhav Suman is a trained, versatile singer and performer from Indian Classical Music background. He has worked as a music producer and project head for several movies like Ki and Ka, Airlift etc.
Subscribe to receive our newsletter!
Find the best experiences happening out there in your city or enjoy handpicked content while sitting comfortably at home. Paytm Insider is your go-to place to figure out what to do today!