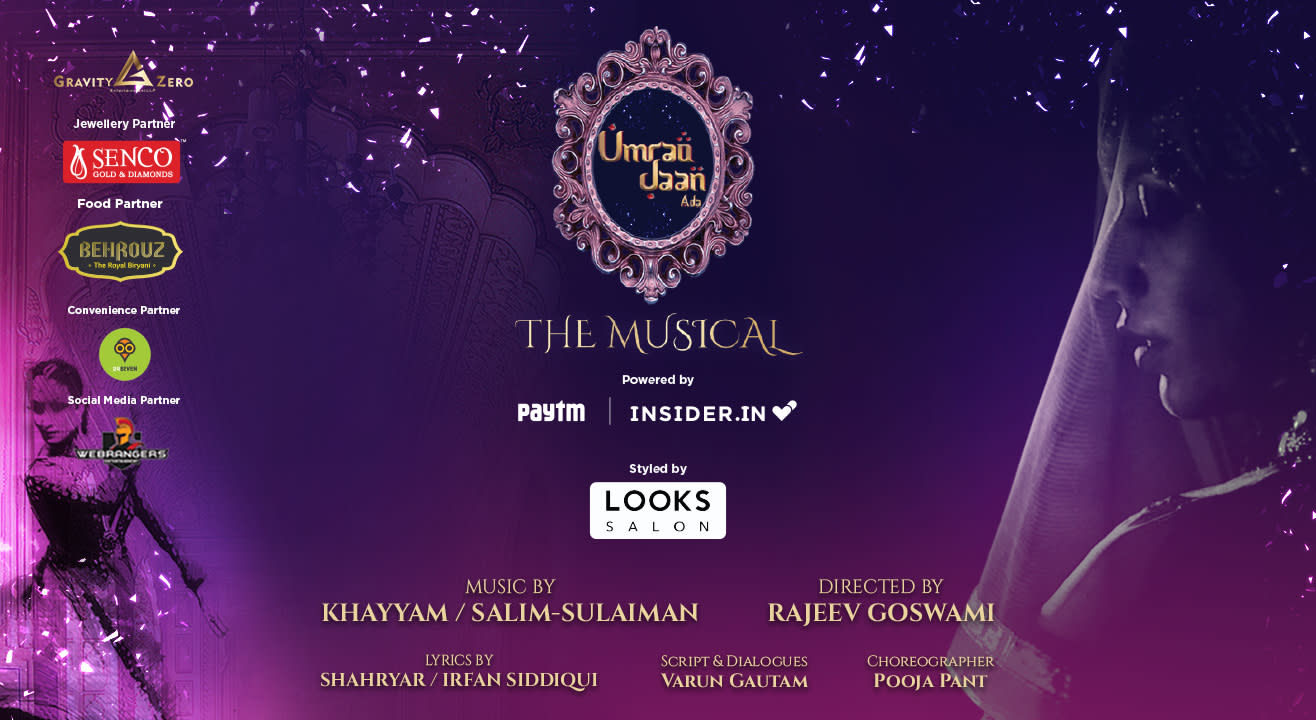 Drama
Umrao Jaan Ada - The Musical, Delhi
Multiple Shows | 3PM & 7:30PM
JLN Weightlifting Indoor Stadium
About
Featuring live music from Salim - Sulaiman Merchant, Live singing by the Performers, heavy production to give cinematic grandeur and much more. Watch the Urdu classic, 'Umrao Jaan Ada' by Mirza Hadi Ruswa come alive in a stage adaptation of epic proportions. A theatrical production from the minds behind 'Beyond Bollywood - The WestEnd Musical', this tragic tale is sure to have you glued to your seats.
Some stories are timeless, stories that we can't help tell again and again for their celebration of the human spirit. Follow the journey of a courtesan as she navigates a world of treachery and desire, only longing ever to be truly loved by someone.
Umrao Jaan Ada - The Musical, Teaser
Pratibha Baghel - Umrao Jaan
Pratibha is a playback singer whose work you'll find in movies like Manikarnika, Baazaar, Humpty Sharma ki Dulhaniya, Zidd, Issaq, Shorgul, Bollywood Diaries, Wah Taj and more.

Harish Moyal - Nawab
Harish is an Indian Idol season one finalist, Big Star IMA award holder and has performed in a number of TV shows, music albums and over 3000 live shows all over the world.

Nirnay Singh - Nawab
Nirnay Singh is an actor, singer and a model. He's been a part of various music and episodic reality shows, modelling agencies, and played a lead role in a Broadway play in Mount Abu (produced by Jasanvi Media Group).

Kanika Maheshwari - Khanum Jaan
Kanika Maheshwari is an Indian television actress known for her roles in serials like Kabhi Aaye Na Judaai, Viraasat, Geet - Hui Sabse Parayi and Diya Aur Baati Hum. Her work has earned her the Zee Gold Awards (2012-2013) and Star Parivaar Award (2012) .

Sushant - Gauhar Mirza
Sushant Vasishth is an actor, choreographer, and dancer. He has played the lead role in musicals like "Zangoora" and "Jhumroo" staged at The Kingdom of Dreams in Gurgaon, having performed in over 350 shows for the same.

Soham - Gulam Mustafa & Fakir
Soham Joshi is a theatre actor whose work includes plyaing parallel lead in a Broadway style theatrical dance musical called BEyond Bollywood. He has worked on various short films and advertisements.

Krishna Kali - Barodewali Bai
Krishnakali Saha is a singer and performer. She received the National Scholarship award for classical singing vocals and is an All India Radio artist. She was one of the top 11 contestants of Indian Idol Season 10.

Anubhav - Folk Singer from Lucknow
Anubhav Suman is a classical singer who was among the top 8 contestants of Fame Gurukul. He has worked as a music producer and project head for several movies like Ki and Ka, Airlift, Hero, Lucknow Central etc.

Umrao Jaan Ada - The Musical, Delhi
Senco Gold Jewellers is one of the oldest jewellery organizations in India that started its operation in the year 1938, with a heritage of 80 years. Senco Gold is synonymous with exclusive designs, intricate workship and right value. The company that has evolved over the past seven decades has endeavoured to keep the designs contemporary, with modern needs and preferences, yet keep the core values and essence alive. With more than 100 showrooms in India covering 2,65,000 square feet, with more concentration on the east and north India.
Looks Salon is one of the most powerful brands in the hair & beauty care sector in India, that has given hairstyling a new horizon. Emerging as the largest single salon chain in the country.

With over 4000 employees the company ensures that each one's skills are sharpened at least once a year. Looks has evolved over the years; new techniques and styles while constantly updating its stylists with the ever growing trends in the national and international market. Looks salon constantly strives to educate and train their stylists about the latest techniques & styles with the state of the art technology, by sending the stylists to various classes and by participating in various events across all genres.
Looks is now a brand with 30 years of rich experience and 126 branches and growing.

Umrao Jaan Ada - The Musical, Testimonial 01
Umrao Jaan Ada - The Musical, Testimonial 02
Umrao Jaan Ada - The Musical, Testimonial 03
Umrao Jaan Ada - The Musical, Testimonial 05
Venue
JLN Weightlifting Indoor Stadium
Jawaharlal Nehru Stadium, Pragati Vihar, New Delhi, Delhi 110003