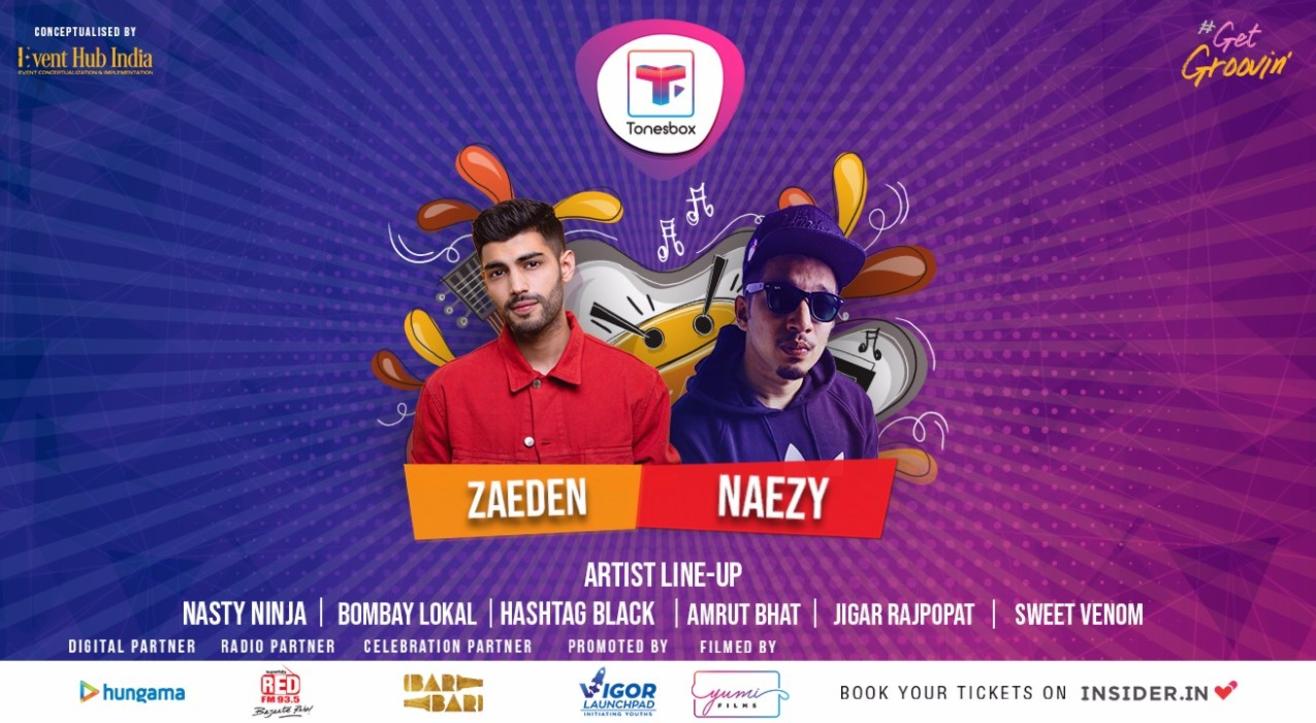 Music
UnBox TonesBox
Phoenix Marketcity, Mumbai
About
TONESBOX is a music festival showcasing different genres of music and your favourite artists on the same stage on WORLD MUSIC DAY. Join us and celebrate the idea of music and be ready to get yourself groovin'.
The name 'Event Hub India' resonates with the entire youth of India. A versatile event management and youth marketing company, the journey of Event Hub so far has been one with successful milestones and events par excellence. Our 360 degree marketing solution is a unique service that encompasses every nuance beginning from back end, pre-event activities to on-ground activation support for various top-notch brands.
Headliners:
1) Naezy - Rapper
2) Zaeden - DJ
Supporting:
1) Nasty Ninja - Rapper
2) Bombay Lokal - Hip Hop Collective
3) Hashtag Black - Band
4) Amrut Bhat - Drum Circle Facilitator
5) Jigar Rajpopat - Percussionist
6) Sweet Venom - Band
Q. How and where do I collect my tickets/wristbands?
A. From the box office at the event venue, in exchange for your e-ticket copy. Wristbands will be given at the entry gates.

Q. What is the Gold Section?
A. Gold Section is a front of stage section with the best view of the Arena.

Q. Can I buy tickets using cash?
A. You can buy tickets using cash through TONESBOX Official Offline Promoters.

Q. How old do I have to be to enter TONESBOX?
A. You must be of 15 years and above to enter the event.

Q. Will I be able to get a refund for the tickets if I do not attend the arena?
A. No refund will be provided for tickets even in case of any rescheduling.

Q. Will I need to carry a photo id along for ticket verification purposes?
A. Yes. A valid Photo ID i.e. PAN Card, Passport, Driver's License, College ID etc.

Q. Are there additional charges for booking a ticket online?
A. Yes, a nominal service charge will be added per transaction.

Q. Where can I read ticketing `Terms and Conditions`?
A. The ticket terms and conditions will be provided before you purchase your ticket.

Q. Can I re-enter the venue during the day if I leave?
A. No, unfortunately, no re-entry is allowed for the event. Your wristband will be cut upon exit. Re-entry is only allowed for the Gold Ticket holder.