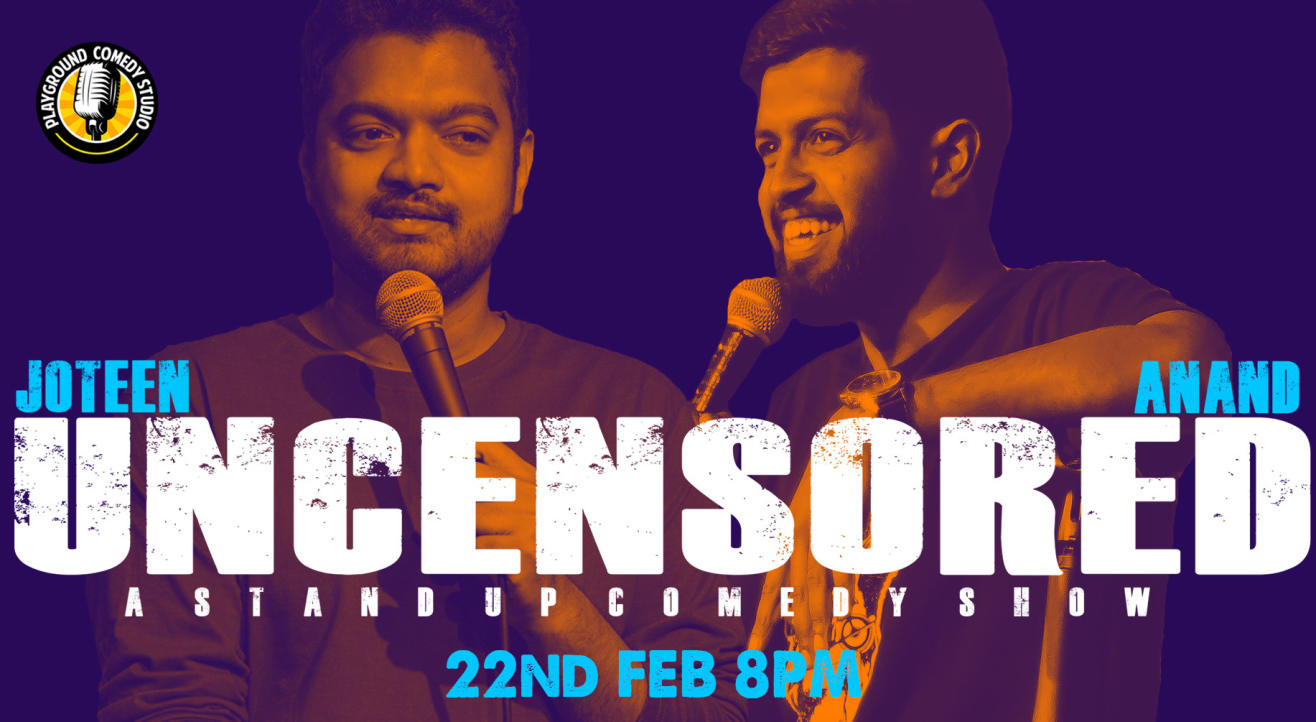 Uncensored – Stand up comedy by Joteen and Anand
Playground Comedy Studio - Saket, Delhi
Step out and enjoy this event
Invite your friends
and enjoy a shared experience
Uncensored – Stand up comedy by Joteen and Anand
Playground Comedy Studio - Saket, Delhi
Step out and enjoy this event
Invite your friends
and enjoy a shared experience
Invite your friends
and enjoy a shared experience
Unmarried, unemployed, unsuccessful and uncensored. Imagine a guy going through all these problems and now imagine two of them. Come down to experience the unfiltered versions of all the jokes from Joteen and Anand's life and laugh your heart out.
Caution this is not for the faint hearted or the easily offended. So back off.
Joteen Patro
Joteen Patro is socially inactive, calm and composed about everything. His jokes are sometimes dark, sometimes dirty, sometimes insightful but always silly. The day when country was fighting over who will win the election, he was also fighting with his roommate but regarding, Who will throw the garbage out? He has his priorities straight.
Anand Rathnam
Anand Rathnam is a civil engineer turned stand-up comedian. Performing since 2015, having loved and lost, and having repeated this cycle several times, he is now convinced that he knows life better than anyone. Anand's brand of comedy is observational and opinionated, mostly drawn from real life experiences. Unlimited exposure to it is certainly not injurious to health.
Playground Comedy Studio - Saket
317/276, Lane, 3, Westend Marg, Saidulajab, Saiyad Ul Ajaib Extension, Saket, New Delhi, Delhi 110030
GET DIRECTIONS
Uncensored – Stand up comedy by Joteen and Anand
Playground Comedy Studio - Saket, Delhi
Step out and enjoy this event
Invite your friends
and enjoy a shared experience