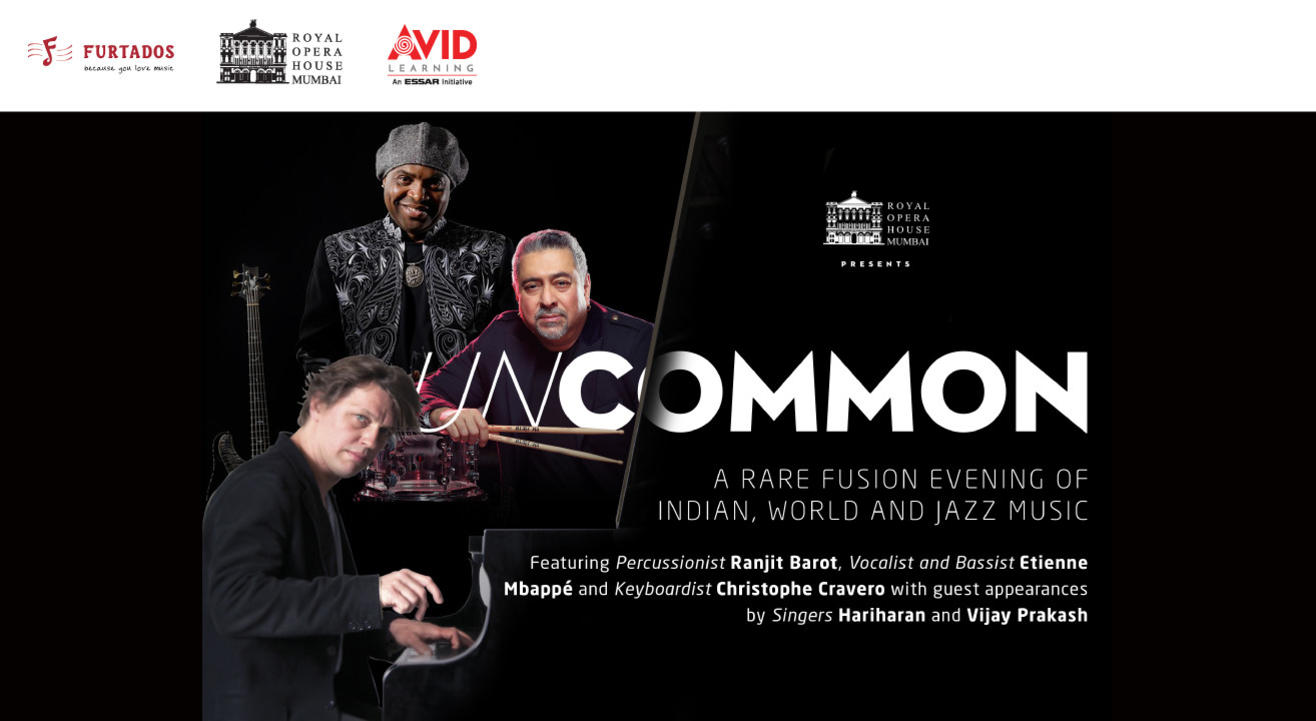 UnCommon: A Rare Fusion Evening of Indian, World and Jazz Music
The Royal Opera House, Mumbai, Mumbai
Invite your friends
and enjoy a shared experience
UnCommon: A Rare Fusion Evening of Indian, World and Jazz Music
The Royal Opera House, Mumbai, Mumbai
Invite your friends
and enjoy a shared experience
Invite your friends
and enjoy a shared experience
Royal Opera House, Mumbai in collaboration with Furtados and Avid Learning proudly presents UnCommon: A Rare Fusion Evening of Indian, World and Jazz Music.
This unique performance will be led by the international ensemble, UnCommon comprising three of the world's leading contemporary musicians - Ranjit Barot on Percussions, Etienne Mbappé on Vocals and Bass, and Christophe Cravero on Keys who will bring to the stage a spontaneous combustion of jazz, world, funk, pop and rock music. Having performed at the leading music festivals across the globe, they are representatives of many cultures, old and new.
They will collaborate with the rousing and ethereal voices of renowned Singers Hariharan and Vijay Prakash. These virtuosos will come together to seamlessly blend sounds from across the globe and dissolve boundaries through music. Together, they will showcase the beautiful interplay between traditional Indian music, Jazz and the melodies of Africa.
About the Performers
Born into a family steeped in Indian classical music and dance, melody and rhythm has always been an integral part of his life. Ranjit Barot started playing at the age of 12, encouraged by his mother, the legendary Kathak dancer, Sitara Devi. At a very early age he proved to be a phenomenon on the instrument of his choice, the drum set, and he was the natural choice for the leading jazz ensembles in India. Ranjit has since performed at world festivals, with greats such as Pandit Ravi Shankar, Ustad Zakir Hussain and Louis Banks, stages which also featured jazz greats such as Miles Davis, Dizzy Gillespie, Al Foster, Billy Higgins, Cecil Taylor and Louie Bellson, among others. His Indian roots in classical and film, coupled with his exposure to jazz and rock provided him with a unique musical vocabulary, both as a drummer and as a composer. This unique ability led him to be the drummer for John Mclaughlin's band the 4th Dimension. He is also the Musical Director for all the live shows with Oscar winning composer A. R. Rahman.
With a rich, singing tone and an unerring gift for melody, bassist Etienne Mbappé imparts even the most demanding musical contexts with a grace, warmth, and humanity that transcends boundaries, genres, and languages. His gifts have been put to use as a member of John McLaughlin's 4th Dimension and the Ringers (with Jimmy Herring, Wayne Krantz, Michael Landau, and Gary Novak), along sideman appearances with Joe Zawinul, Manu Dibango, Robben Ford, Salif Keita, Ray Charles, Steps Ahead, and saxophonist Bill Evans.
Beginning his musical training at as early as 8 years of age, Christophe Cravero has mastered various instruments and the depth of composition, drawing from various influences. He is accomplished on the alto, the violin, piano and drums, and is a man of many musical adventures. He has traversed the world with various and significant musical collaborations, ranging from tours with the legendary Billy Cobham, Didier Lockwood, Senegalese singer and drummer, Idrissa Diop, bass maestro Etienne Mbappe, Marc Berthoumeux, Ludovic Beier, and even Gypsy Jazz artists Romane and Stochelo Rosenberg.
About Partners
Royal Opera House, Mumbai is widely touted as Mumbai's Cultural Crown Jewel and India's only surviving Opera House. The original idea for the space was conceived of in 1908, inaugurated in 1911 by King George V, and eventually completed in 1916. The design incorporated a blend of European and Indian detailing. The space became a cinema in later years before falling into disrepair and shutting by the 1990s. Fittingly, the space has been owned by the Royal Family of Gondal since 1952 and was eventually restored by conservation architect, Abha Narain Lambah under the leadership of His Highness, Maharaja Shri Jyotendrasinhji of Gondal. The Royal Opera House Mumbai, now one of the last remaining Baroque structures in the city, reopened after 23 years in October 2016. The building was included on the 2012 World Monuments Watch to raise awareness about its history and significance, and support preservation efforts. The building has since been recognized with an Award of Merit in the 2017 UNESCO Asia-Pacific Awards for Cultural Heritage Conservation. The restored facilities feature a 575-seater 3-level auditorium with an orchestra pit and state of the art technological upgradations, including acoustics, stagecraft, lighting and air-conditioning, alongside retaining the old-world charm of the proscenium stage, the royal boxes and the magnificent regal chandeliers. Some more enhancements to the venue include a motorized screen, co-axial ceiling speaker system, Four-zone volume control and all round wifi access. Today, it stands as a key performance and creative hub in the city's cultural landscape, while being a premier heritage landmark.
Facebook: MumbaiOpera | Twitter: @MumbaiOpera | Instagram: @mumbaiopera
Established in 1865, Furtados has always been a leader in the field of Western music education and knowledge in India. From musical instruments & accessories to print music and digital equipment, having a complete spectrum of musical instruments in the Western and Indian categories. Furtados has grown into a household name in the music business and are spread across Mumbai, Pune, Delhi, Chandigarh, Bangalore, Ahmedabad, Mangalore, Dimapur, Panjim and Margao. It has a growing retail network (17 showrooms) and over 350 dealer outlets. Furtados also holds a record number of international dealerships for top-of-the-line brands in music. www.furtadosonline.com is the quintessential Musical Instruments e-commerce site for India. In January 2011, Furtados launched a publishing joint venture with one of the world's leading music book publishers, Music Sales Ltd, UK. Music Sales Furtados (India) Pvt Ltd, is focused on publishing Indian editions of best-selling Music Sales books and special local content. Furtados School of Music (www.fsm.net.in) was launched in June 2011 to provide quality and organized music education to students and aspiring musicians across India. With the help of a path breaking international curriculum for the Piano, Keyboard, Guitar, Drums and Violin, they have been able to bring music to and currently teach over 25,000 students in over 70 points of presence. Furtados invests in developing musical knowledge through training workshops, master classes, clinics, demonstrations and exhibitions, and the sponsoring of local talent and artistes. Furtados also invests in community development and supports several organizations across the country, including school and college events, musical activity in religious and charitable organizations, festivals as well as social upliftment projects involving a musical element.
Avid Learning, the cultural philanthropy arm of the Essar Group founded in 2009 has, over the past decade, grown into one of Mumbai's leading public programming platforms and is firmly entrenched in the country's wider cultural ecosystem. Over the years, AVID has gained a reputation for curating thought provoking, innovative and path-breaking content that is intellectually and creatively stimulating and engages with a variety of topical subjects and trends. Our thoughtfully curated and diverse events embrace the spirit of collaboration to bring together the best of Indian and international writers, artists, intellectuals, cultural experts, policymakers and industry leaders across Visual Art, Literature, Culture and Heritage, Education, Design & Technology and the Performing Arts through engaging and dynamic formats like panel discussions, workshops & master classes, roundtables, lecture demonstrations, festival platforms, symposiums & conferences, multidisciplinary performances and walkthroughs. We seek to democratize the arts, create new audiences, and deepen engagement by providing a platform that gives equal access and opportunity to new learners, fresh voices and nascent minds in order to nurture future stakeholders for the creative community in India. To date, AVID has conducted over 1150 programs and connected with more than 140,000 individuals, a widely eclectic group of life-long learners including students, patrons, practitioners, influencers, thought leaders and cultural & creative enthusiasts in Mumbai, Delhi, Jaipur, Bangalore, Goa and Gujarat. We have also made our mark internationally, with events and collaborations in Dubai and New York. We regularly collaborate and partner with institutions, organisations and initiatives like the Federation of Indian Chambers of Commerce and Industry (FICCI), one of the apex bodies that impact cultural policy and the creative sector as a whole. We have been at the helm of programming at the Royal Opera House, Mumbai India's only surviving Opera House since its reopening in 2016. We believe in the importance of arts for social change and we regularly offer our support and platforms for Social Advocacy. Thanks to a dedicated and innovative team, as well as a growing and evolving community of learners, AVID continues to give truth to the belief that Learning Never Stops! To keep updated and attend our events, like us on https://www.facebook.com/avidlearning/, follow us on https://twitter.com/AvidLearning and Instagram: @avidlearning or log onto http://www.avidlearning.in
The Royal Opera House, Mumbai
Mathew Rd, Charni Road East, Opera House, Girgaon, Mumbai, Maharashtra 400004
GET DIRECTIONS
UnCommon: A Rare Fusion Evening of Indian, World and Jazz Music
The Royal Opera House, Mumbai, Mumbai
Invite your friends
and enjoy a shared experience