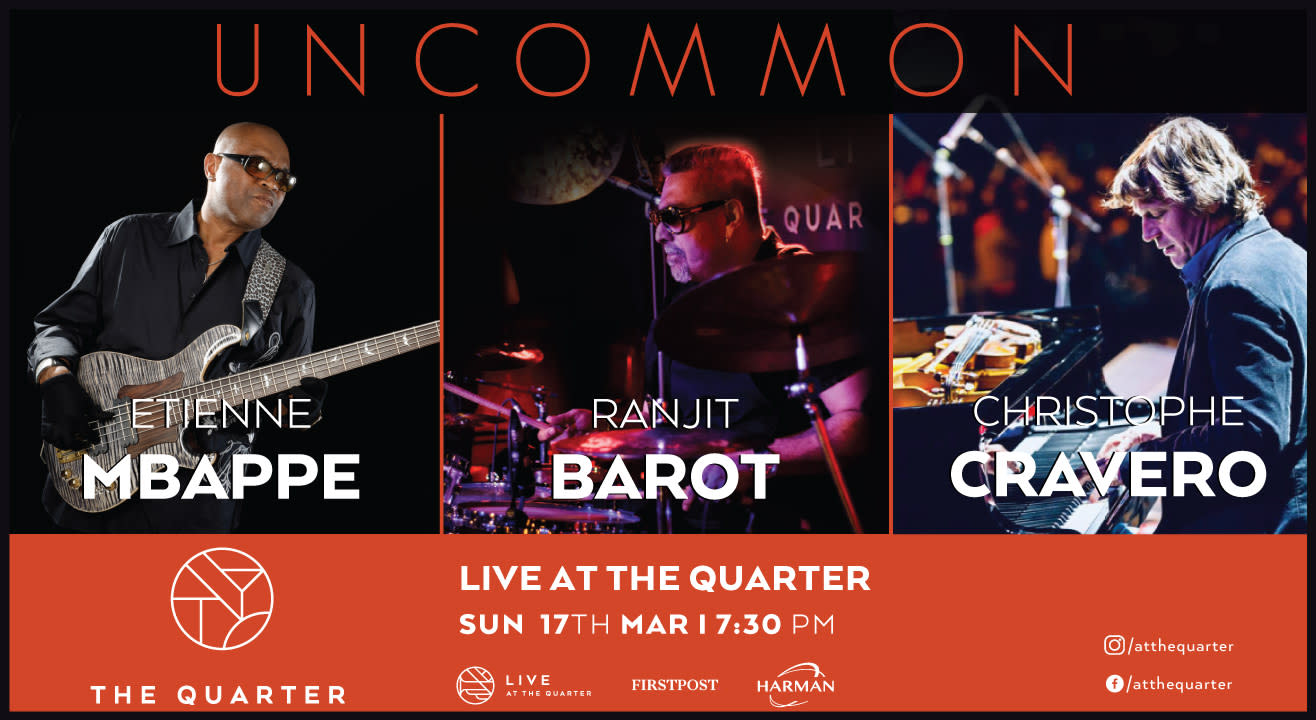 Music
Uncommon with Ranjit Barot, Etienne Mbappe and Christophe Cravero
Sunday | March 17 | 7:30PM
1,299 - 1,999 (Prices subject to change)
About
With UnCommon, three formidable contemporary musicians come together to create magic - a spontaneous combustion of jazz, world, funk, pop and rock. They are no strangers to the world stage. Having performed at the leading jazz, rock and world music festivals across the globe, they are representatives of many cultures, old and new. They have been there at the beginning and have come together to create the sound of 'now'.
Ranjit Barot
Born into a family steeped in Indian classical music and dance, melody and rhythm has always been an integral part of his life. Ranjit started playing at the age of 12, encouraged by his mother, the legendary Kathak dancer, Sitara Devi.

At a very early age he proved to be at the forefront of the instrument of his choice and he was the natural choice for the leading jazz ensembles in India. Ranjit has performed at European festivals which also featured jazz greats such as Miles Davis, Dizzy Gillespie, Al Foster, Billy Higgins, Cecil Taylor and Louie Bellson, among others.

His Indian roots coupled with his exposure to jazz and rock provided him with a unique musical vocabulary, both a s a drummer and as a composer. This unique ability led him to be the drummer for John Mclaughlin's band the 4th Dimension. He is also the Musical Director for all the live shows with Oscar winning composer AR Rahman.

Etienne Mbappe
With a rich, singing tone and an unerring gift for melody, bassist Etienne Mbappé imparts even the most demanding musical contexts with a grace, warmth, and humanity that transcends boundaries, genres, and languages. His gifts have been put to use as a member of John McLaughlin's 4th Dimension and the Ringers (with Jimmy Herring, Wayne Krantz, Michael Landau, and Gary Novak), along sideman appearances with Joe Zawinul, Manu Dibango, Robben Ford, Salif Keita, Ray Charles, Steps Ahead, and saxophonist Bill Evans.

"My music is influenced by places I have traveled, people I meet, colors I see, flavors that I taste, fun that I've had, and, sometimes, the pain that I feel," Mbappé explains. "We live in a complex world today. I want nothing more than to bring that joy and understanding to people through music.

Christophe Cravero
Beginning his musical training as early as 8 years of age, Christophe has mastered various instruments and the depth of composition, drawing from various influences. He is accomplished on the alto, the violin, piano and drums, and is is a man of many musical adventures. He has traversed the world with various and significant musical collaborations, ranging from tours with the legendary Billy Cobham, to Didier Lockwood, Senegalese singer and drummer, Idrissa Diop, bass maestro Etienne Mbappe, Marc Berthoumeux and Ludovic Beier, and even gypsy jazz artists Romane and Stochelo Rosenberg.
Venue
The Quarter
Royal Opera House, Mathew Rd, Opera House, Girgaon, Opera House, Girgaon, Mumbai, Maharashtra 400004, India