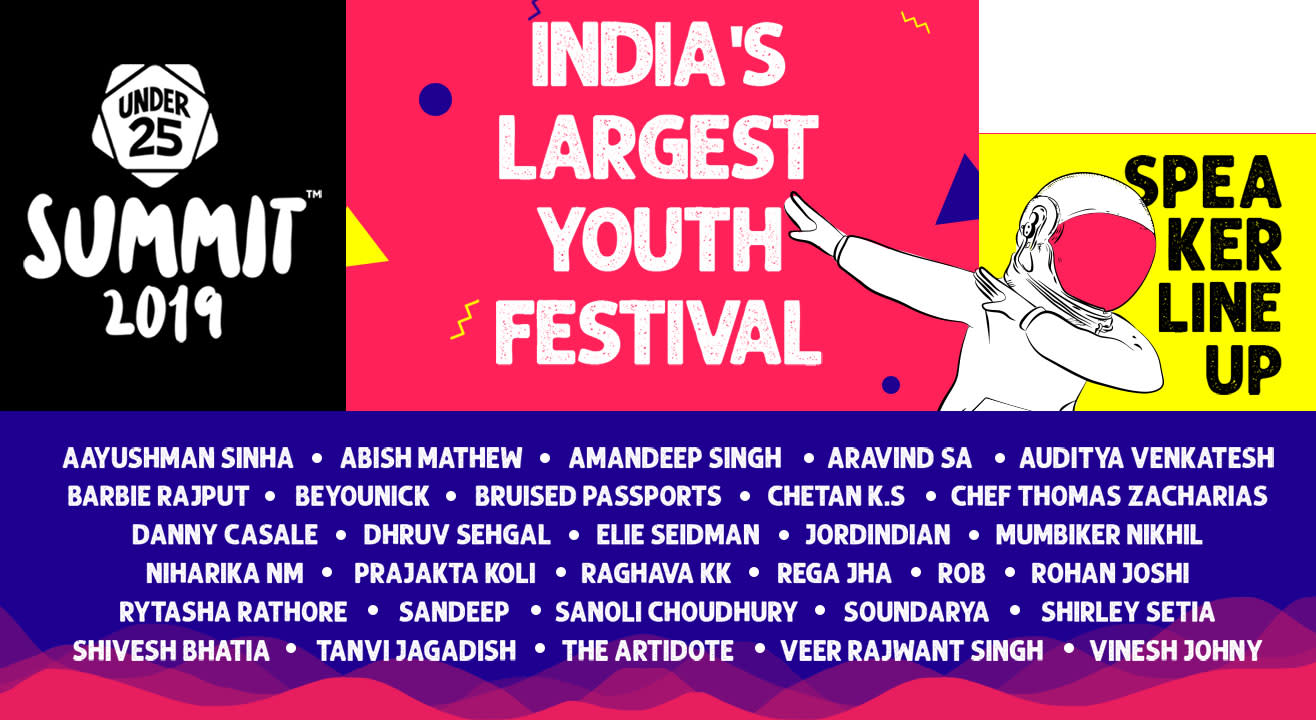 Conference
Under 25 Summit 2019 Bangalore
Jayamahal Palace Hotel, Bangalore
About
India's largest youth festival is back with its 6th edition and will see some of the biggest names in the country share their stories. You will be treated to top-notch curation, an incredibly festive vibe and an experience to remember!
With speaker sessions, panel discussions, workshops, performances, a flea market and incredible energy, there is something for everyone.
Get a chance to bring your parents to the festival for free.
All details are available at www.under25summit.com
#IAmUnder25
Aayushman Sinha: Aayushman set up On Stage Talents which is India's Premier Multi Genre Talent Management Agency which specializes in Artist Management, Curation, IP's, International Biz and many more!
Abish Mathew: He is a stand-up comedian who is most popularly known as the host of 'Son of Abish' - A comedy talk show.
Amandeep Singh: He is a well-known storyteller and poet across India who has also performed at Jashn-e-Rekhta, which is the biggest Urdu festival in the world.
Aravind S A: There's funny, and then there's SA funny. From modest beginnings in Chennai, Aravind SA's wit and self-deprecatory humour have conspired to make him a popular standup comedian not just in the South, but across the country.
As We Keep Searching: They have been turning heads and perking up ears over the world for a while now, spreading a message of positivity and good times in a way only they can, while keeping their feet planted firmly on the ground. Ever since they were formed in 2013, they've made 2 albums which have given them worldwide recognition. Safe to say that they've never looked back ever since.
Avial: True to their name, Avial (a mixed-vegetable delicacy) blends Malayalam Poetry with Contemporary Alternative Rock Music.
With elements of Indie Rock and Folk Music underlying an electronic feel, Avial's music has overcome language barriers not only in India but globally.
Avial is one of the most sought after Indian bands today, transcending genres, justifying the term "Alternative Malayalam Rock".
Barbie Rajput: She is a 22-year-old singer, songwriter, actress, performer, hailing from Mandi, Himachal Pradesh, India. She started performing on stage at the age of 8 and is Indian Classically trained from an early age of 5. She has participated in a lot of singing reality shows such as Zee TV - Sa Re Ga Ma Pa Lil champs (2007), Sa Re Ga Ma Pa Challenge contestant in 2012 & Participant of Colors Infinity The Stage 2. She has also acted in Fanney Khan starring Anil Kapoor, Aishwarya Rai & Rajkumar Rao.
BeYouNick: Nick is a popular YouTuber who does a variety of comedy sketches who has 2.5 million subscribers on YouTube.
Bruised Passports: Savi and Vid are also known as 'Bruised Passports'. They are a Travel Duo who've documented their travels to over 80+ countries.
Chetan K.S: She is the CEO and founder of Niti Enterprises. He has a physical disability which would have stopped many but his will to create has taken him to where he is today. He created the Mindtree logo, had a paper published in international journal and its realised by union HR minister in 2013 and founded a wealth management company worth 1 crore in 2016!
Rob: He is a professional artist and TV personality. He was the host and creative director of the popular show 'M.A.D Stuff With Rob' which aired on Pogo.
JordIndian: Vineeth Naser form the JordIndian, who create comedy sketches and were a part of this year's YouTube Rewind.
Prajakta Koli: She is a YouTuber and Comedian who is popularly known as 'MostlySane'
Rega Jha: She is the Founder and ex-editor-in-chief of BuzzFeed India.

Sanoli Choudhury: She is a singer songwriter who plays the guitar. She's been writing music for a while. She uses music to express her deepest thoughts and emotions.

Shirley Setia: She has taken the virtual world by a storm with her enchanting voice through her compelling covers. From being described as Bollywood's Next Big Singing Sensation by Forbes Magazine to earning the title Pyjama Popstar by New Zealand Herald, she is one of the youngest Indian singing talent to emerge in the industry.
Shivesh Bhatia: He is a self-taught baker, food blogger and author of the book 'Bake With Shivesh'.
Soundarya: Her music is a blend of Bluesy Rock, Pop and Soul, with a touch of the Indian classics. She has 8 years of training in Carnatic music, 6 grades in guitar and a professional certificate in vocal performance from AR Rahman's School of Music.
Having written her own music since the age of 15, she recorded her first EP, Shades of Revival. It released around May 2013 and is available for sale on iTunes and other online stores worldwide.
Tanvi Jagadish: She is an 18-year-old who's already made it into history books!
She is India's first professional female paddle-boarder who represents the country in multiple international sporting events across the country.
When Chai Met Toast: When Chai Met Toast is an electric indie band straight from the heart of Kerala. They're a band that is infectiously happy which is virally spread through their music which transcends age, genre and even language. They've been all around the country spreading only positive vibes and now they're here at the Under 25 Summit, to do the same thing!
Veer Rajwant Singh: Veer Rajwant Singh is an Indian actor who has worked in ads, a few film pieces and in videos for Dice Media and Being Indian.
He has become a popular face on the internet for his recurring presence in Filter Copy videos where he's an audience favourite



Education Zone: The Don't Mug Up Space -
While education is given supreme importance in our country, many students still haven't explored various different fields educational institutions has to offer! At the Don't Mug Up Space, students will be able to explore and choose their field of choice!


Experience Zone: The Good Vibes Only Space -
The Under 25 Summit has always been about emitting positivity and this time we've got multiple specifically curated experience zones to keep our attendees engaged throughout the festival.
Food Zone: The Zero Guilt Space -
We've got Bangalore's most famous restaurants curating a specific Under 25 Summit 2019 menu with lip-smacking dishes! This promises to be one of the highlights of the festival!
Hey! Good Looking Space:
Over the last few years, fashion has had a colossal impact on the youth of this country and this time we've dedicated an entire zone to celebrating everything that is fashion with multiple renowned fashion brands setting up fashion pop-ups for our attendees.
Job Zone: The Log Kya Kahenge Space -
The biggest brands from across the country will be at the Under 25 Summit '19 with a wide variety of job opportunities for our attendees.
Under The Tree Stage -
At the Under 25 Summit '19, we've dedicated an entire stage to the future of our country. We've got everything from curated performances by upcoming artists, an open mic and specifically curated workshops for attendees to learn practical skills that they can apply in the future.
Venue
Jayamahal Palace Hotel, Bangalore
1, Jayamahal Road, Near Cantonment Railway Station, Bengaluru, Karnataka 560046