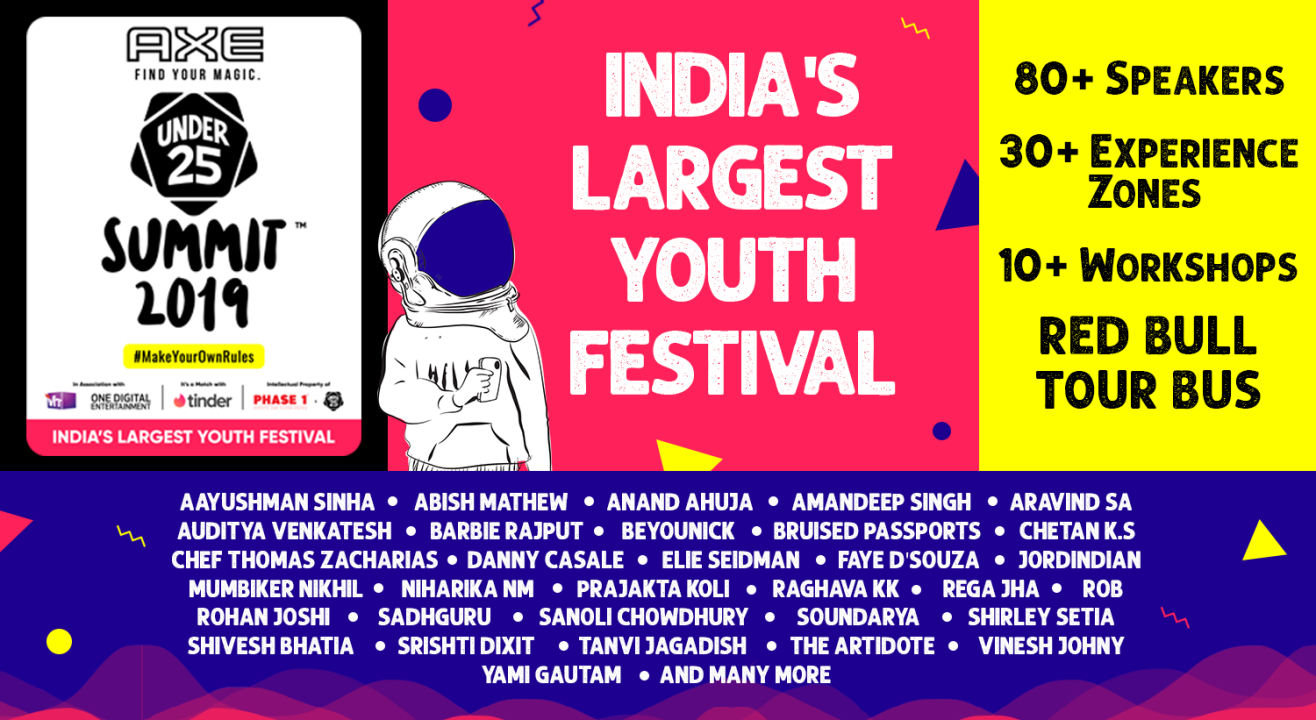 Conference
Axe Under 25 Summit 2019 Bangalore
Jayamahal Palace Hotel, Bangalore
About
India's largest youth festival is back with its 6th edition and will see some of the biggest names in the country share their stories. You will be treated to top-notch curation, an incredibly festive vibe and an experience to remember!
With speaker sessions, panel discussions, workshops, performances, a flea market and incredible energy, there is something for everyone.
Get a chance to bring your parents to the festival for free.
All details are available at www.under25summit.com
#IAmUnder25
Abish Mathew: He is a stand-up comedian who is most popularly known as the host of 'Son of Abish' which is a comedy talk show.



Anand Ahuja: Anand Ahuja is the founder of the minimal, sought after clothing brand Bhaane & the co-founder of VegNonVeg India's first multi brand sneaker store. Bhaane is seen as a brand for the young, creative generation of India.



Aravind S A: There's funny, and then there's SA funny. From modest beginnings in Chennai, Aravind SA's wit and self-deprecatory humour have conspired to make him a popular stand-up comedian not just in the South, but across the country.



As We Keep Searching: They have been turning heads and perking up ears over the world for a while now, spreading a message of positivity and good times in a way only they can, while keeping their feet planted firmly on the ground. Ever since they were formed in 2013, they've made 2 albums which have given them worldwide recognition. Safe to say that they've never looked back ever since.

Auditya Venkatesh: Auditya Venkatesh is a 30-year-old self-taught photographer who quit a promising career in Chartered Accountancy to follow his passion. Using the humongous web of social media to its fullest, he has made it to the top, with 8 lakh Facebook followers and 3 lakh Instagram followers.

Avial: True to their name, Avial (a mixed-vegetable delicacy) blends Malayalam Poetry with Contemporary Alternative Rock Music.
With elements of Indie Rock and Folk Music underlying an electronic feel, Avial's music has overcome language barriers not only in India but globally.
Avial is one of the most sought after Indian bands today, transcending genres, justifying the term "Alternative Malayalam Rock".



Danny Casale: Danny Casale (AKA, Coolman Coffeedan) is an Internationally recognized artist from New York. who has gained popularity through his surreal, humorous and crudely-drawn animations. He's been featured on global platforms like 9Gag!



Elie Seidman: Elie Seidman serves as CEO of Tinder, where he leads the business and is responsible for the global platform's overall strategy, including furthering brand initiatives and product innovation.



Jovanny Varela Ferreyra: Jovanny is the founder of The Artidote, which is well known across the world for allowing people to openly discuss mental health through art and conversations with Jova himself.
A growing community of millions forming empathetic bonds across cultures, creeds & social standing; Jova has been curating art since 2014 through his page.



Faye D'Souza: Faye D'Souza is an Indian journalist and a television news anchor who works as the executive editor of Mirror Now. She rose to fame with the show The Urban Debate on Mirror Now, where she anchors on subjects of corruption, communal violence and independent press.



Sadhguru: Sadhguru is a spiritual leader and author who founded the Isha Foundation which is a non-profit organization that provides yoga programs all over the world. His books have also featured in the New York Times Best Sellers List under multiple categories like 'Health' and 'Religion, Spirituality and Faith'.



When Chai Met Toast: When Chai Met Toast is an electric indie band straight from the heart of Kerala. They're a band that is infectiously happy which is virally spread through their music which transcends age, genre and even language. They've been all around the country spreading only positive vibes and now they're here at the Under 25 Summit, to do the same thing!



Yami Gautam: Yami Gautam is an Indian actress who first came in the limelight for her debut movie, Vicky Donor. Ever since there has been no looking back as she been part of many Blockbusters like Kaabil, Badlapur and the latest URI which is taking the nation by storm


And Many More
Education Zone: The Don't Mug Up Space -
While education is given supreme importance in our country, many students still haven't explored various different fields educational institutions has to offer! At the Don't Mug Up Space, students will be able to explore and choose their field of choice!


Experience Zone: The Good Vibes Only Space -
The Under 25 Summit has always been about emitting positivity and this time we've got multiple specifically curated experience zones to keep our attendees engaged throughout the festival.
Food Zone: The Zero Guilt Space -
We've got Bangalore's most famous restaurants curating a specific Under 25 Summit 2019 menu with lip-smacking dishes! This promises to be one of the highlights of the festival!
Hey! Good Looking Space:
Over the last few years, fashion has had a colossal impact on the youth of this country and this time we've dedicated an entire zone to celebrating everything that is fashion with multiple renowned fashion brands setting up fashion pop-ups for our attendees.
Job Zone: The Log Kya Kahenge Space -
The biggest brands from across the country will be at the Under 25 Summit '19 with a wide variety of job opportunities for our attendees.
Under The Tree Stage -
At the Under 25 Summit '19, we've dedicated an entire stage to the future of our country. We've got everything from curated performances by upcoming artists, an open mic and specifically curated workshops for attendees to learn practical skills that they can apply in the future.
Venue
Jayamahal Palace Hotel, Bangalore
1, Jayamahal Road, Near Cantonment Railway Station, Bengaluru, Karnataka 560046