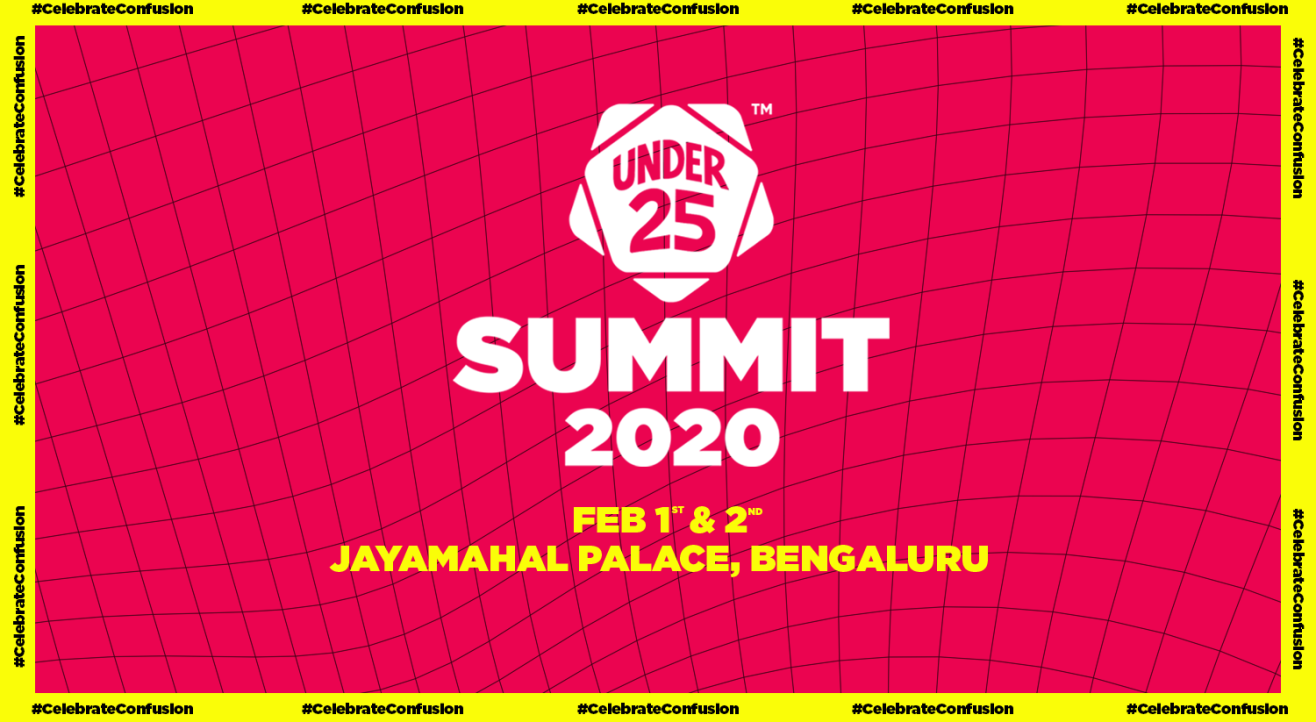 February 1 - 2 | 10AM - 7PM
Jayamahal Palace Hotel, Bangalore, Bengaluru
Step out and enjoy this event
Invite your friends
and enjoy a shared experience
February 1 - 2 | 10AM - 7PM
Jayamahal Palace Hotel, Bangalore, Bengaluru
Step out and enjoy this event
Invite your friends
and enjoy a shared experience
Invite your friends
and enjoy a shared experience
The seventh edition of the Under 25 Summit is here and this time around, India's largest youth festival is taking it a notch higher.
We've got speaker sessions, workshops, performances, gaming arenas, a flea market, art showcases and tons of new experiences.
Buy tickets now!
Under 25 Summit 2019 | India's Largest Youth Festival
Aishwarya Suresh:

She is a Singer who was one of Top 10 on The Stage, Season 2 that's aired on Colors Infinity. While starting off as a YouTuber, her success on the show took her to a whole other level!


Faye D'souza:

She is an Indian journalist and a television news anchor who works as the executive editor of Mirror Now. She rose to fame with the show 'The Urban Debate' on Mirror. Now, she anchors on subjects of corruption, communal violence and independent press.


Hanumankind:

A 26 year old freelance personal trainer in life science, Sooraj Cherukat started scribbling lyrics since he could remember. What started as a popular jamming session with his friends, Sooraj realized that it was time to stop kidding himsef and pursue his lifelong desire to make music.


Harshawardhansinh Zala:

At just 15 he's got all eyes on him. He designed a smart solution through which drones could not only detect but also defuse landmines in war fields. The youngster wants to make the world a better place to live.


Jordindian:

Jordindian is a comic duo who has grown to become widely popular among young India. They are passionate YouTubers creating comedy sketches and content.


Megha Rao:

She is a spoken word poet who describes herself as a "well read threat." She has touched lives with her inspirational art and defiant words. Her work has been featured on Firstpost, Terribly Tiny Tales, ScoopWhoop among many others and now we can't wait to have her with us at the Under 25 Summit 2020.


Mukesh Chhabra:

He is one of Bollywood's top Casting Director. Along with that he is also an Actor, Acting Coach and Writer. After Winning millions of hearts with his casting in Chillar Party, Kai Po Che, Gangs Of Wasseypur, Dangal, Sanju, Kabir Singh, Super30 and many more, he is making his Directorial Debut in Bollywood and has added one more feather to his hat. Mukesh Chhabra's only Guru Mantra is - "There is no shortcut to Success, Hardwork is the key."


Naveen Richard:

He is one of India's most versatile comedians. He showcased his comic dexterity when he released his special, 'Dont Make That Face' on Amazon Prime, which also a sensation. A member of comedy collective 'Them Boxer Shorts', they created the acclaimed web series 'Better Life Foundation' and he also acted in 'Starboyz' (with Kenny Sebastian). He's performed over 400 stand-up shows and headlined comedy events such as Stage42, Bangalore Comedy Festival and Chennai's Fringe Comedy Festival. Richard's stint as a mentor/judge on Amazon Prime's Comicstaan is also a noteworthy moment.


Raghav Meattle:

His journey in the limelight commenced with his appearance on Season 2 of The Stage, after which he went on to be nominated for the Radio City Freedom Awards under the Best Pop Artist last year. This 26 year old musician raised ₹462,000 to fund his debut album 'Songs from a Matchbox' which is about the rising trend of fake news support the agenda of nationalism in the country. The core of his music lies in vocals and the acoustic guitar.


Raj Shamani:

He is a 22-year old entrepreneur and motivational speaker who has spoken to more than 1 Million people across the globe till date. Raj is one of the youngest Indians to speak at the United Nations Assembly in Vienna and has given 3 TEDx talks, more than 100 keynotes in 23 countries. He has been rewarded and recognized as an "International Keynote Speaker". Since he realized his potential years ago, he has inspired thousands of people in over 23 countries all over the world. The recent ones being – United Kingdom, Latvia, India, USA and Singapore.


Shankar Chugani:

He is a stand up comic based in Bangalore. He has been performing across the country for the last 5 years. You can watch him on Amazon Prime's Comicstaan or catch him live at a comedy show.


Sidharth Bendi:

He is Hyderabad's youngest singer songwriter, founder of Beautiful World Movement will be bringing his melancholic voice to Under 25 Summit 2020 with some old and new stories, journeys and songs!


Spitfire:

The "Asli Hip Hop" hook from the Gully Boy that you've been tapping your foot to? It was created by Nitin Mishra, aka Spitfire, the young rapper from small-town Madhya Pradesh whose verses have set the Ranveer Singh-starrer aflame.


Sumukhi Suresh:

She is an actress, stand-up comedian, writer and director. She is known for her comedy sketches and can have a crowd laughing non-stop.


Sushant Divgikar:

He is an Indian model, actor, performer, singer and video jockey who appears in television shows and films. He was crowned Mr. Gay India 2014. He also represented India at Mr. Gay World 2014.


Taba Chake:

He is an Indian fingerstyle guitar player, singer-songwriter and a performer who comes from a Nyishi tribal family in Arunachal Pradesh. Inspired by tribal folklore and his intimate connection with nature. Chake is known for his unique vocals, songwriting and performing style.


Tanmay Bhat:

He is a writer, blogger, gamer and if you didn't already know it, a comedian! He's gotten us rolling on the floor laughing and now he's gonna do the same at the Under 25 Summit 2020!


Yahya Bootwala:

He is the storyteller behind the famous 'Shayad Woh Pyaar Nahi Hain' which went viral, crossing over 10 million views on the internet. He'll be at the Under 25 Summit 2020 performing his beautiful stories while all of us fall in love with him.


Abish Mathew:

One of the most recognized faces of Indian comedy, Abish Mathew was one of the first Indian Youtube stars, who has over 95 million views on his channel.


Amshula Prakash:

Amshula is a media lawyer who spends a lot of time thinking and being confused about what it means to live a good life.


Anupama Chopra:

Anupama Chopra is a film critic, television anchor and book author. Her work has appeared in publications such as The New York Times, Hindustan Times, and many more.


Anushka Manchanda:

Anushka Manchanda is someone you wouldn't wanna miss because she doesn't stop being admirable! She's a singer, producer, actor, activist and Head of Music at Incink Records.


Baradwaja Rangan:

He can mesmerize and startle anyone with his verses. The real OG, when it comes to journalism, and creative writing.


Benny Dayal:

He is a singer-songwriter who started his career as a playback singer. He later formed his band Funktuation that is known for their indie compositions which is a mix of Alternative funk, Alternative Pop, Disco, Soul and R&B.


Dhruv Chitgopekar:

He is the founding Partner and COO of Kwan Entertainment & Marketing Solutions.


Durga Gawde:

Durga is a sculptor, educator, activist and India's first performing Drag King. They works to educate the masses about non-binary and trans identities.


Monica Dogra:

She is a singer, DJ, actor and model. She was included in the '50 most Influential women' list by Elle Magazine. She has performed with her band shaa'r and func around the world at music festivals around the world including, Glastonbury. Currently, she is a judge at 'the Stage' and is part of a web series called 'Cartel'.


Nirali Shah:

She is the former head of Head of BuzzFeed India. She is currently a digital content consultant. Known for her hilarious persona on the internet, she now lives with her two cats and all things punny.


Rahul Sinha:

He is one of the most experienced young artist managers for Indian Independent Artists, focusing on Electronic and Dub Music. He has also worked for Coke Studio Live, NH7 weekender and EDC India. He's the man behind Ritviz's music journey.


Rana Daggubati:

Rana Daggubati is an actor, producer and entrepreneur.He is widely known for his portrayal of the antagonist Bhalladeva in the multilingual film Baahubali.


Rega Jha:

Rega founded BuzzFeed India in 2014 and was its editor-in-chief for four years. Now she can't stop thinking about the internet, gender, mental health, identity, and all their endless overlaps.


RITVIZ:

Udd Gaye fame Ritviz is one of India's Most popular electronic music producer. The son of a singer and tabla player, this guy has lived Hindustani Music since the age of six. Clocking in more than 500 million plays, this young music producer has been the headliner for various shows.


Shaheen Bhatt:

Shaheen Bhatt is a screenwriter and author of the bestselling book I've Never Been (Un)Happier. On World The Sun - a mental health awareness campaign to help address the stigma and discrimination around depression and anxiety.




The Artidote:

Jova Farreyra, founder of The Artidote will be at the summit to inspire you for a lifetime. He created a bubble away from all the toxicity of the internet where people would empathize, bond and heal through his visually pleasing art.



Jayamahal Palace Hotel, Bangalore
1, Jayamahal Road, Near Cantonment Railway Station, Bengaluru, Karnataka 560046
GET DIRECTIONS
February 1 - 2 | 10AM - 7PM
Jayamahal Palace Hotel, Bangalore, Bengaluru
Step out and enjoy this event
Invite your friends
and enjoy a shared experience