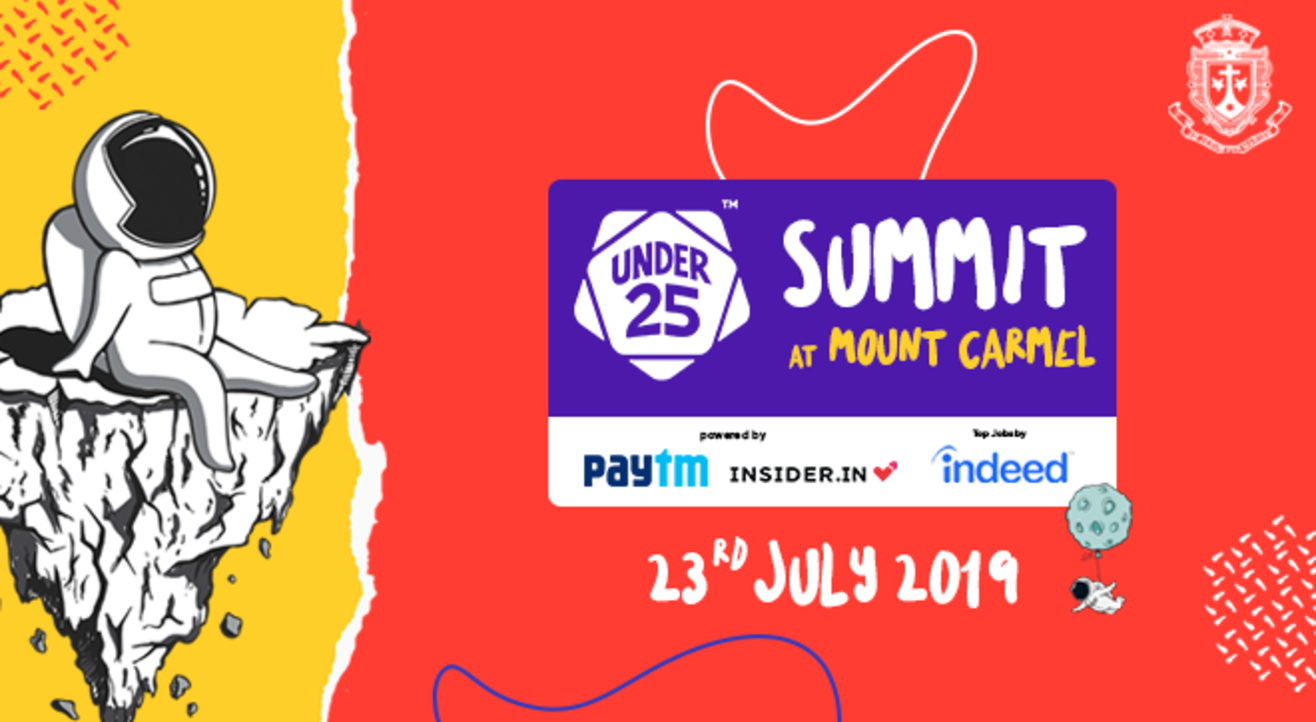 Skill Development
Under 25 Summit At Mount Carmel College
Mount Carmel College, Bangalore
About
Under 25 is a go to platform to inspire millions of students for the discovery of career opportunities and giving them a true industrial experience. This event is open to students from all colleges.
Our main flagship property is the 'Under 25 Summit', which is India's Largest Youth Festival!
The Under 25 Summit has always been the one-stop congregation for youngsters from all over the country who exhibit their talents in Technology, Music, Fashion, Design, Entrepreneurship and many, many more!
With top-notch curation, we bring all of these fields together through inspirational speaker sessions, intellectual workshops, trending panel discussions and interactive experience zones for our attendees.
We're super excited to announce that we're bringing the Under 25 Campus Summit to Mount Carmel College
Yahya Bootwala
India's finest storyteller who rose to fame after his piece "Shayad Woh Pyaar Nahi Hain" went viral with more than 10 million views on the internet. Yahya is a bright personality who has won the heart of millions with his beautiful words.

Faye D'souza
Is an Indian journalist and a television news anchor who works as the executive editor of Mirror Now. She rose to fame with the show "The Urban Debate" on Mirror Now, where she anchors on subjects of corruption, communal violence and independent press.

Deepak Joseph
He is an engineer by education, and marketeer by passion. His first salary was a Sodexo meal voucher booklet from an advertising agency called "Grey Worldwide". He has worked with companies like Audi, Amazon and J Walter Thompson. A huge Formula - 1 fan, he definitely is an inspiration for young India to move forward in life to pursue their passion!

Anto Philip
Anto Philip co - founded Under25 with @theshreyansjain at the age 18. He is passionate about everything young and can engage any kind of audience with his take on various topics. Now that's inspiration enough to come for the Under25Summit @ MCC and hear him talk.

Shreyans Jain - Co- Founder of Under 25
Besides having found Under 25, he is an exceptional orator and writer. Inspiring young India with his motivational speeches and quotes, he has the knack to make a mark in any room. He writes the most relatable and motivational things, making your Instagram feed a lot happier!

Jordindian
Presenting to you the comedy lifelines of Bangalore, thejordindian @thejordindian is a comic duo who has grown to become widely popular among young India. They are passionate YouTubers creating comedy sketches and content.

Aswathi Balakrishnan
Is a fashion blogger with aesthetics running in her veins, and social media feed. A civil engineer with a hobby of riding bikes, we have this bold personality coming to the Under25Summit@MCC.

Sanjay Manaktala
He is an Indian stand - up comedian, based out of Bangalore, performing at different places all over India. Always manages to have the entire audience in splits during his performances and is bringing the same vibe to the Under25Summit@MCC.

Sriram Sullia
Sriram Sullia currently hosts the No.1 Evening Drive Radio Show - The SuperHero Show on Fever 104 FM. The Only Radio Host to have a video game based on him. From small intimate crowd setting to over 40000 pax, no matter what the event Sriram is your man.
Venue
Mount Carmel College, Bangalore
Fatima Block, 58, Palace Rd, Abshot Layout, Vasanth Nagar, Bengaluru, Karnataka 560052