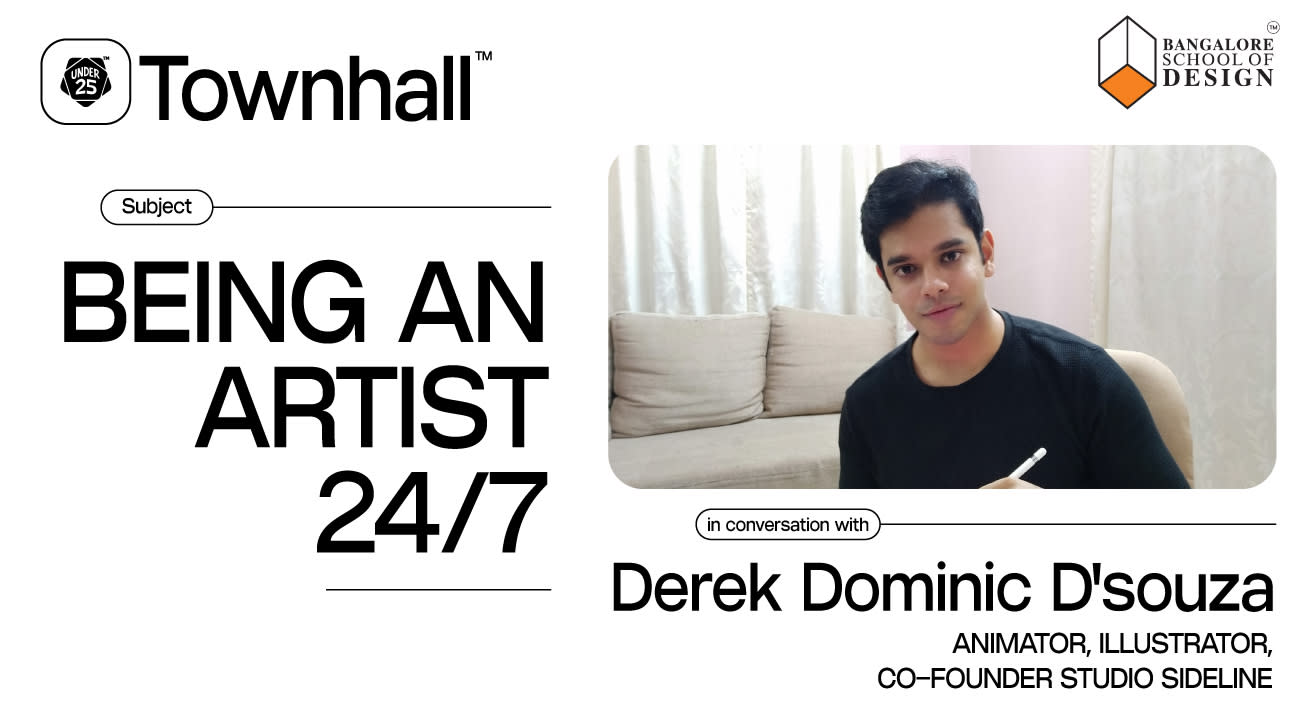 Under 25 Townhall | Being an Artist 24x7
Bangalore School of Design, Bengaluru
Step out and enjoy this event
Invite your friends
and enjoy a shared experience
Under 25 Townhall | Being an Artist 24x7
Bangalore School of Design, Bengaluru
Step out and enjoy this event
Invite your friends
and enjoy a shared experience
Invite your friends
and enjoy a shared experience
The Under 25 Townhall redefines the world of guest lectures you've experienced in college. Under 25 Townhall brings you the greatest minds and thought leaders closer to you in order for you to learn grow and become independent thinkers.
We're putting together a Deals Arena before the Townhall, an exciting opportunity for a student to play, win and unlock some of the coolest Deals any student would want but may not have been able to afford.
ONLY FOR STUDENTS! WIN A WACOM TABLET!
Derek graduated from Srishti Institute of Art, Design and Technology where he majored in Animation. He then went on to work as an intern for Disney, India after which he got hired back as an Animation Development Artist to create new animated shows and IP for the company. Apart from this, he also worked as an Associate producer for animated shows that were on air. After which, he co-founded Studio Sideline with a few friends where he now works full time on Animation and Illustration based projects. Throughout the years, he has also worked as a freelance artist for various brands such as DisneyPlus(Hotstar), Tedx, Swiggy, Redbull and others. Derek loves telling stories and creating various moods in his personal work by the heavy use of dramatic lighting and colors. This is also implemented heavily in his animated works where he focuses more on the background art to bring the scenes to life.
This experience is not only for design students but anyone who wants to monetize their art and skill. While a design school might teach you the skill, it won't tell you how to turn that into a business! This is for entrepreneurs, content creators and any professional with a drive to grow!
Under 25 Townhall x Deals Arena
Bangalore School of Design
186, K Narayanapura Main Rd, BDS Nagar, Narayanapura, Bengaluru, Karnataka 560077, India
GET DIRECTIONS
Under 25 Townhall | Being an Artist 24x7
Bangalore School of Design, Bengaluru
Step out and enjoy this event
Invite your friends
and enjoy a shared experience