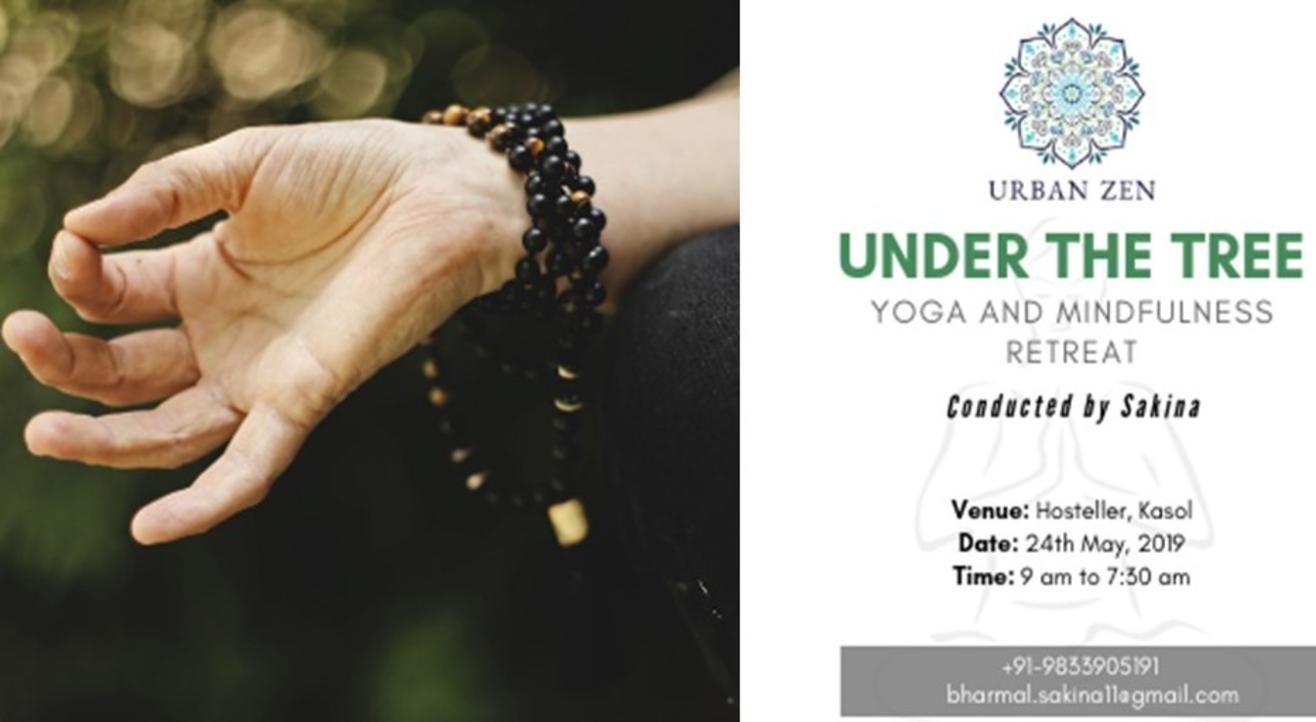 Yoga
Under the Tree - Yoga and Mindfulness Retreat in Kasol - With Sakina Bharmal
About
'Under the Tree- Yoga and Mindfulness Retreats' is an initiative created to turn your attention to one thing- YOU. This is a space where you escape from your daily life, relax, rejuvenate and rediscover yourself. It is an experience created among nature, trees, leaves or sand and the sea. Offering yoga classes, activities and nature walks, we hand-pick this retreat with the highest respect to mother earth and it's beings.
About the company Urban Zen and Under the Tree Yoga and Mindfulness Retreats
Urban Zen's mission is to change the way individuals and leaders work globally. It aims at reducing burnout and stress at workplace by using holistic techniques like yoga, mindfulness, design thinking and other experiential sciences that impact the individual at a personal, team and organisational level with its three pronged set of offerings that are as simple as the first three letters of the alphabet, A-Adapt, B-Build and C- Cascade. When we make an impact on individuals, they empower themselves to build their leadership capabilities, creativity, productivity, decision -making and improve their lives dramatically.
About the Instructor
Sakina is a corporate trainer, executive coach, yoga and mindfulness practitioner. She is also the co-founder of the organization, Urban Zen that focuses on delivering experiential programs that help build the individual, teams and therefore the organization. She completed her masters in Human Resources and studied Hatha Yoga at Sivananda Yoga Vedanta International Centre. She has worked with large organizations and conducted life and experiential retreats for individuals and corporates around the globe. She currently lives in Mumbai with her family which includes her cat, Yuri. She believes that nature holds the secret to enliven our spirit and find many outlets to teach in the outdoors and indoors. Join Sakina for this fun and reflective yoga retreat, learn and make friends with like-minded individuals in the midst of the hills of Kasol.
What's included?
2 Yoga Asana Classes
Mindful Hike
Workshop and Lectures
Lunch, Tea and Snacks
Meditation Session
Evening Bonfire and entertainment
Workshop Material
You also have the option to book your stay at the Hosteller, Kasol at a compelling price along with the retreat.
What will you leave with?
Understanding 'Who you are?'
Reframe your life story and design the life that you love
Learn yoga asana's and yoga-philosophy among nature
Adapt mindfulness techniques that you can implement
Learn how to reflect and relax through meditation
Celebrate life through dance, music and creative expression
Details:
Date: 24th May 2019
Venue:

The Hosteller, Near Kasol Temple, Old Kasol, Kasol, Himachal Pradesh 175105

Time: 9 am to 7:30 pm
Investment:
Rs. 2000/- for the Yoga and Mindfulness Retreat
Rs. 2500/- to pay for the Yoga and Mindfulness Retreat PLUS Accommodation at the Hosteller