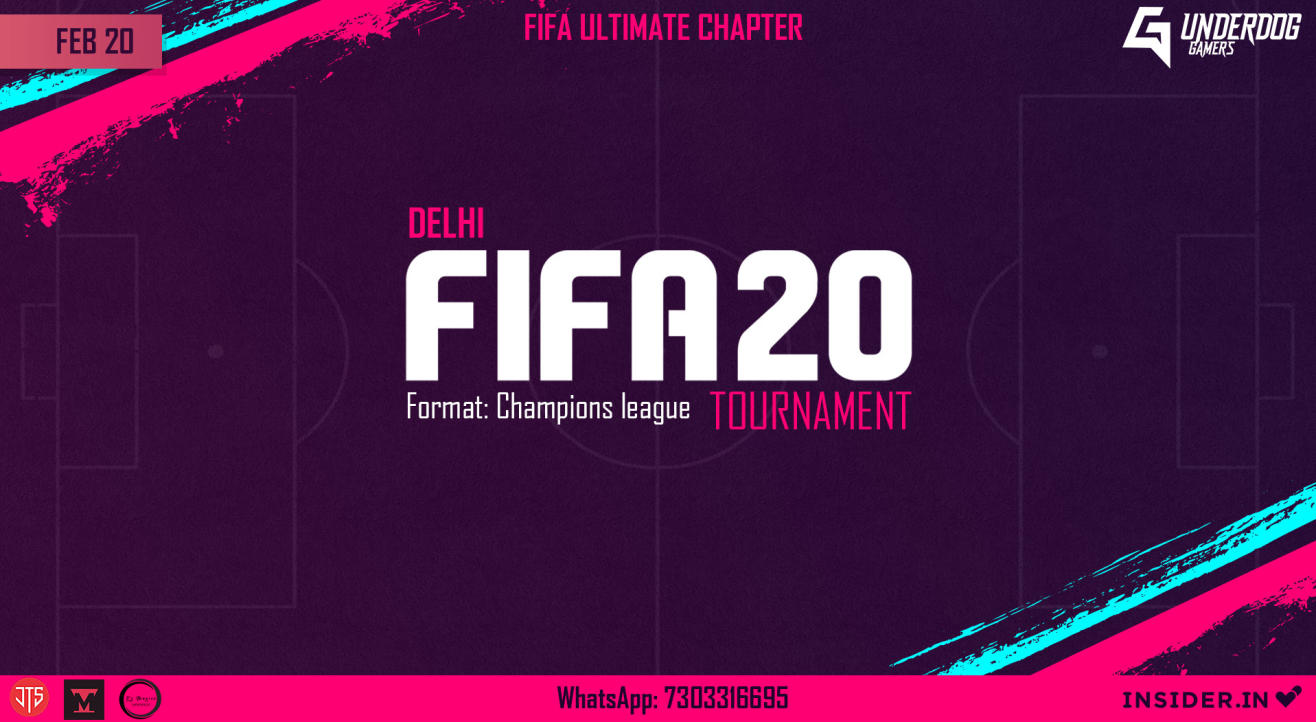 Underdog Gamers - FIFA Ultimate Delhi Chapter (3rd Part)
February 29 & 1st March | 1PM - 8PM
PLAY 360 THE GAMING LOUNGE
Step out and enjoy this event
Invite your friends
and enjoy a shared experience
Invite your friends
and enjoy a shared experience
About the Event
Fifa 20 Ultimate Delhi Chapter is a gaming festival of FIFA 20 brought to you by Underdog Gamers.
Every Weekend Fifa 20 tournament IN YOUR CITY. We will take you on a journey to find the best of the best players in these game. This is your time to prove your superiority and get your A game out.
It's now or never.
Entry Ticket - Rs. 499*
Structure: Maximum 64 Players can participate in single qualifier.
Bracket Stage(Saturday 1 Noon till 6 PM) - There will be a group of 4 people in a qualifier, top two from every group gets qualified for the Playoffs
Playoffs - Play till the Finals to win.
Re-entry Rs 200 ( Only on venue )
Cash Prize distribution is as follows:-
Total Participants 80+ => Rs. 10,000
Total Participants 100+ => Rs. 15,000
Total Participants 120+ => Rs. 20,000
Total Participants 150+ => Rs. 25,000
Total Participants 180+ => Rs. 30,000
TOTAL PARTICIPANT = UNIQUE ENTRY IN CITY***
Prize money distribution
1st place: 40% of the prize pool amount
2nd place: 30% of the prize pool amount
3rd place: 20% of the prize pool amount
If Prize Pool: Up to Rs 10000*
Game Settings:
Difficulty Level: World Class
Time of Day: 10:00 PM
Season: Summer
Weather: Clear
Game Speed: Normal
Team: Club / Nation
Half Length: 4 minutes till Quarters, 5 Minutes in Quarters,6 Minutes in Semi-Final and Final.
Multiplayer Camera: Tele Broadcast
Time/Score Display: On
Radar: 2-D or 3-D
Injuries: OFF
Offside: ON
Handball: OFF
Specials teams like Classic XI, World XI not allowed
Squads: Latest/Updated
Custom Tactics and Instructions: Allowed
Custom formations: Not allowed (All the default formations can be used)
Defending: Tactical Defending
FIFA Trainer: OFF
Marker during penalties: OFF
Rest of the game settings to remain the default.
Good Luck everyone and Play Fair!
PLAY 360 THE GAMING LOUNGE
C9/116, C Block Road, Sector 8, Rohini, Pocket 9, Sector 8C, Rohini, New Delhi, Delhi 110085
GET DIRECTIONS