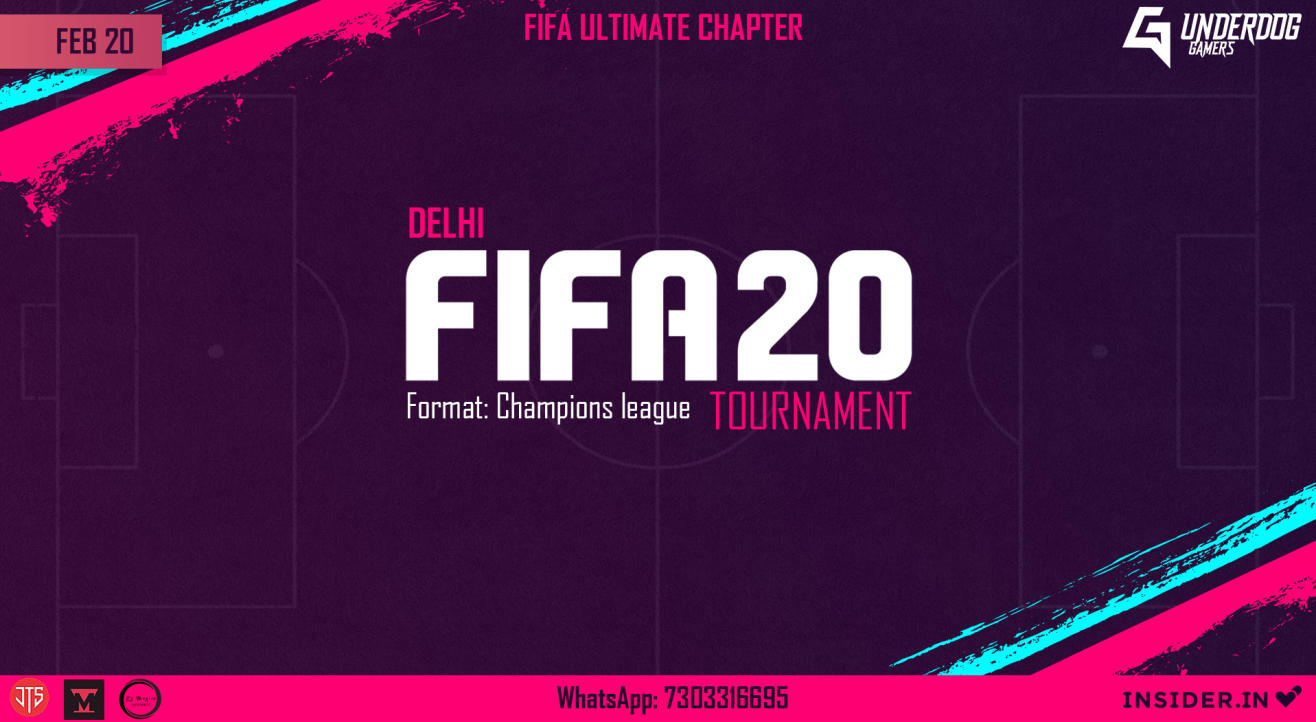 Games
Underdog Gamers - FIFA Ultimate Delhi Chapter (Part 1)
February 15 - 16 | 1PM - 8PM
About
Fifa 20 Ultimate Delhi Chapter is a gaming festival of FIFA 20 brought to you by Underdog Gamers .
Every Weekend Fifa 20 tournament IN YOUR CITY. We will take you on a journey to find the best of the best players in these game. This is your time to prove your superiority and get your A game out.
It's now or never.
Entry Ticket - Rs. 499*
Structure: Maximum 64 Players can participate in single qualifier.
Bracket Stage(Saturday 1 Noon till 6 PM) - There will be a group of 4 people in a qualifier, top two from every group gets qualified for the Playoffs
Playoffs - Play till the Finals to win.
Re-entry Rs 200 ( Only on venue )
Cash Prize distribution is as follows:-
Total Participants 80+ => Rs. 10,000
Total Participants 100+ => Rs. 15,000
Total Participants 120+ => Rs. 20,000
Total Participants 150+ => Rs. 25,000
Total Participants 180+ => Rs. 30,000
TOTAL PARTICIPANT = UNIQUE ENTRY IN CITY***
Prize money distribution
1st place: 40% of the prize pool amount
2nd place: 30% of the prize pool amount
3rd place: 20% of the prize pool amount
If Prize Pool: Up to Rs 10000*
Game Settings:
Difficulty Level: World Class
Time of Day: 10:00 PM
Season: Summer
Weather: Clear
Game Speed: Normal
Team: Club / Nation
Half Length: 4 minutes till Quarters, 5 Minutes in Quarters,6 Minutes in Semi-Final and Final.
Multiplayer Camera: Tele Broadcast
Time/Score Display: On
Radar: 2-D or 3-D
Injuries: OFF
Offside: ON
Handball: OFF
Specials teams like Classic XI, World XI not allowed
Squads: Latest/Updated
Custom Tactics and Instructions: Allowed
Custom formations: Not allowed (All the default formations can be used)
Defending: Tactical Defending
FIFA Trainer: OFF
Marker during penalties: OFF
Rest of the game settings to remain the default.
Other rules
Age Limit-6+
No sideline coaching is allowed.You may cheer or boo as the game progresses, but you may not offer advice to anyone playing a game.
In case of any conflict, the decision of organizing team is final and binding.
Action photography at the event will be conducted.
Semi-finals and Finals video might be recorded and videos will be uploaded on YouTube.
Player can pause the game to change strategy when the game is stopped (i.e.: offside, touchline, fouls, etc). Exceptionally player can pause the game each time one of his players is sent off or is injured to change him and his strategy.
Prize money is subject to the number of participants register for this tournament. Underdog Gamers is free to take this decision without notifying anyone. However, the final prize amount will be communicated to the participants before the competition starts.
No memory cards or saved games are permitted.
Unnecessary pauses or delays are prohibited.
Any action designed to disrupt the opposing Player`s view of the field or ability to select controlled players is prohibited.
Each game will begin play at its designated time, and as designated on-site at the tournament.
Players not present at the designated start time for any match will be disqualified, and their opponent shall be granted a 3-0 score. Players are encouraged to be in the designated play area 15 minutes prior to game time.
Players will be shown their designated station, shall set up the game and immediately begin play. Each Player will have 2 minutes to configure controls, line-ups, and settings in accordance with the rules described above under game settings. Custom packages cannot be used, nor can anything else that is not available in the in-game pause menu.
Players shall be responsible for keeping track of game situation so if a game is interrupted, the situation can be restored. In all situations possible, Underdog Gamers referees will monitor the game situation so that it may be restored in the event of game interruptions.
If a game is interrupted intentionally by any Player (as determined by Underdog Gamers), that player will immediately be disqualified.
If a game interruption is caused by outside circumstances such as a machine error or loss of power, the game shall be continued from the point of interruption.
Referees will begin the play and will record scores for each game. The decision of the referee is final and binding.
Use of alcohol or drugs is prohibited on the premises of, or during the attendance of, live events or tournaments, for the duration of the competitive tournament. Players must not be under the influence of drugs or alcohol while participating.
Smoking is prohibited except in designated areas.
Payment once done cannot be refunded.
Any damage caused to property at the venue will have to be paid by the person causing damage.
In case of a power failure or any similar incident, the decision of Underdog Gamers regarding results of match or rematch will be final.
Underdog Gamers/Venue Owner reserves the right without refund or compensation to refuse admission to any person whose conduct is disorderly or unbecoming.
No photography, audio or video recording is allowed during the event unless otherwise stated by the Underdog Gamers.
The organizer may add, withdraw or substitute devices/consoles and/or vary advertised programs, event times, seating arrangements and audience capacity without prior notice.
The Underdog Gamers/Venue Owner may use the ticket holder`s image or likeness in any live or recorded video display, photograph or picture.
By entering this tournament, each participant consents to the posting and use of his or her name and/or photograph on Underdog Gamers Instagram/Facebook/Twitter/Youtube pages or groups and website.
The Underdog Gamers/Venue Owner may postpone, cancel, interrupt or stop the event due to adverse weather, dangerous situations, or any other causes beyond his reasonable control.
The venue may be changed.
Should an Event be canceled or postponed due to unforeseen circumstances, Underdog Gamers will endeavor to process a full refund within 45 days of such circumstances becoming known.
The participants voluntarily assumes all risk and danger incidental to the event whether occurring prior to, during or subsequent to the actual event, including any death, personal injury, loss, damage or liability.
By attending this FIFA 20 Tournament, participants agree without reservations to comply with these rules and regulations, as well as the decisions made by the referees of the tournament. The application of these rules and regulations is at the sole discretion of the referees. Any decisions made may overrule the following rules and regulations to maintain the spirit of competition. Participants have to obey the instructions made by the referees at all times.
Every participant acknowledges the rights of Underdog Gamers admins to modify these rules and regulations at any given time and without prior notice.
Every participant is asked to maintain an adequate level of respect and friendliness with the other participants and the referees. Insults and unfair or disrespectful behavior towards the referees and the other participants won't be tolerated and will be punished, an immediate disqualification and/or a temporary ban from the Fifa tournament.
Good Luck everyone and Play Fair!
Venue
Immortal Gaming Cafe
114, Ground Floor, Moti Bagh II, Satya Niketan, South Moti Bagh, New Delhi, Delhi 110021