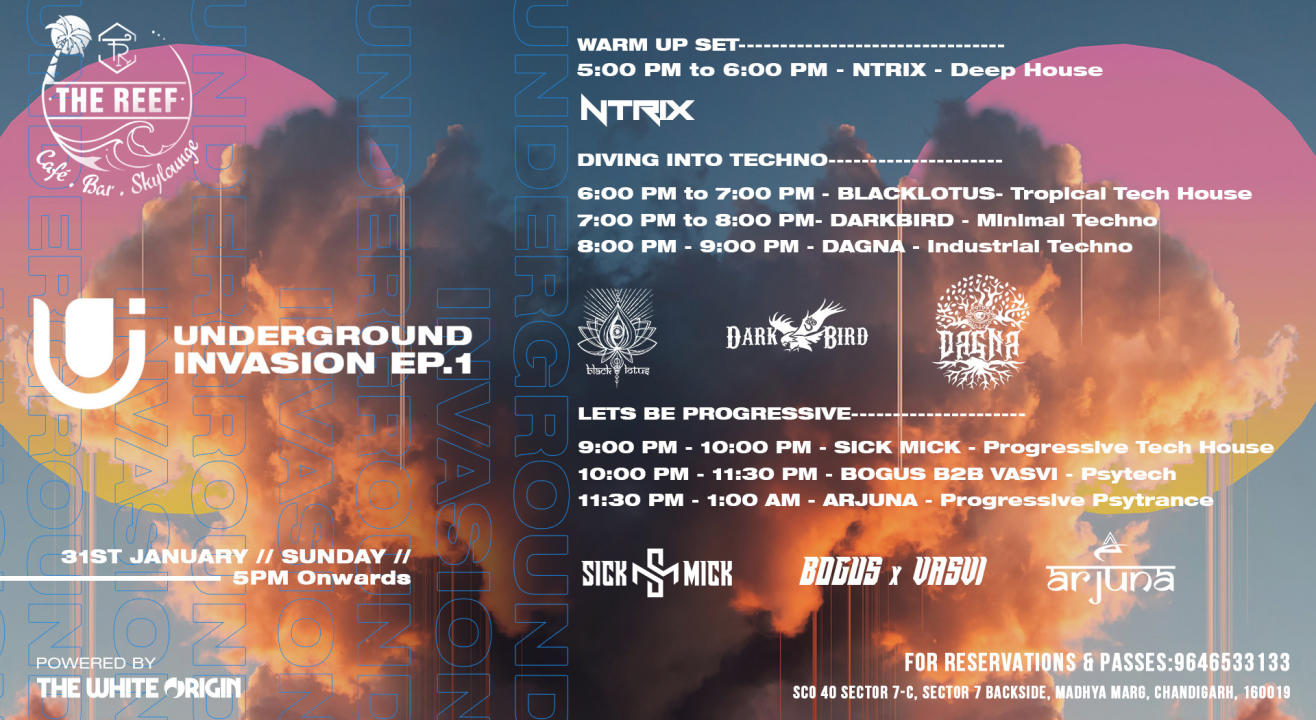 Underground Invasion Episode -1
January 31 | 5PM - February 1 | 1AM
Venue Details Coming Soon
Enjoy this event from your home
Invite your friends
and enjoy a shared experience
Invite your friends
and enjoy a shared experience
About the Event
THE WHITE ORIGIN & THE REEF SEC 7 CHANDIGARH Presents
Underground Invasion Episode -1
January-31st-2021 -Sunday
Call out to all the Electronic Music listeners in the Chandigarh region. The White Origin crew proudly welcomes you to Underground Invasion Episode - 1 feat. Arjuna at The Reef Bar & Sky Lounge, Sector-7, Chandigarh.
We're linking up with some of the best House, Techno, Psytech, Progressive, and Electronica artists every month, blazing the decks and firing up the systems to near peak levels!
Walk-in at your convenience, within your vicinity, only a short drive away! Put on those dancing shoes, dawn those smiley faces, and pre-program the moves. You skip this at your own peril!!
>>>>>>>>>>>>>>>>>>>>>>>>>>>>>>>>>>>>>>>>>>>>>>>>
Artist Bio:
NTRIX
Nitin aka NTIRX started rocking the decks with his earliest influence being Psychedelic Rock and with the advent of technology, soon, turned into a deep passion for Electronic Music with his interests ranging from Disco to House.
With a newly found knowledge and having been influenced by several cultures (rock, dub, reggae, electronica, trance and chill out) he started developing a unique style by smoothly blending in all the sounds into a rich atmospheric deep house pallet.
BOGUS & VASVI
Uday & Pranvi are a group of individuals who have formed their little & local collective where they share quality music, carry out events and activities that pivot around creating a culture with Good Tasteful Music. They invite more people and artists to further grow their base.
Tucked away in one corner of the city, withdrawn from the common influences, their tastes have developed in Classic DnB, Tech., Deep House, Psytech, and other electronic music.
SICK MICK
Mick Sondhi has been around the block - in and out of clubs since his teens. His record collection is diverse and includes everything from 90s Electronica, IDM, Breakbeat, Jungle, Bass, and Future Music.
His open-minded approach to sonic fidelity and obsession to the arts and its ancillaries got him into sound designing and mixing for some of the biggest brands in India.
Although, now underground, leading a life of his own free will, he still keeps a keen ear to the ground, always looking for fresh and interesting artistic spheres to explore.
DAGNA
Angad Pratap Malhi is an avid music fan and has been collecting music for years. Most would consider it an obsession but to him, it's just how he likes it. He is a treat for all heavy hitters, programmed for peak dance floor madness!
DARKBIRD
Chirag Bhatia is a renowned DJ/Producer from Chandigarh who has been DJ'ing since 2016.
He grew up listening to electronic music spawned by countless iterations in and around him since the 2000s which led to an insight turning him into a full-time DJ/Producer showcasing and building his carefully curated sets deployed for the masses.
BLACKLOTUS
The music Kamaljit Singh aka blacklotus creates is a journey, an expression of his inner self. He designs his tunes to bring about that indescribable, wonderland feeling where for that period of time nothing else matters or exists except the music.
His love for experimentation comes out through each of his tracks and sets. He truly shares his art of jockeying through mixing, music production, and introducing his crowd to innovative sounds.
ARJUNA
Arjun Deora is a professional Dj and a Music Composer based in Mumbai (India). He was the official DJ for Kitty Su for 2 years, which is nominated in the top 100 clubs in the world. During his residency, Kitty Su won the "Times Nightlife Award" for the best club in the city. He has played for the official parties of "Celebrity Cricket League" and "Kings XI Punjab". He has also performed for Corporate Events for "Levi's 501", "DLF", "Samsung", "HDFC" , "Airtel" and many more leading brands in the world.
Having been in this field for over a decade, Arjuna has evolved from a disc jockey to a producer and overall as a true artist. His music contains his own unique signature from Minimal Tech to Techno and Deep House. Arjuna's continuing experimentation has made him to create music that involves straightforward sounds, good rhythms, and energetic bass lines.
His remixes have their own inimitable style. During his set, his own productions make many scorch the dance floor!
>>>>>>>>>>>>>>>>>>>>>>>>>>>>>>>>>>>>>>>>>>>>>>>>
Date:
31st Jan 2021 (Episode #001)
Timings:
5pm-1am
*WARM UP SET*
5:00 PM to 6:00 PM - NTRIX - Deep House
*DIVING INTO TECHNO*
6:00 PM to 7:00 PM - BLACKLOTUS- Tropical Tech House
7:00 PM to 8:00 PM- DARKBIRD - Minimal Techno
8:00 PM to 9:00 PM - DAGNA - Industrial Techno
*LETS BE PROGRESSIVE *
9:00 PM to 10:00 PM - SICK MICK - Progressive Tech House
10:00 PM to 11:30 PM - BOGUS B2B VASVI - Psytech
11:30 PM to 1:00 AM - ARJUNA - Progressive Psytrance
For Passes and Table Reservations:+919646533133
Location:
The Reef Bar & Sky Lounge :
SCO - 40 (Backside)Madhya Marg Sector-7C Chandigarh, India 160019
Powered by:
The White Origin
PASS PRICE:
General pass per person: Rs 499- No of passes -250
Group pass: 5 people: Rs 2000- No of passes-50
SILVER Table -Rs 10,000/-(Includes Full Cover-No of passes-10)
GOLD Table: Rs 15,000/-(Includes Full Cover)-No of passes-10
PLATINUM Table: Rs 20,000/-(Includes Full cover)-No of passes -5
Attachments area