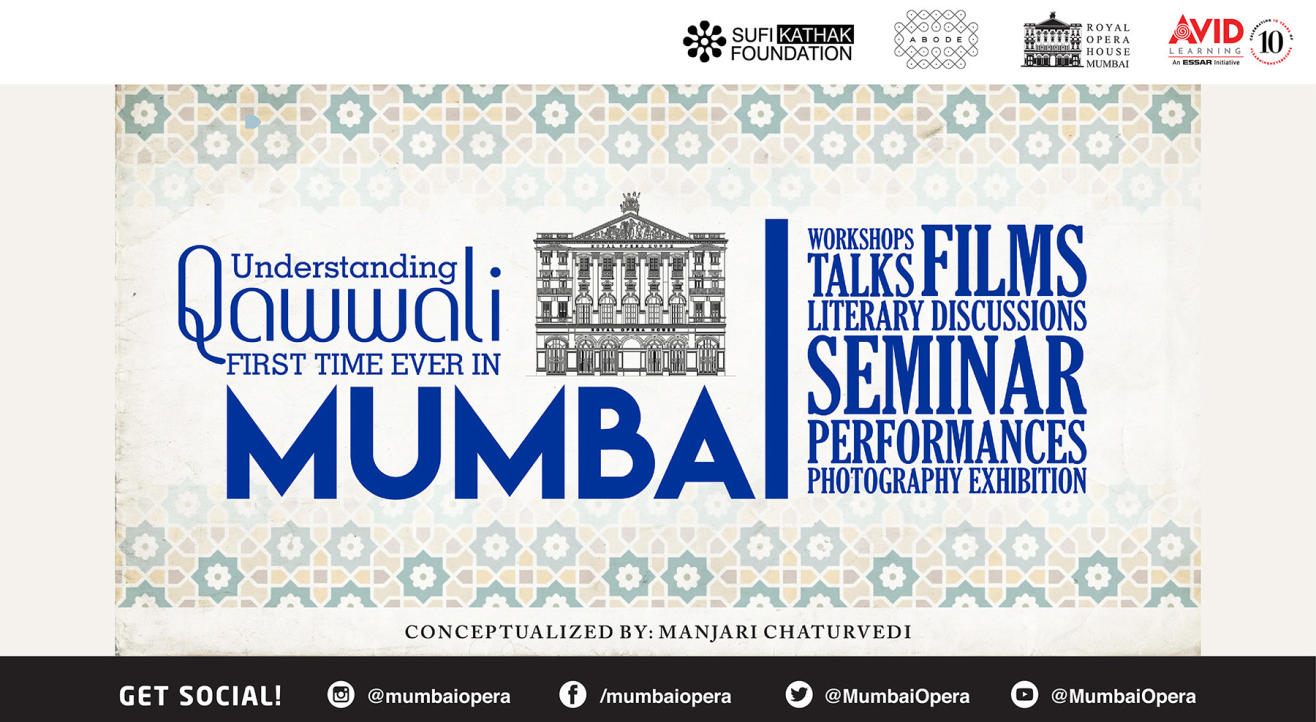 The Royal Opera House, Mumbai
Step out and enjoy this event
Invite your friends
and enjoy a shared experience
Invite your friends
and enjoy a shared experience
About the Event
Sufi Kathak Foundation, Royal Opera House, Mumbai and Avid Learning present an illuminating day-long symposium that explores the traditional art form of Qawwali and its depiction in film, poetry and photography with leading experts and practitioners. Conceptualized by Kathak Dancer and Founder, Sufi Kathak Foundation Manjari Chaturvedi, this symposium will comprise of lecture demonstrations, panel discussions, presentations and a film screening and will examine the ever-lasting legacy of Qawwals and address issues and topics related to these exemplary performers.
Where: Royal Opera House, Mama Parmanand Marg, Mumbai – 400 004
When: Saturday, 30th November 2019 | 11:30 AM – 12:00 PM – Registrations | 12:00 PM – 5:00 PM – Sessions
About Partners
The Sufi Kathak Foundation is a non-profit registered society in India (Regd. 61883, exempt from tax under section 80G and 12A and registered under FCRA). The Foundation is headed by its Founder & President, Manjari Chaturvedi, a leading exponent of classical Indian Kathak & creator of Sufi Kathak dance. She has a deep interest & in-depth knowledge on performance art & with her own experience of 20 years, with more than 300 performances in 24 countries, she leads the research projects. The General Body of the Foundation comprises of other 10 eminent academicians, lawyers, marketing heads, art & cultural activists & personalities. Sufi Kathak Foundation in 10 years has conducted 38 festivals /seminars/ concerts involving 402 artists to create awareness about India's intangible heritage in music and dance and preserve the gradually fading 700-year Sufi Traditions in Music and Dance. SKF aims to create a world of cultural unity, by spreading the secular message of the Sufis and also help in initiating children and orienting the youth to become self-employed through arts - dance and music. It provides assistance and support to needy artists and students by giving scholarships, pensions and medical support, in order to enable them to pursue classical music and dance. SKF seeks to evolve a humanist outlook and create centers, organize training classes, workshops and musical concerts to promote Sufi music, Qawwali, Sufi Kathak, and folk & classical dance across the world. Sufi Kathak Foundation has also worked with the Government of India and State Governments for various cultural concerts organized by them and through its concerts the foundation has tried to relive the past eras, thereby representing our rich cultural heritage. Sufi Kathak Foundation has also conceptualized and organized cultural festivals which explored the inter-religious issues through music and dance and brought together references of different religions on the same plane of confluence, for the audiences to experience. The 22 Khwaja Project that explores the lives of Sufi Saints is a unique secular initiative that has never appeared before the masses and adds to the list of successful initiatives taken by the Foundation. "The Courtesan Project", is the flagship dance revival concept by Sufi Kathak Foundation. "The Courtesan Project" is a labor of love, and a culmination of passion, research and mission to bring alive the stories of women largely forgotten by the history.
www.sufikathakfoundation.com
Royal Opera House, Mumbai is widely touted as Mumbai's Cultural Crown Jewel and India's only surviving Opera House. The original idea for the space was conceived of in 1908, inaugurated in 1911 by King George V, and eventually completed in 1916. The design incorporated a blend of European and Indian detailing. The space became a cinema in later years before falling into disrepair and shutting by the 1990s. Fittingly, the space has been owned by the Royal Family of Gondal since 1952 and was eventually restored by conservation architect, Abha Narain Lambah under the leadership of His Highness, Maharaja Shri Jyotendrasinhji of Gondal. The Royal Opera House Mumbai, now one of the last remaining Baroque structures in the city, reopened after 23 years in October 2016. The building was included on the 2012 World Monuments Watch to raise awareness about its history and significance, and support preservation efforts. The building has since been recognized with an Award of Merit in the 2017 UNESCO Asia-Pacific Awards for Cultural Heritage Conservation. The restored facilities feature a 575-seater 3-level auditorium with an orchestra pit and state of the art technological upgradations, including acoustics, stagecraft, lighting and air-conditioning, alongside retaining the old world charm of the proscenium stage, the royal boxes and the magnificent regal chandeliers. Some more enhancements to the venue include a motorized screen, co-axial ceiling speaker system, Four-zone volume control and all round wifi access. Today, it stands as a key performance and creative hub in the city's cultural landscape, while being a premier heritage landmark.
Avid Learning, a public programming platform and cultural arm of the Essar Group, has conducted over 1000 programs and connected with more than 125,000 individuals since its inception in 2009. Driven by the belief that Learning Never Stops, AVID's multiple formats like Workshops, Panel Discussions, Gallery Walkthroughs, and Festival Platforms create a dynamic and interactive atmosphere that stimulates intellectual and creative growth across the fields of Culture & Heritage, Literature, Art and Innovation.
The Royal Opera House, Mumbai
Mathew Rd, Charni Road East, Opera House, Girgaon, Mumbai, Maharashtra 400004
GET DIRECTIONS