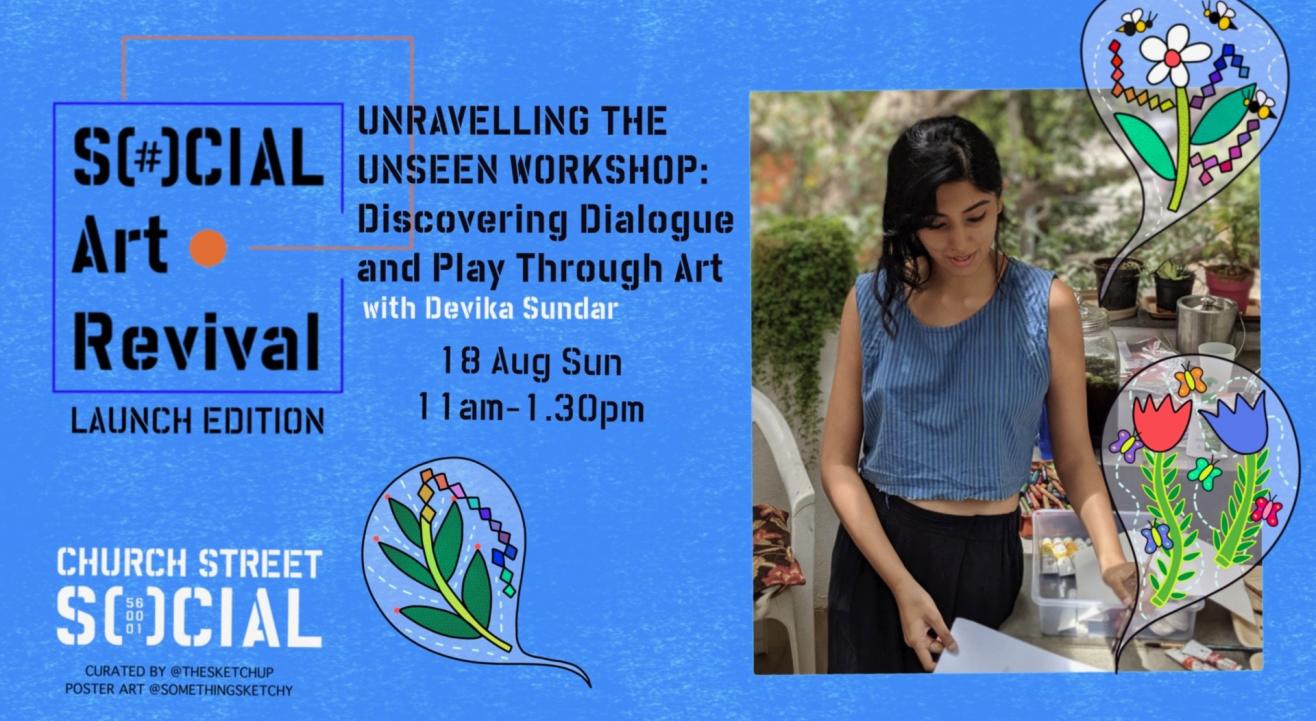 Unravelling the Unseen: Discovering Dialogue and Play Through Art with Devika Sundar
Church Street Social, Bangalore, Bengaluru
Step out and enjoy this event
Invite your friends
and enjoy a shared experience
Unravelling the Unseen: Discovering Dialogue and Play Through Art with Devika Sundar
Church Street Social, Bangalore, Bengaluru
Step out and enjoy this event
Invite your friends
and enjoy a shared experience
Invite your friends
and enjoy a shared experience
When words lack the ability or aren't formed enough to express what we are feeling, we require another language and outlet to engage with. How do we explore Art as a way to express experiences and emotions, often left unsaid and unseen? Could we form conversations with each other in ways that didn't involve words, spoken or written? Instead, exchanging painted notes through colour, movement, pattern, music and sound- finding language, movement and dialogue within this.
Through this afternoon workshop, we explore different, interactive, freeing exercises and activities, that bond and connect us to each other, using Art as our language. Transcending acknowledged spaces that feel spoken, visible, recorded and tangible... we attempt to visualise spaces that often seem inarticulate and imperceptible, yet expressive, emotive and strong. Removing inhibition and self-judgement, we focus on exploring art as a therapeutic release, finding ways to express stillness and mindfulness within a contained moment.
Explorations involve experimenting and playing with different media including Paint, Pastel, Pen, and Collage. Open to everyone: No prior experience or skill needed! All we ask is for you to bring an open, curious and imaginative mind with you.
In addition an old plate, and a small bowl for water*
Church Street Social, Bangalore
46/1, Cobalt Building, Church Street, Bangalore, 560001
GET DIRECTIONS
Unravelling the Unseen: Discovering Dialogue and Play Through Art with Devika Sundar
Church Street Social, Bangalore, Bengaluru
Step out and enjoy this event
Invite your friends
and enjoy a shared experience