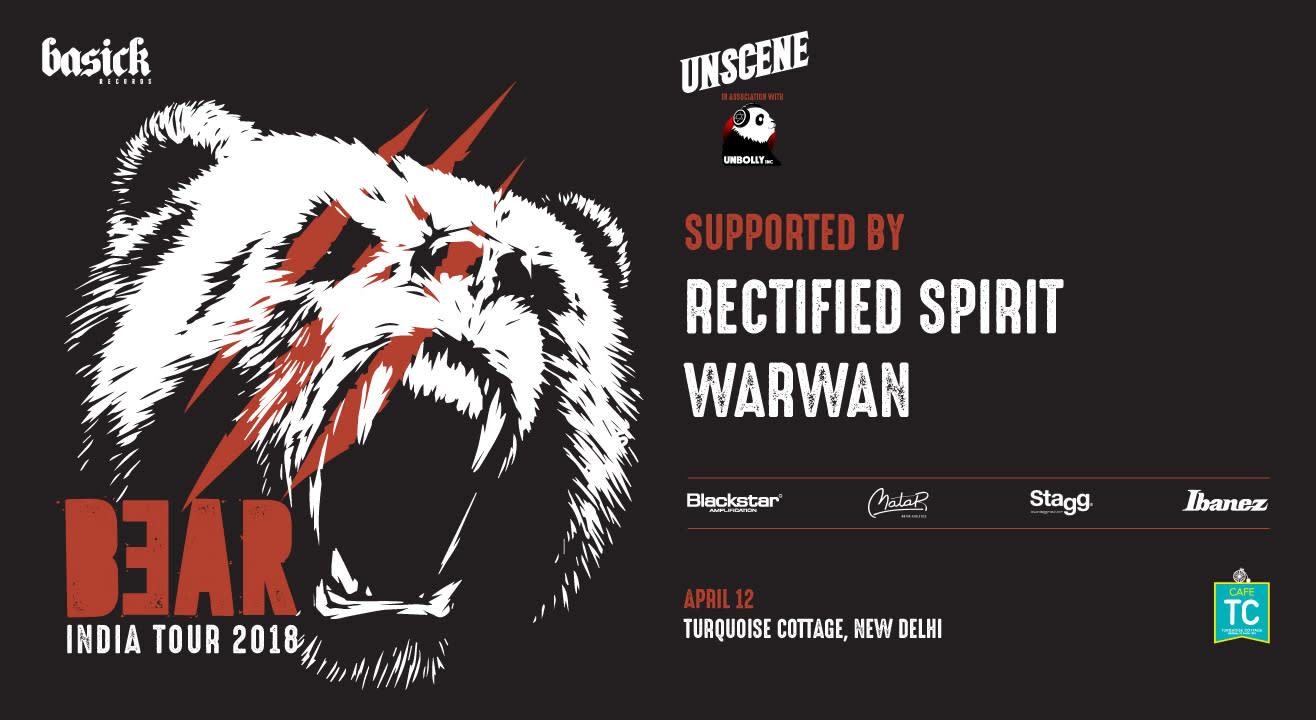 Music
Unscene: BEAR's Tour of India – New Delhi, 2018
About
Independent live gig series Unscene returns in April 2018 with a 5-city Tour of India with Belgian math/progressive metal band, BEAR and a host of band from India! The Tour finds its way to New Delhi on its fourth stop on April 12th, 2018 at Cafe Turquoise Cottage - TC, Green Park and will also feature Warwan and Rectified Spirit.
BEAR is an Antwerp, Belgium based quartet that has developed a dedicated following quickly over a period of producing an EP and 3 full-length albums. Described by MetalHammer thus, "Sounding like the ******* offspring of Meshuggah and Converge, the four-piece deliver the kind of dizzying intricacies and mutant grooves guaranteed to have tech-metal aficionados frothing at the mouth.", the band was signed up by Basick Records. The band's latest album, "III" released earlier in 2017 won a lot of acclaim. BEAR is known for its extremely high energy live performances. The band is looking forward to its first tour in India!

Delhi's Warwan is a ground-breaking metal band that has turned convention on its head by keeping its lyrical content in Hindi. The band has been creating new paths with the relentlessness of its heavy music.

Refusing to be restricted to a particular sub-genre of metal, Guwahati's Rectified Spirit has crafted its own special sound. And that sound came through loud and clear on the band's self-titled album and 2015's highly acclaimed album, "The Waste Land", enough for it to be placed by the U.K.'s Snapdragon Magazine among the likes of Iron Maiden, Clutch, Lamb Of God and Napalm Death as one of the best releases of that year.