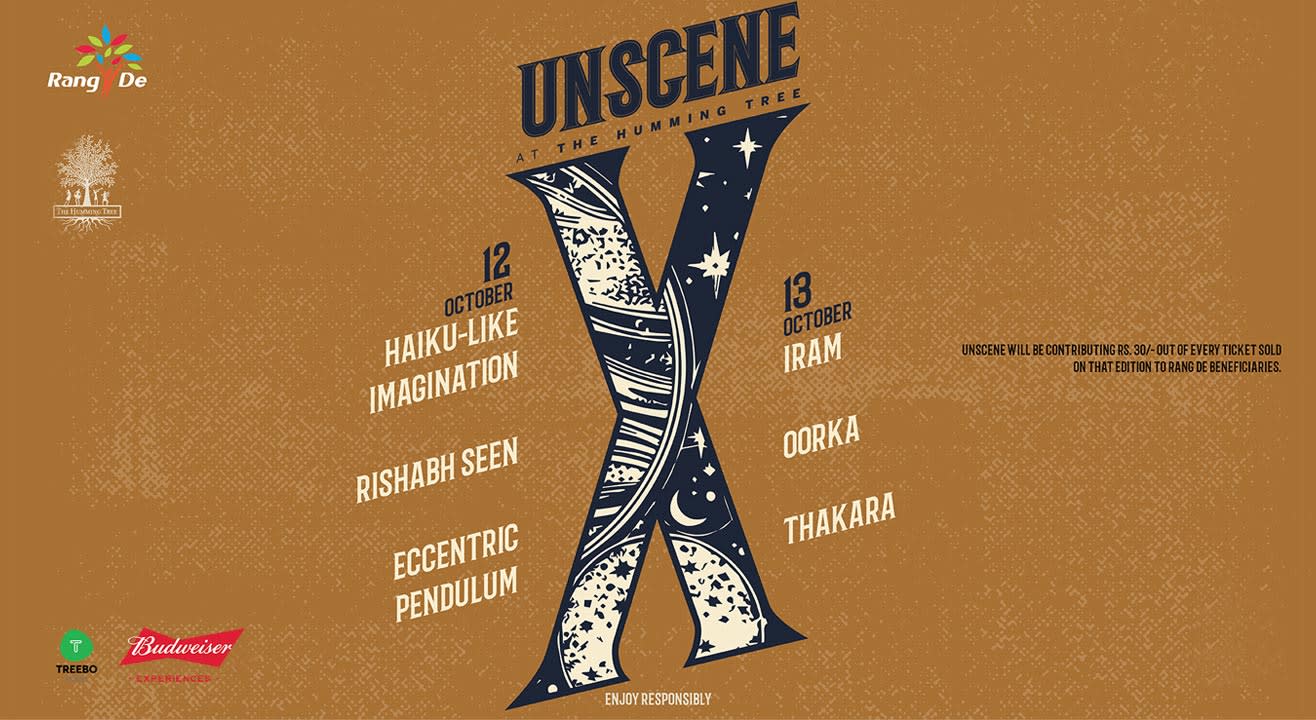 Music
Unscene Ed. 10 - Metal & Indie/Alt
The Humming Tree, Bangalore
About
The 10th Edition of Unscene in October at The Humming Tree, Bengaluru is a very special one with its theme of Music and the Season of Giving. Unscene will be investing Rs. 30/- for every ticket sold on this Edition in beneficiaries of Rang De, an organization that has been doing stellar work in alleviating poverty through sustainable livelihood initiatives. The music itself will range from the mind-bending complexity of Eccentric Pendulum, metal sitar prodigy Rishabh Seen and Haiku-like Imagination on Oct. 12th (Metal) to the ethereal, the robust and the folk-tinged music sung in Indian languages that is the hallmark of Iram, Oorka and Thakara on Oct. 13th (Indie/Alt).
Eccentric Pendulum
Bengaluru's Eccentric Pendulum has won rave reviews for its live performances as well as its recorded work. This award-winning progressive metal band has toured Europe twice playing at massive festivals like Wacken Open Air and Portugal's SWR Festival. It has played along with Opeth, Meshuggah, Kreator, Amon Amarth among others. This Unscene performance will coincide with the digital release of the band's new EP.

Rishabh Seen
Rishabh Seen's adept melding of Indian Classical with Metal music using his sitar has seen him quickly rise to being a global phenomenon at a very young age. His work has garnered effusive praise from the likes of Steve Wilson, Tosin Abasi, Ustad Shahid Parvez, Guthrie Govan and Bryan Beller.

Haiku-like Imagination
Haiku-Like Imagination is a 5 piece post-hardcore/math rock band from Bengaluru. The band's music is a beautiful cohesion of dynamic polyrhythmic drum sections, melodic bass lines, twin guitar harmonies, robust screams combined with melancholic clean vocals and glitchy, dissonant breakdowns. Quite simple, eh?
Thakara
Alternative rock with a touch of electro and folk, beautiful Malayalam lyrics, and James Thakara's unique, goosebumps inducing singing combined with consummate performance make Thakara a very special band and a treat to watch and listen to. The release of "Podi Penne" and "Puttu Pattu" got them nation-wide attention and the band hasn't looked back from then.

Oorka
Quartet. From Chennai. Tamil rock. Socially-conscious lyrics. Powerful live performances. Simple. Enough to blow your socks off!

Iram
Iram takes influences from Sufi music, post-rock and minimalism and incorporates lush atmospheres, melancholic sounds, dreamy, ethereal textures and strong conceptual Urdu/Hindi lyrics into its music. This Bengaluru-based band made a very strong debut with its full-length album, "Azal" at the end of 2016.