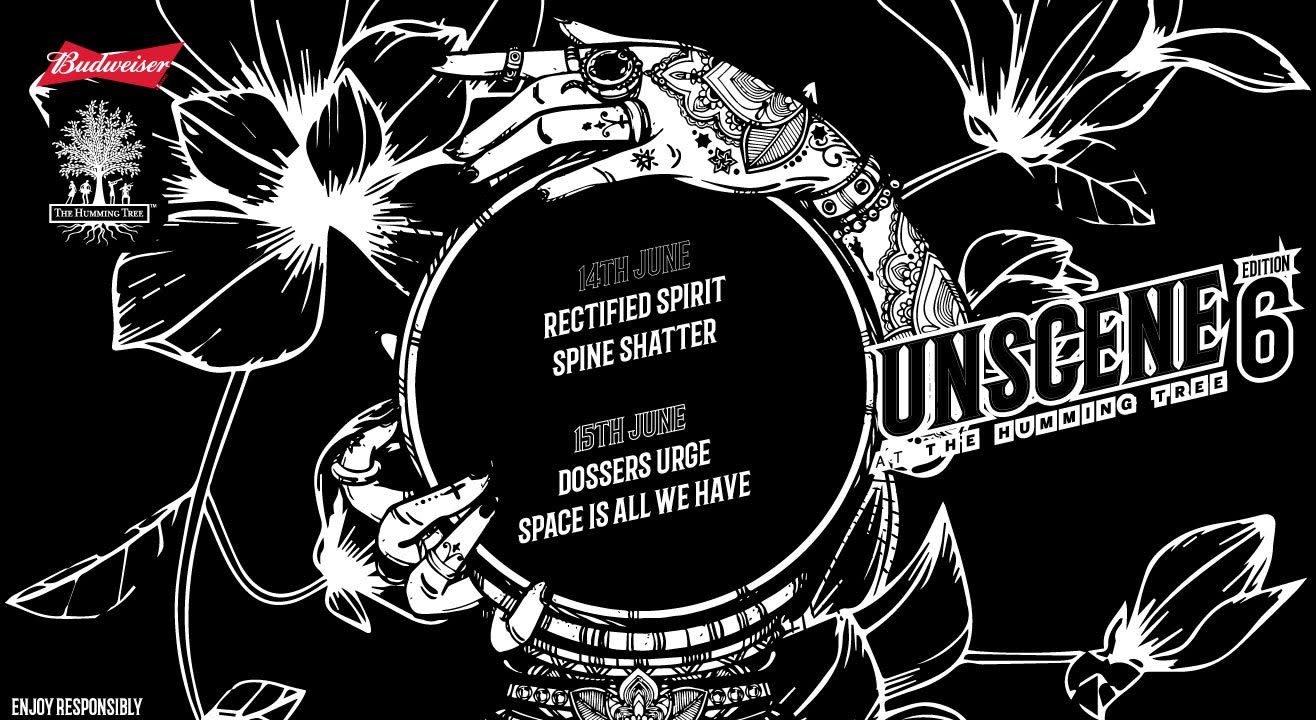 Music
Unscene Edition 6 : Metal Night & Indie/Alt Night
The Humming Tree, Bangalore
About
Just as the nation welcomes the South-West monsoon, Unscene gets a little ahead of the curve, bringing in thunder from the North-East! Add to that rage from Chennai and some bright sparks from Bengaluru, the 6th Edition of Unscene is all set to storm the city on the 14th and 15th at The Humming Tree. The Metal night features Rectified Spirit from Guwahati and Spine Shatter from Chennai while Dossers Urge from Shillong and Bengaluru's Space Is All We Have will light up the Indie/Alt night on the 15th.
June 14: Metal Night


Rectified Spirit
Refusing to be restricted to a particular sub-genre of metal, Guwahati's Rectified Spirit has crafted its own special sound. And that sound came through loud and clear on the band's self-titled album and 2015's highly acclaimed album, "The Waste Land", enough for it to be placed by the U.K.'s Snapdragon Magazine among the likes of Iron Maiden, Clutch, Lamb Of God and Napalm Death as one of the best releases of that year.

Spine Shatter

Chennai's Groove Metal band, Spine Shatter has caught a lot of positive attention and rave reviews for its music and its live shows which came on the back of its scorching debut EP, "Ascendance". Well-founded expectations surround the band's upcoming full-length album.
June 15: Indie/Alt Night


Dossers Urge

Shillong's Dossers Urge has a hard-to-define sound; a heady, strange brew of Psychedelia, Punk, Pop, Alt, Blues. This trio of brothers impressed everyone to win the Converse Rubbertracks competition that sent them on their way to New York to record their fantastic album, "Honest Rage". The band's live performances are quite an experience!

Space Is All We Have

Another band that refuses to be slotted into a genre, Bengaluru's Space Is All We Have plays what it calls Post Modern Ambient Space Rock, which translates to some unique and excellent music that is influenced by the likes of Pink Floyd, Mutemath, Incubus and U2 yet with this young, talented band's own signature!