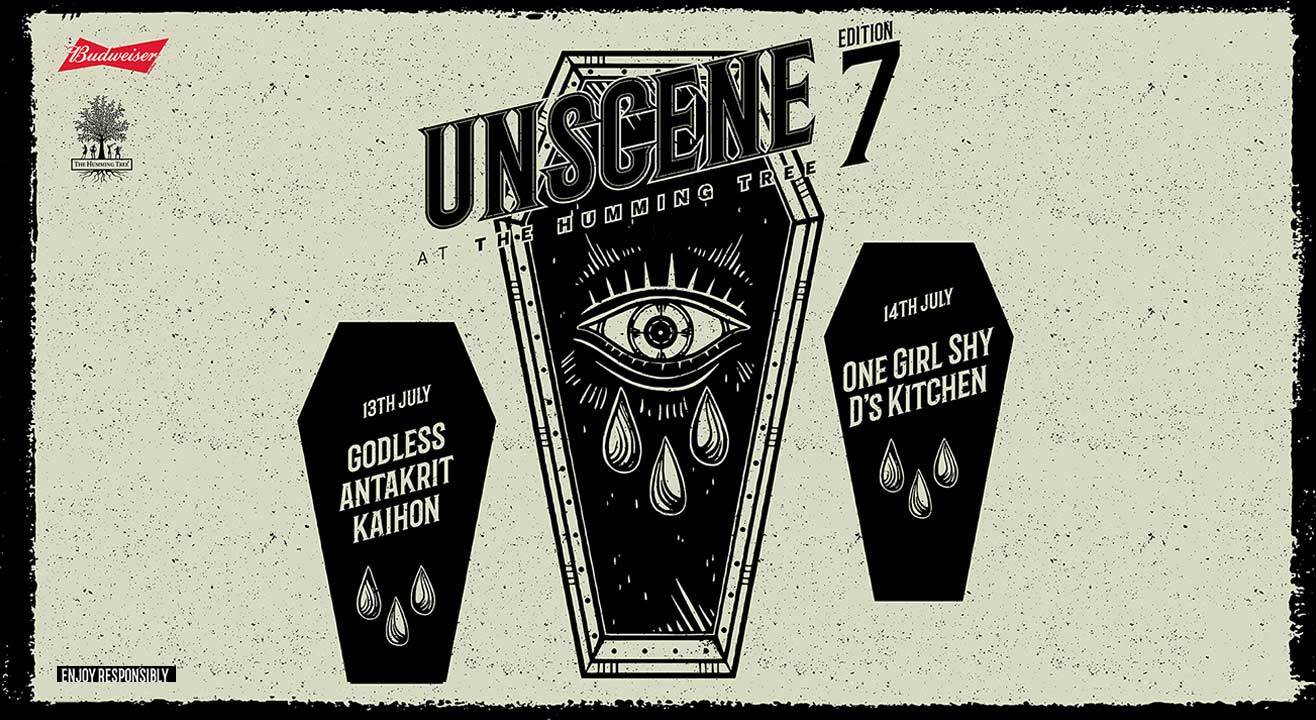 Music
Unscene Edition 7 : Metal and Indie/Alt Music
The Humming Tree, Bangalore
About
The 7th Edition of Unscene is a celebration of Bengaluru. Bringing together 5 bands based fully or partially in the city with band members representing the wonderfully cosmopolitan nature of Bengaluru, the gig series continues getting great talent to the stage. The Metal night on July 13th features Death Metal heathens Godless, Black Metal high priests Antakrit and Progressive Metal upstarts Kaihon with Shashank Bhatnagar of Undying Inc. on vocal duty. The Indie/Alt night on July 14th is lit up by One Girl Shy's infectious Folk Alternative Rock and the powerful, high energy Rock performance of D's Kitchen.

Day 1 - July 13 (Metal)

Godless
One of the hardest working metal bands in India, Godless with band members from Hyderabad and Bengaluru has gained for itself a loyal and strong following. These purveyors of Thrash-influenced Death Metal have won rave notice and acclaim in India as well as abroad. After the very well-received debut EP "Centuries Of Decadence", the band is working on material for its new album.

Antakrit
With a heady influence of Classic Rock & Metal, Black and Death Metal and lyrics that call out religious malpractices that have come of false interpretations, Black Metal band Antakrit sends out a strong message. Antakrit's fiery live performances have mesmerized its audiences everywhere the band has played.

Kaihon
"No labels. No restrictions. Just music." That makes Kaihon progressive, doesn't it? The band has taken its time to release music, making sure that what it puts out meets the high standards it sets for itself. And the diligence and meticulousness show on its debut EP, "Terraform" released earlier this year, garnering for it great reviews. Joining the band on vocal duty for this performance at Unscene will be Shashank Bhatnagar of Undying Inc., a combination to die for!

Day 2 - July 14 (Indie/Alt)

One Girl Shy
Although One Girl Shy calls itself a Folk Alternative Rock band, its music is influenced by a range of genres – blues, rock, R&B, funk, folk. All of this makes for a very uplifting and interesting listening experience! The release of its lovely debut album, "We're All Mad Here" in Feb 2017, has further expanded its audience.

D's Kitchen
A focus on simple songwriting, and emotive instrumentation and vocals form the foundation of Bengaluru quartet, D's Kitchen's arresting sound. Formed in early 2014, the band has in a short span of time released an EP, "The Boy Who Cried Wolf" and a full-length album, "Light Does Echo". There is a lot of anticipation around D's Kitchen's new album, "This Side Of The Border" slated for release in early August, 2017.