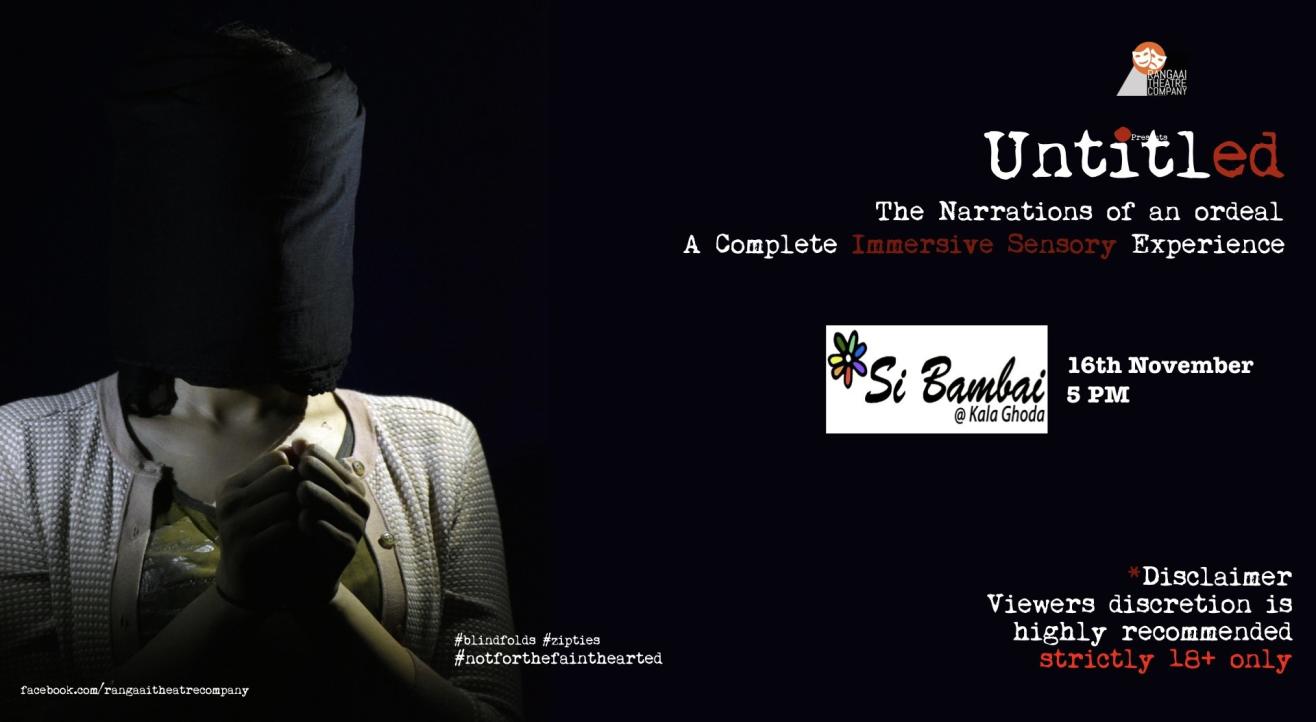 Drama
UNTITLED - The Narrations of the Ordeal
About
Untitled - The Narrations of an ordeal
A Complete Immersive Sensory Experience
Not for the faint-hearted
Disclaimer
The performance contains graphic description and depiction of sexual abuse which some audiences may find disturbing. Viewers discretion is advice. Only for mature audience (18+ yrs only).
A complete immersive sensory experience performance art piece produced by Rangaai Theatre company, designed and directed by Tushar T. Dalvi. He is also known for his critically acclaimed play The Darkroom 2.0 - An immersive sensory experience show, which has done the most number of shows in intimate independent theatre category and has also been rated 4 stars by Times of India. Rangaai Theatre company is the only immersive sensory experience theatre company in Mumbai.
UNTITLED is a narration of true stories and presentation of the darker side of our society. The performance intends to show its audience the horrific ordeal that any rape victim or a survivor is put through during and after the gruesome act by the administrative & political system. It also questions the social stigma that society attaches to the survivors and its family.
The performance piece will compromise of 4 true stories of rape where audiences will play the role of companions of the victim. Audiences will experience the horror of power play, that rape is, by being thrown in the same environment as the protagonists of the play. Audiences wont just see the play they will be living it through the performance. This will be achieved by disrupting the comfort zone of our audiences, taking control of them and their experience and delivering emotions such as disgust, anguish and guilt so that they are enough outraged to channelise that rage into some tangible results helping resolve the rape crisis that our country is being faced since last few years.
Through this performance art piece, we shall educate, encourage and sensitise our audiences towards this growing issue and motivate them to form and join a league of change makers by providing them with a forum platform to ideate, share skills & knowledge and collaborate for change and bring about some small social projects targeting this issue.
The performance will be executed in immersive sensory experience format, which means audiences will have to trust our expertise and surrender themselves to us. We may put them into uncomfortable positions and scenarios but all audience has to know is that every smallest detail has been carefully designed to only elevate their experience. We will tie their hands and cover their faces with blindfolds; we will shove them around and make them listen and see only what we would want them to see; we will make them smell or taste certain things; we will frighten them and at same time we will make them feel outraged; and finally, we will transform them from passive observers to active change makers.
Stories:
The Rape - Franca Rame (Italian Dramatist)
Janzir
The Bus
Bhediye
Designed & Directed by Tushar T. Dalvi
Cast:
Tushar Tukaram Dalvi
Nilesh Bodle
Jaymin
Ashish Sharma
Vandana
Akshaya Naik
Savita Gaykar
Siddhi
Sagar Fernandes
Shivam
Priyanka Nagar
Poem by: Mehak Mirza Prabhu
Song lyrics & Composition: Priyank Nagar
Creatives & Publicity designs: Robin Patel
Venue
Si Bambai
No 25, 105 opposite lakshmi vilas bank, Mumbai Samachar Marg, Kala Ghoda, Fort, Mumbai, Maharashtra 400001