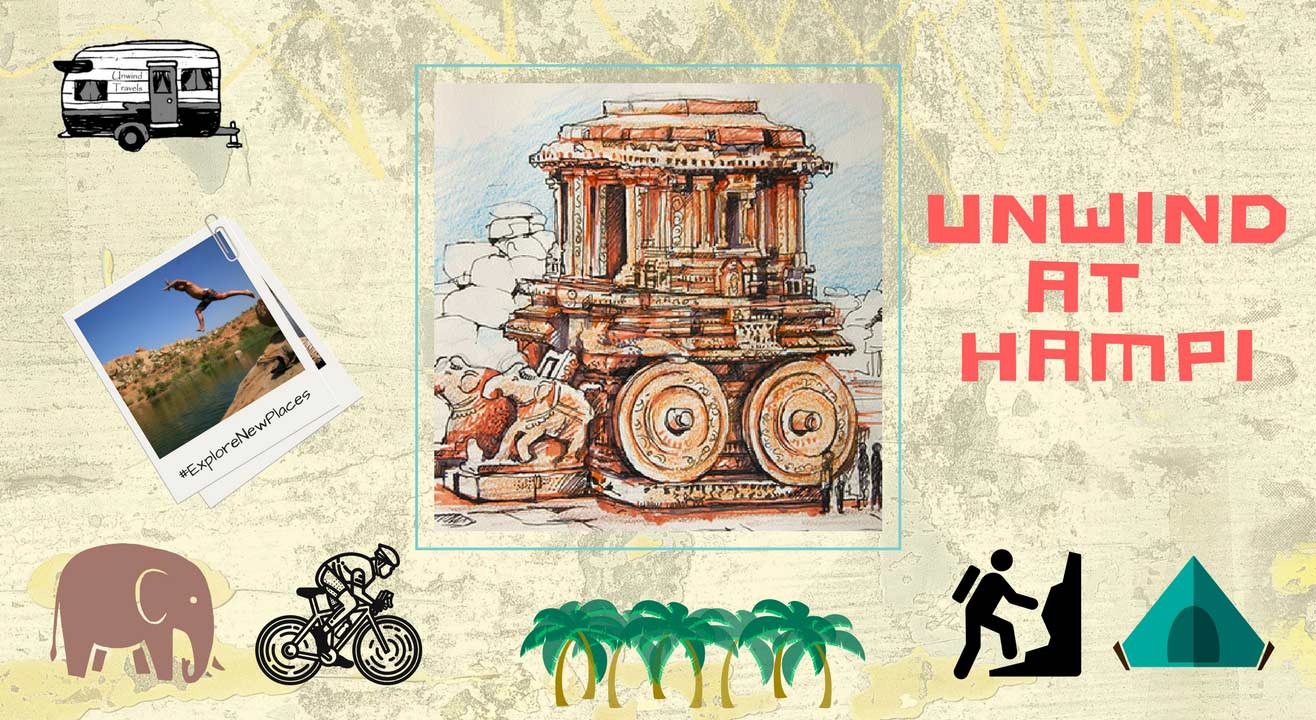 Camping
Unwind At Hampi
November 18 - 20 | 24 - 26 | 10AM
About
Spend your weekend with a sack full of adventure at Hampi. Take a dive off a cliff, conquer the rocks, try slack lining, and take a stroll across history. Top it up by going for a trek and finally conclude your holidays by sleeping under the celestial maidens. In short, Hampi is the perfect getaway to be one with nature.


This 2N/3D extravaganza promises you a rush of adrenaline with memories of a lifetime. By the end of the trip, you'll be energized for your days at work!
Day 1
Reach Hampi, go to campsite, pick up mopeds and visit the lake. Go to Anegundi, explore Anegundi and have lunch. At 04:00 PM, go back to the campsite and enjoy a cup of tea. Then, go to the lake to enjoy the coracle ride and jump off several rocks amidst the scenic beauty of Hampi.
Return to campsite, and chill around the bonfire under a starry sky.
All meals included (breakfast, lunch and dinner)

Day 2
Get up early in the morning. Try walking on ropes (slack lining). Next, move to drop off the mopeds. Catch a ferry to the other side of the river, where you will go for a guided heritage walk. A certified guide will explain the history, and drop you off near Matanga Hill. View Hampi from the peak of Matanga Hill.
Catch a ferry back before 6:00 PM and leave for campsite.
Move to the Hanuman Mandir and the Durga temple for a magnificent sunset and then back to the campsite and dinner while indulging in conversations with new friends.
All meals included (breakfast, lunch and dinner).

Day 3
Wake up early in the morning and head for a bouldering session held by the experts. Learn the art of climbing rocks, come back to the campsite, change, and head back to the hippie side of Hampi. Today you explore several cafes that Hampi has to offer and the Hampi Bazaar, where you can shop. Assemble near Virupaksha temple at 3:00 PM where you head back to Hospet.
Only breakfast will be provided.
Travel gear
Backpack
Camera to capture awesome memories
Extra batteries
1 litre bottle of water
Clothing Gear
4 Cotton T-shirts or shirts
Pants or shorts. Preferably carry light weight and quick dry pants. Avoid jeans as it will increase the weight in your pack.
UV protected glares
UV protected cap
A pair of shoes that have a good grip
Slippers or flip-flops
A thin towel as it saves space in the pack and dries quickly
Personal Gear
Toothbrush, toothpaste, soap or hand sanitizer, and shampoo
Torch to help you find your way back
A power bank to charge your phone
A small multipurpose Swiss knife
Medical
Personal medication if any
Glucose tablets

Stay - At a campsite under the starry skies
Moped hire for 1 day
Food (all meals)
Bouldering session
Cliff diving
Coracle ride
Entry to all the monuments
Guided heritage walk
Travel from and to Hospet
Heritage cycle ride with lunch at the banana plantations
Expert charges

Lunch on the last day
Travel to and from your city, to Hospet
Pick-up and Drop-off points
Pick Up: Hospet Bus Stand
Drop Off: Hospet Bus Stand
Flight
Hubli is the closest airport to Hampi. These flights usually have a layover at Bangalore. You could board an early morning flight and use the bus/train/road options as mentioned below to reach Hampi on time for your trip. From Bangalore or Hyderabad Airport, you can catch a bus or a train as well. However, it will be an overnight journey. The day before the trip, you should catch a flight to Bangalore by 5:00 PM in order to reach the Bangalore bus station or train station on time. You could also fly to Bangalore and board a train to Hospet and then board a bus to Hampi.
The day before the trip, you should catch a flight to Hyderabad by 5:00 PM in order to reach the Hyderabad train station to catch an overnight train to Hospet. However, if you are planning to travel by bus, then you should board a bus by 2PM - 3PM.
Train
The closest railway station is Hospet Junction. Overnight trains are available from Bangalore and Hyderabad that reach Hospet early morning, the next day. Hampi Express is a popular train that departs Bangalore by 10:00 AM and reaches Hospet by 7:00 AM. Similarly, evening trains from Hyderabad railway station will depart at 9:00 PM and 11:00 PM to reach Hospet by 8:00 AM and 10:00 AM respectively.
Bus
Overnight buses are available from Mumbai, Goa, Bangalore, Hyderabad, and Hubli for Hospet. You could board a bus from Goa between 6:00 PM - 8:00 PM ; from Bangalore 8:00 PM onward; and from Hubli from 6:00 AM onward to reach Hospet on time.
Buses from Mumbai are available from 4:00 PM - 5:30 PM that reach Hospet by 8:00 AM the next day.
Overnight buses from Hyderabad reach Hospet by 4:30 AM, so it is advisable to choose a bus which reaches Hospet by 6:00 AM or 7:00 AM.
Road
You can even hire a cab or drive from Goa, Bangalore and Hyderabad. Overnight drive is recommended to save on time.
Prior to 30 days from date of departure - 25% will be deducted
Between 15-30 days from date of departure - 50% will be deducted
Between 7-15 days from date of departure - 80% will be deducted
Between 7 days or lesser from date of departure - 100%will be deducted