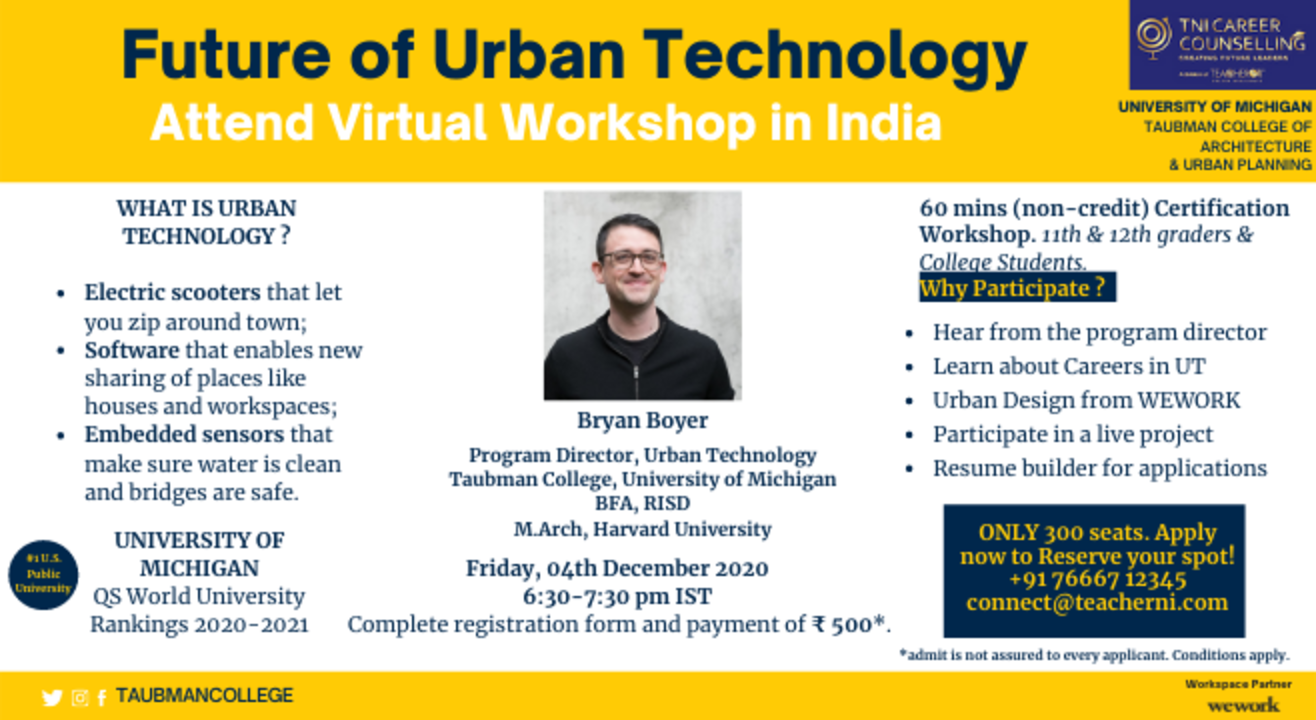 Urban Technology Workshop by University of Michigan for 11-12 th graders & College Students!
Enjoy this event from your home
Invite your friends
and enjoy a shared experience
Invite your friends
and enjoy a shared experience
About the Event
Are you a current or intending Economics, Business, Technology, Design, Art major ? Then you are definitely interested in Learning about Urban Technology
Attend the Virtual Certified Workshop by University of Michigan #1 U.S. Public University (ranked by QS 2020-21) Taubman College of Architecture & Urban Planning on Future of Urban Technology. One of the most upcoming programs in the world with the most rewarding career options.
Workshop is ideated by TNI Career Counselling (TCC) & conducted by Mr Bryan Boyer, Program Director for Urban Technology and admissions officer Diana Friend.
APPLY NOW: https://bit.ly/2FuEi60 (Fee: ₹500)
Date of Workshop: 4th December, 2020
Time: 6:30 to 7:30 pm IST
Who is Eligible ? 11th and 12th graders & College Students
Deadline: 02nd December 2020
Learn about uses of Urban Technology, Career Pathways, LIVE simulation, Industry design by Wework. Ask questions and meet like minded peers.
More reasons to Attend
• Receive E-certificate of completion
• Resume builder that can be added your Master's / Bachelors
• Professional development certificate for counsellors
• Access to our selected programs, mentorship modules and more.
• All selected participants can enter a competition to represent their college/ school and have a chance to win a cash prize and access to the WeWork space for FREE; first 100 applications only.
Contact us at +91-7666712345 or connect@teacherni.com for any questions. THINK ADMISSIONS. THINK TCC.
Terms & Conditions
1. By completing this form you give us permission to contact you and keep your information in our database. We will not share details with a third party apart from the university unless we get a confirmation from you.
2. The application fee of Rs. 500 has been paid. The application fee for initial counselling is non refundable & non transferable.
3. Any course recording, information, feedback received will be property of SDEE, and can be used in our marketing material suitably including recordings (voice, video, text), photos.
4. You will not be allowed to record any part of the session using your devices.
5. Session will be held online using a meeting software as per mutually agreed date and time. Registrant will conduct themselves with highest ethical and moral standard.
6. My parent/guardian has reviewed the form with me and approves of the application.
7. This application will be evaluated at discretion of TCC or University and admission to the session in not guaranteed.
8. Participation in the workshop does not guarantee admission to the Urban Technology (bachelors in science) course.