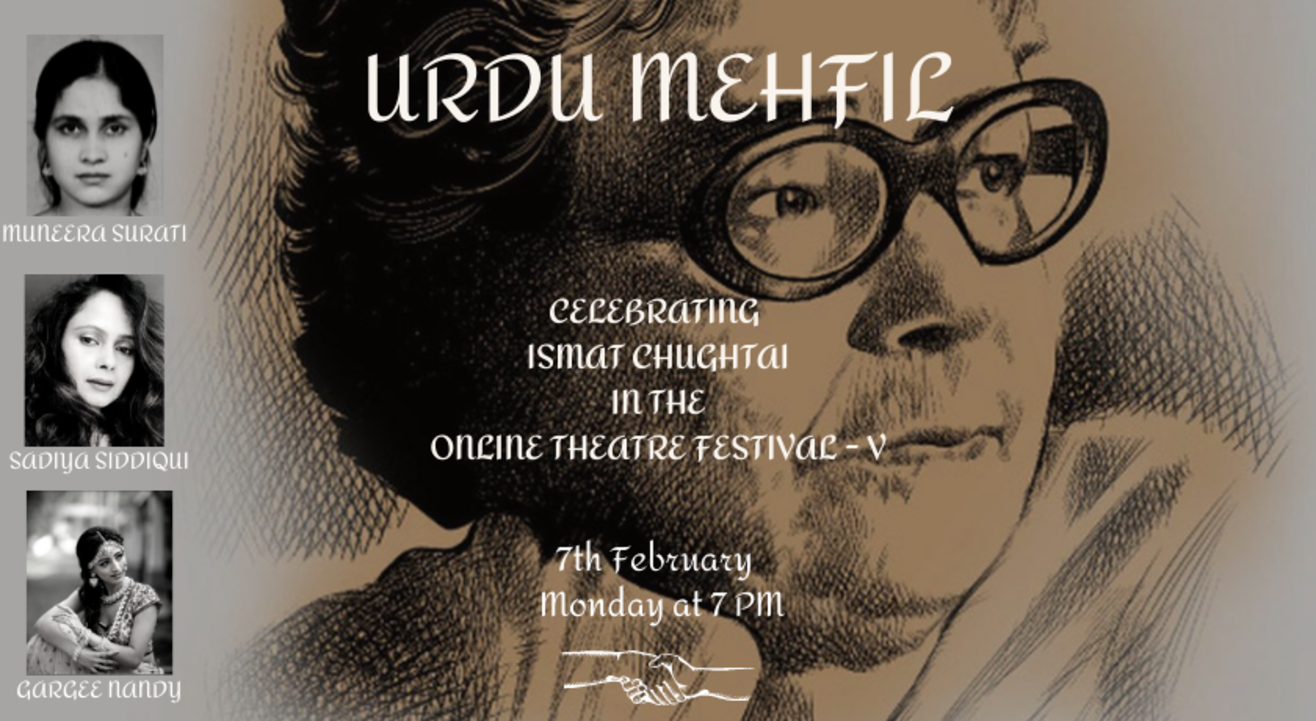 Urdu Mehfil - Celebrating Ismat Chughtai
Enjoy this event from your home
Event Guide
Live Performance
Enjoy a unique experience
Invite your friends
and enjoy a shared experience
Urdu Mehfil - Celebrating Ismat Chughtai
Enjoy this event from your home
Event Guide
Live Performance
Enjoy a unique experience
Invite your friends
and enjoy a shared experience
Event Guide
Live Performance
Enjoy a unique experience
Invite your friends
and enjoy a shared experience
Women are the real architects of society!


An all-women-led Online Theatre Festival is set to bring an Urdu Mehfil celebrating Ismat Chughtai on 7th February.
The 4-day theatre fest would range from 7th Feb - 10th Feb with events in multiple arts and languages.
Ismat Chughtai, an Indian born, was an Urdu novelist, short story writer, liberal humanist, and filmmaker. Her method of literary realism writings spoke extensively on themes including female sexuality and femininity, middle-class gentility, and class conflict. Chughtai was awarded the Padma Shri by the Government of India in 1976 for her work.
The session would be carried out by Muneera Surati, Sadiya Siddiqui & Gargee Nandy.
Join us and bring your family and friends with you to witness this rich art form, and through it, our country's vibrant cultural tradition
Stay home, Stay safe!
FAQs:
I. How often do you organize this festival?
Ans. Online Theatre Festival is organized on the 7th of every month. This will be the third edition of OTF. The next edition would start on March 7.
II. Where can I see the line-up of the Online Theatre Festival?
Ans. It is visible on our website https://theatremanagementcompany.com/home/onlinetheatrefestival
III. If I miss the slot, Can I watch the event later?
Ans. No. The events of the festival are live and are only aired once.
IV. What if I am unable to join the event link? Whom can I contact?
Ans. You can simply mail us your ticket and let us know the issue at theatremanagementcompany@gmail.com or WhatsApp us at 7597523702.
V. Can I transfer my ticket to someone else?
Ans. You can contact us if any such thing occurs.
VI.When can I last buy a ticket to the event?
Ans. Tickets are available till 30 minutes before the event starts.
Urdu Mehfil - Celebrating Ismat Chughtai
Enjoy this event from your home
Event Guide
Live Performance
Enjoy a unique experience
Invite your friends
and enjoy a shared experience